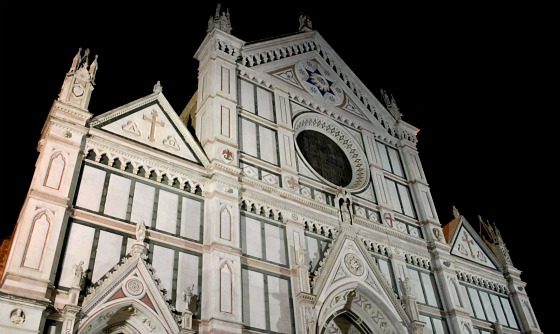 Santa Croce Cathedral in Florence stands in its own piazza and the striking marble frontage has to be seen to be truly appreciated. However, it's what's inside that really makes this place special.  There are finely decorated chapels, impressive works of art and the tombs of Michelangelo (pictured below) and Galileo amongst others.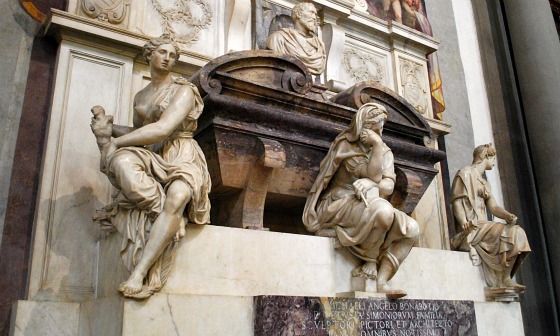 The most striking part of the cathedral is the area of painted chapels to the right of the altar. The frescoes in this part of the church are truly beautiful and once you start to look at the pictures and what they depict, you'll end up standing for a long time just marvelling at them.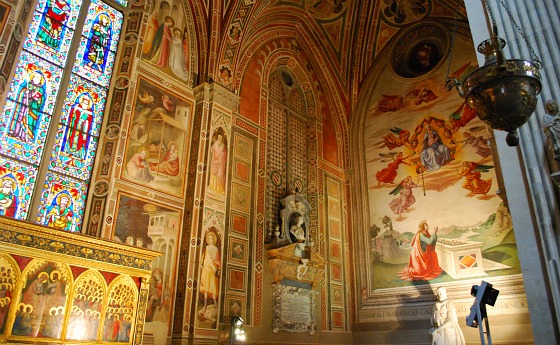 Also, if you head through the door at this point you'll find a vestry or robing room which is lined with historic books and again is beautifully decorated. You return from this area into the main body of the church where you can look at the two tombs mentioned above and also the large oil paintings which line both main walls.
When you exit the church, you'll find a pretty grassed area and then the entrance to the Renaissance chapel.  This chapel is so peaceful to sit in and the ceiling really drew our attention.  Next you come to a courtyard where you'll find the entrance to the museum.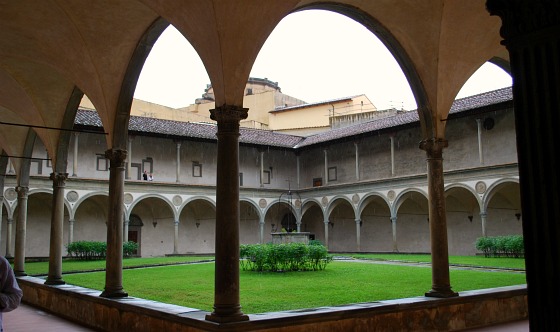 Inside the museum you'll find more paintings and artworks that belong to the church along with examples of restoration of the building over the years.  The museum ends in another chapel where you'll also find several large oil paintings of superb quality. We particularly liked this one…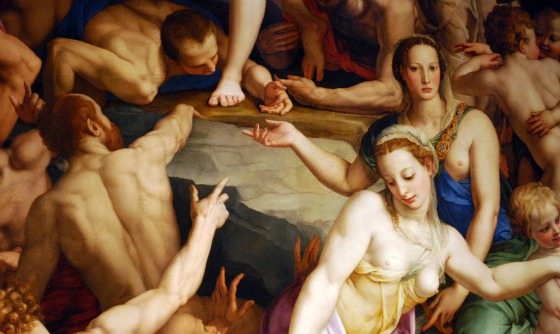 Santa Croce is one of those churches that doesn't look much on the outside but is a real surprise when you get inside!  Before we entered we even debated whether it would be worth the adult entrance fee of 6 Euros (2016 prices) but we can assure you that it is. Your entry fee also covers the cloisters, a really pretty Renaissance chapel, and a museum. Santa Croce Basilica is open Monday to Saturday from 9.30am to 5.30pm and on Sundays from 1pm to 5.30pm. 
LOCATION & CONTACT
Address: Santa Croce Basilica, Piazza Santa Croce 16, Florence, Italy
Tel: +39 055 246 61 05
MORE ON SANTA CROCE BASILICA
Santa Croce – Official website
Hotels near Santa Croce – Best price guarantee from Hotel.com
Florence Hop-on, Hop-off Bus Tour – Stops at Santa Croce
Florence Full Day Tour – Includes a visit to Santa Croce piazza
More Florence Tours – From our Tours & Activities pages
Florence Guide Books – Amazon.co.uk (UK)
Florence Guide Books – Amazon.com (USA & Canada)