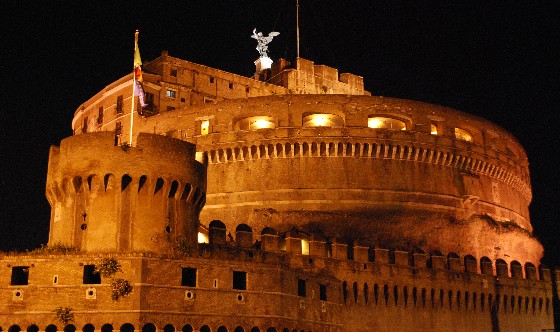 This castle sits alongside the River Tiber and the central part of it was originally constructed as the mausoleum for the Emperor Hadrian, but was converted by a Pope into the defensive fortress you see today. Inside, you enter up the original Roman passageway that Hadrian's body would have been taken along, but the newer parts of the building contain beautifully decorated ornate papal apartments, courtyards, passageways and ramparts. Take the audio tour as little is marked and take your camera for some terrific views of Rome from the rooftop. Outside, spend some time on the bridge (Pont Sant Angelo) which is lined with Bernini statues. Nearest Metro stop is Lepanto. This is an extract from our free Rome City Guide.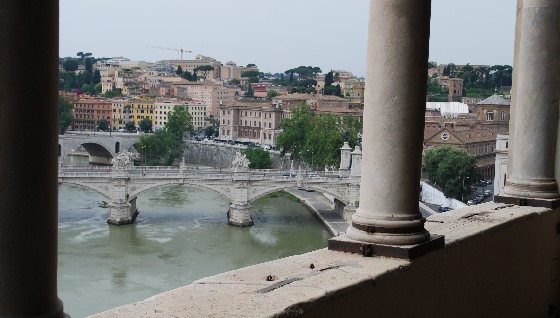 There are 6 different levels at the castle including the entrance floor and the flat roof top. The castle is featured in the Dan Brown book and film "Angels & Demons" as the location where the Illuminati held four senior cardinals captive. The raised wall walkway from the castle to the Vatican known as Passetto di Borgo (or Passetto) is also featured in part of the story although we were disappointed to find that this walkway is not part of the main public access. Read more the Passetto here. On these Rome activity pages, there are several tours which stop at Castel Sant'Angelo including the Classical Rome City Tour and the Angels & Demons Half Day Tour. You can see all the Rome tours and trips that are available here and get latest prices in US Dollars.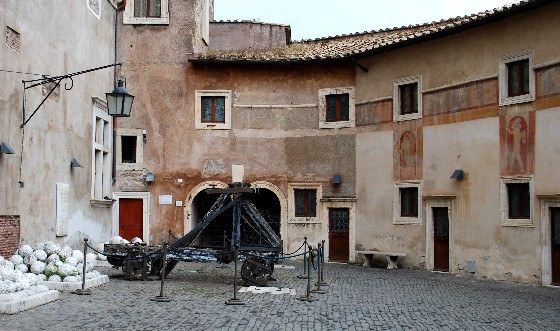 Castel Sant Angelo is open every day except Monday from 9am to 7pm and adult admission is 8.50 Euros (2012 prices).
LOCATION & CONTACT
Address: Castel Sant' Angelo, Lungotevere Castello, 50 00186 – Roma, Italy
Tel: +39 06 681 9111
Castel Sant'Angelo is on the banks of the River Tiber at the start of Via della Conciliazione, the grand roadway leadin to St Peter's Square in Vatican City.
MORE ON CASTEL SANT'ANGELO
Hotels near Castel Sant' Angelo – Great rates from Hotels.com
Castel Sant'Angelo – Wikipedia
Rome Angels & Demons Tour – Stops at Castel Sant'Angelo
Castel Sant'Angelo website (in Italian) – Official website (in Italian)
Rome Guide Books – Amazon.co.uk