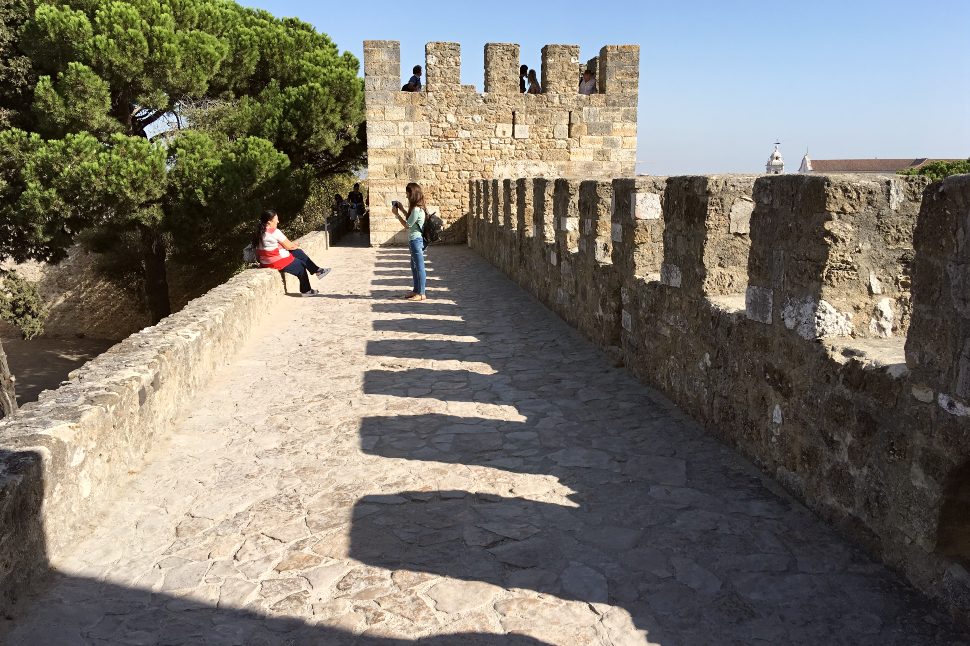 The Portuguese national monument of St George's Castle (Castelo De Sao Jorge) is one of Lisbon's must-see attractions for a number of reasons. Firstly it's in fantastic condition and you can walk most of the walls of the current castle. Secondly the history – there's been a castle here since the fifth century and there are many stories of battles here. Then thirdly, it's worth going just for the view which is extraordinary as you look down on Lisbon.
The castle is very busy though and it's pretty normal to find a queue, snaking down the cobbled road, like the one above to buy your tickets. There are two ways to get around this. Firstly, you can buy in advance which allows you to go straight to the entry barrier, or you can take advantage of the long opening hours. The castle is open from 9am and if you're there in the first hour, there won't be much of a queue to get in. Similarly it stays open into the evening at busy periods which can be a good time to visit.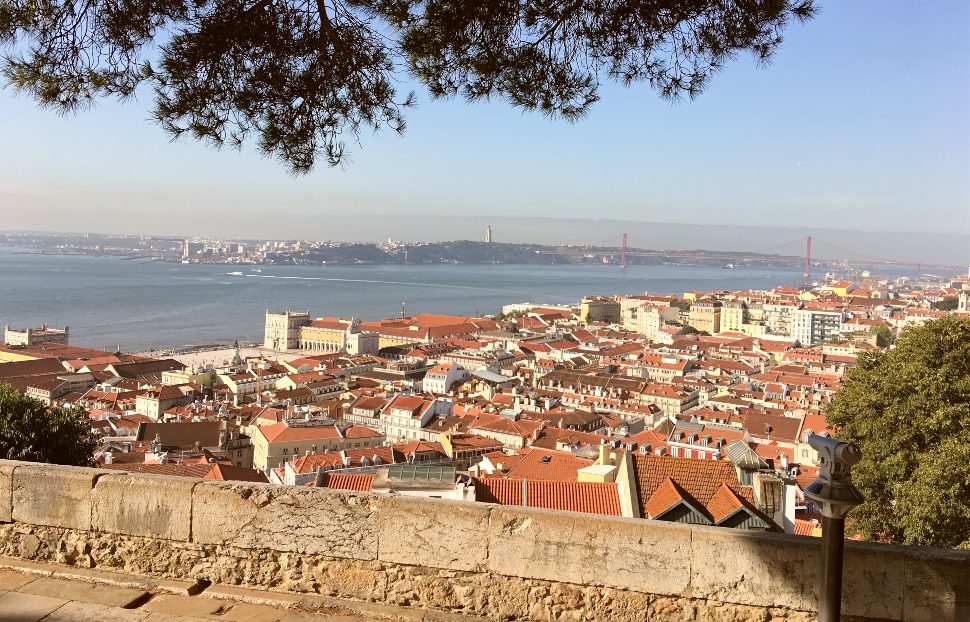 Once you enter through the castle gate, the first thing you are greeted by is this amazing view! You can see for miles around in all directions and the hill top walkway continues up the side of the castle walls to give you views over the whole of central Lisbon. Spend a bit of time here soaking it all up, but if it's really busy, don't worry too much as there are other great views from the walls themselves.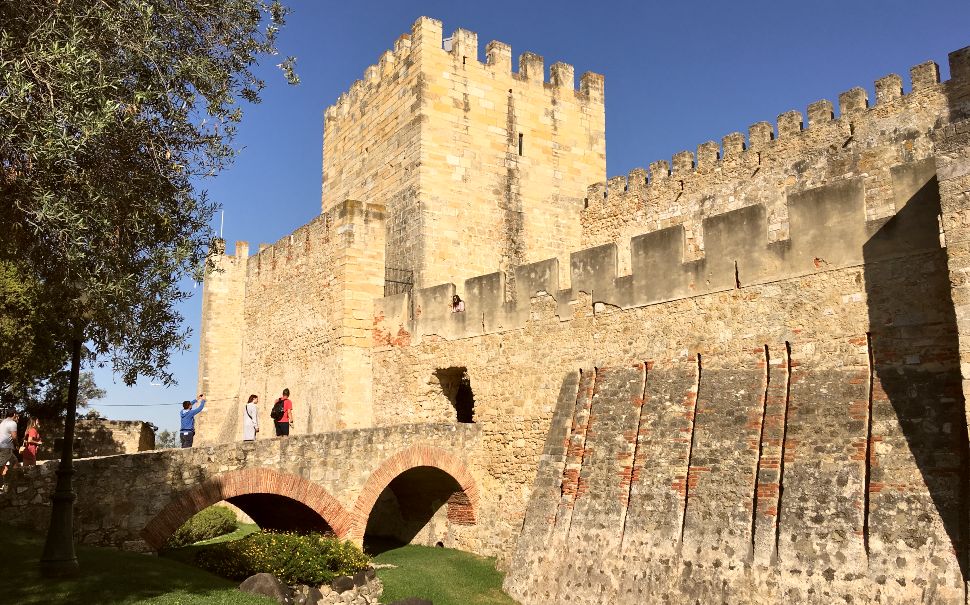 Inside the Moorish castle are a number of courtyards, along with step access to the walls in different locations. There are 11 towers and you can then walk around on the parapets and most areas are available to visit. Along the way there are terrific views to enjoy. Surrounding the castle are the remains of earlier structures like the ruins of the former Royal Palace of the Alcáçova, a cafe and an archaeological dig. There is also an exhibition of artefacts that have been found at the castle. Free guided tours are offered in English at various times of the day and you'll certainly get more from your visit by joining one.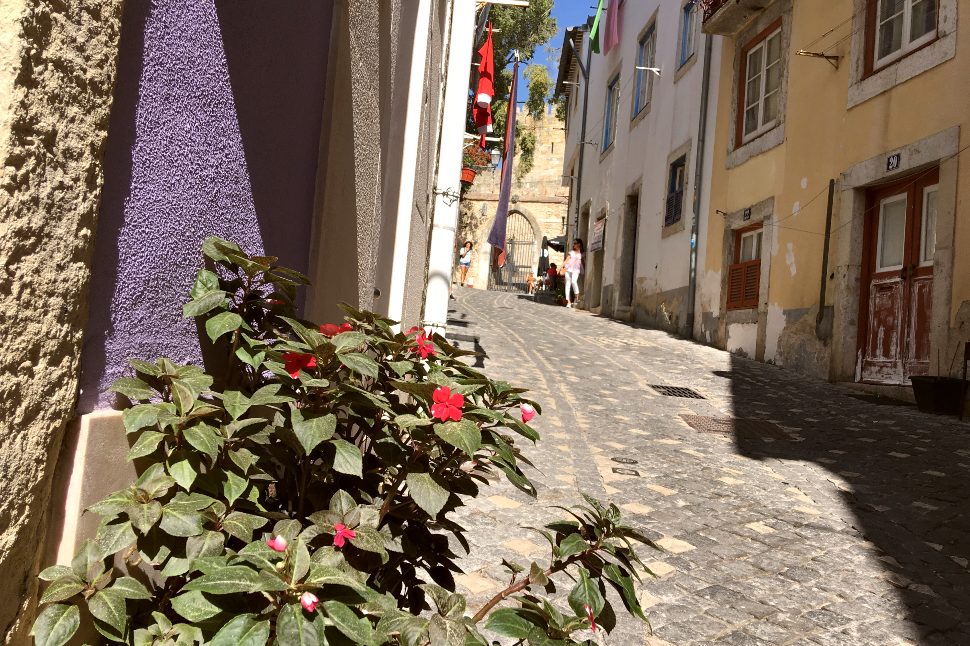 Lisbon Castle is open daily from 9am to 9pm from March to October and from 9am to 6pm at other times. Adult admission to the castle is 10 Euros (2019 prices). Whether you choose to pay to enter the caste or not, the area around it should not be missed. There is a collection of cobbled, winding streets packed with traditional houses and a number of gift and craft shops. The castle church is also worth popping into and is free.
LOCATION & MAP
Address: Castelo De Sao Jorge, R. de Santa Cruz do Castelo, Lisbon, Portugal
Tel: +35 121 880 0620
St George's Castle sits on top of the tallest hill in Lisbon city centre and it's quite a walk to get there. The easiest way to get the castle is to take bus 737 from Praca Da Figueira which takes you straight there.
MORE ON LISBON'S ST GEORGE'S CASTLE
Castelo de Sao Jorge – Official website
Castelo de Sao Jorge – Wikipedia
Lisbon's Best Hotel Deals – We recommend Hotels.com
More Things To Do In Lisbon