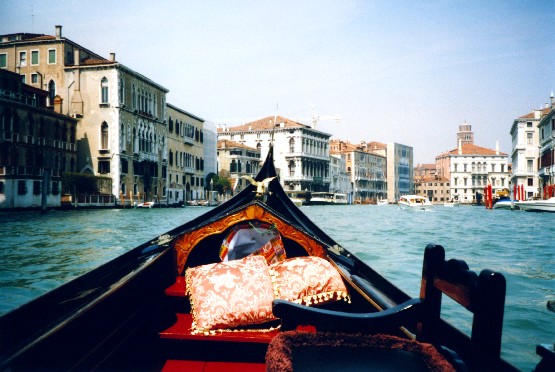 The big message here is to negotiate. They're very expensive and you can easily be ripped off. You need to agree the rate and also the duration of the gondola ride before you get in. There are "official" rates but our experience was that the starting price for negotiation was about double what we wanted to pay! It is a lovely experience however, you just need to be able to forget the price to enjoy it.
ADVICE FOR HIRING A GONDOLA IN VENICE
The most recent Venice Council rates for Gondolas the we can find say 80 Euros for a 40 minute ride. The gondoliers seem to treat these prices as a minimums, not an average price however. We also think these figures seem well out of date, and you should probably expect to pay around 100 Euros (2010 prices). This price will rise if you negotiate extra time or at peak periods. If you want to be sure in advance what you're going to pay, the best thing to do is book ahead – see latest prices here. If you've hired a gondola recently, we'd love to hear what you paid and for your trip so please leave details at the bottom of the page. Some extra tips…
1. Find gondoliers in quiet, back street, areas and wait for them to ask you "Gondola?". They are generally cheaper and easier to haggle with than those in busy tourist areas like the Doge's Palace.
2. Haggle over the price and see how much you can reduce it. If you're still not happy with it, walk away. You can always come back if you don't find a better deal. As it says above, make sure you know what duration of trip you are haggling about. Haggling can reduce the price by a third or even half.
3. Think about where you want your gondola trip to go. We loved the experience on the Grand Canal, but it's a scary one and you feel dwarfed by the bigger boats rushing past you and rocking your gondola. If you'd prefer a quieter and calmer trip, hire a Gondola away from the Grand Canal.
4. Consider booking in advance. It takes all the hassle out of negotiating and you'll usually pay a discounted rate.
Book Ahead – Private Gondola Ride – Latest prices and reviews
Book Ahead – Venice Walking Tour with Gondola Ride – Latest prices and reviews
GONDOLA LOCATIONS
When you first arrive in Venice, it's easy to think that Gondolas are only found in the busy tourist locations. In reality though, you'll find gondoliers waiting for business all over the city on quiet backwaters, and alongside small walkways. The highest concetration of gondoliers is near to St Mark's Sqaure or the Rialto Bridge, but you'll also find them on pretty much every canal in between!
MORE ON VENICE GONDOLAS
Book Ahead – Private Gondola Tour – Latest prices and reviews
Book Ahead – Venice Walking Tour with Gondola Ride – Latest prices and reviews
Wikipedia – Gondolas page
Hotels in Venice – Great rates from Hotels.com
Venice Guide Books – Amazon.co.uk (UK)
Venice Travel Guide Books – Amazon.com (US & Canada)