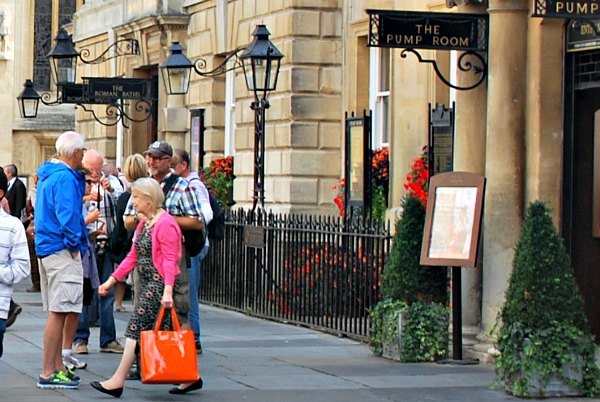 These daily 2 hour tours are free and they're organised by the tourist office in Bath. You don't need to book, just check out the tour times at the sign board outside the Roman Baths in Abbey Churchyard. Our guide was brilliant. He knew so much about the history of the place and explained it all in compelling way. The tours take in all the highlights of the centre of Bath including the Abbey, the Circus, the Royal Crescent, the Assembly Rooms and many other historic buildings and sights. The guides are volunteers and do not accept tips, although they definitely deserve them! This is an extract from our free Bath City Guide.
There's quite a lot to see just in the Abbey Churchyard and around half an hour of our tour was spent here before we moved on. The best thing about the Mayor of Bath Honourary Guides who lead the tours is that they point out things you probably wouldn't have noticed even though they're right under your nose. For example the ancient doors of Bath Abbey (pictured above) have a story to tell in the carvings.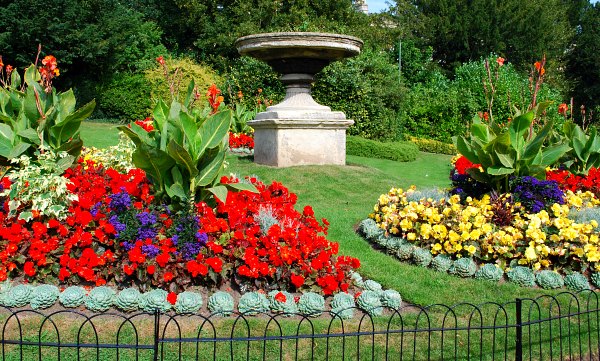 After this our tour visited most of the main sights in Bath stopping at cobbled and historic streets along the way. We strolled along the historic Gravel Walk which featured in Jane Austen's 'Persuasion' and allows a view of the rear of some of the most impressive houses in Bath. The big highlight for us was the trip inside the Bath Assembly Rooms, which was part of the tour we were on. It's worth pointing out that the tours do vary depending on which guide is leading them and access to the Assembly Rooms is not always possible.
Tours operate daily, starting at 10.30am and at 2pm although there is no afternoon tour on a Saturday. From May to September addition tours operate on Tuesdays and Fridays at 7pm. No pre-booking is necessary for individuals, but groups of 12 or more should prebook at least 4 weeks in advance by calling the Mayor's office (number below).
TOUR MEETING POINT & CONTACT
Tours meet at the signboard outside the Pump Room in Abbey Churchyard. They are organised by the Mayor Of Bath's office
Tel: +44 (0) 1225 477411
Fax: +44 (0) 1225 477408
MORE ON BATH WALKING TOURS
Bath Walking Tours – VisitBath.com
Bath Hop on, Hop off, Bus Tour – An alternative tour of Bath
Bath Guide Books – Amazon.co.uk