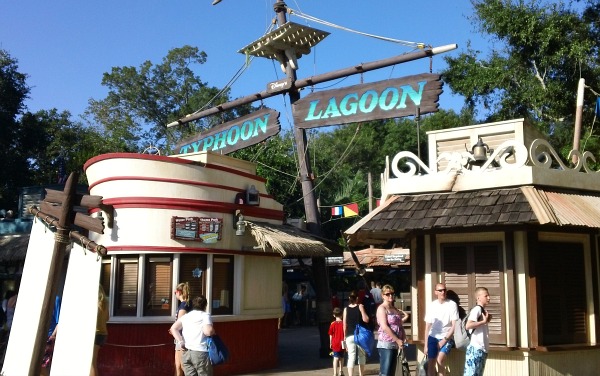 Florida has the perfect climate for outdoor water parks and Disney has two of them. Typhoon Lagoon has a huge wave pool as its center piece. The first time you see the wave that it creates, you'll be astounded at how big it is! Less confident swimmers should stay away from the force of the wave, but if you love waves, then it's great fun to try and catch them or jump over them. Away from the wave pool there are a number of water rides to enjoy. Surrounding the outside of the whole park is a river-style ride which gently moves you along in a rubber ring. If you prefer speed, there are fast slides like the Storm Slides and plenty more, like Gang Plank Falls, that involve rubber tubes. Our favourite was the newer ride Crush 'n' Gusher which has three options to ride in a tube for 2. If its important to you to get a sunbed, then you'll need to arrive at the park around opening time. Before long, they all go and bear in mind that if you leave them unattended, it's not unusual for people to steal them while you're off on a slide! If waves are your thing, then choose this park over Blizzard Beach which has a smaller pool and more water rides.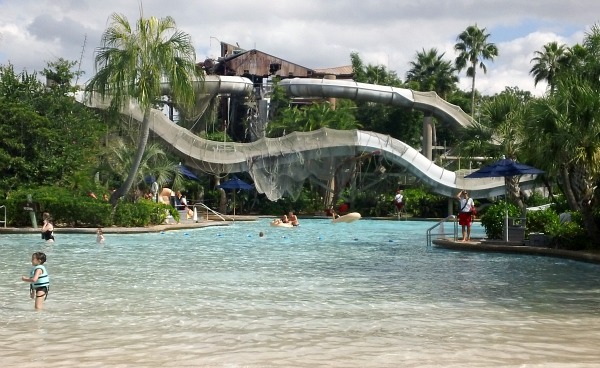 Another attraction at Typhoon Lagoon is Shark Reef where you can snorkel with real sharks! If you don't actually want to go in the water you can also enter the viewing area within a mock overturned sunken tanker ship. The best thing about this is that it's all included in the admission charge. It's the kind of attraction that other places would charge extra for.
Castaway Creek is the 'river' type attraction which gently floats you around a circular journey round the edge of the park. It will take you around 20 minutes to do the full journey and make sure you take note of where you got on because it all looks the same after a while and it's easy to get disorientated!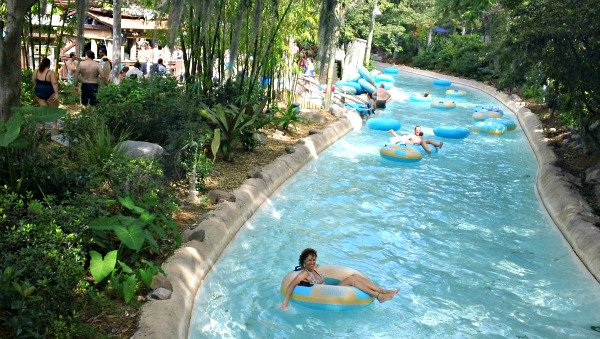 If you take an valuables into the park, you will need to pay for a locker to keep them safe. As a 3 generation family ranging in age from 12 to 59, we all had a great time at Typhoon Lagoon. There was something for all of us. Thrills on the slides , relaxing things to do with Castaway Creek and Shark Reef and plenty of food and drink outlets too – make sure you try the funnel cake! The highlight for us all though was the Surf Pool with its giant waves. You get a different experience depending on where you are in the pool. Take a look at the video below, which shows you a wave in action, but believe us when we say, the wave looks much bigger when it's coming directly towards you!…
Typhoon Lagoon water park has a range of opening hours depending on the time of year, but it typically opens at 9am  and closes at 5pm.  In the summer months, make sure you arrive at the park before 10am as the park is closed to further visitors once its capacity is reached. Adult admission on the day is around $69 (2018 prices), but buying in advance or purchasing multi-park tickets can save you a lot of money. See the various ticket options with latest prices here. Also, see our pages on the other Disney Attractions in Orlando…
Disney's Magic Kingdom
Disney's Animal Kingdom
Disney's Hollywood Studios
Disney's Epcot
Disney's Blizzard Beach
LOCATION & CONTACT
Address: Disney's Typhoon Lagoon, 1145 Buena Vista Drive, Lake Buena Vista, Florida 32830, USA
Tel: +1 407 939 7765
Walt Disney's Typhoon Lagoon is sign posted from the main access roads to the Disney Parks like World Drive. Look for signs for Walt Disney World from the I-4.
MORE ON DISNEY'S TYPHOON LAGOON
Walt Disney World Tickets – See best prices in GB pounds
Disney's Typhoon Lagoon – Official Website
Typhoon Lagoon – Wikipedia
More Things To Do In Orlando
Orlando Hotels – We recommend Hotels.com for the best service and prices
Orlando Guide Books – Amazon.co.uk
Orlando Guide Books – Amazon.com