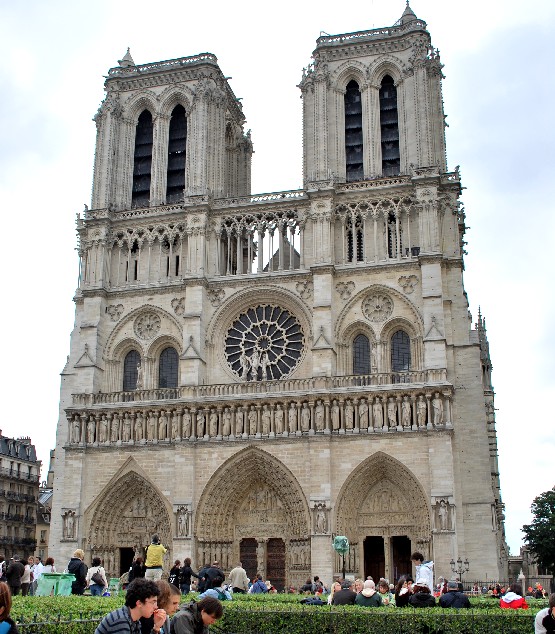 There's always a great atmosphere, in the square outside the cathedral with loads of people around, but it's well worth a trip inside and it's free.  Join the queue to the left of the building to climb the towers (for a fee), but be aware it moves very slowly!  Our top tip is to arrive around 15 minutes before the towers open at 10am and see how many people are waiting.  They let around 20 people climb the steps every 10 minutes, so you can work out roughly how long you'll have to wait. Metro stop Hôtel de Ville or Châtelet, or RER stop Notre Dame Saint Michel.  This is an extract from our free Paris City Guide.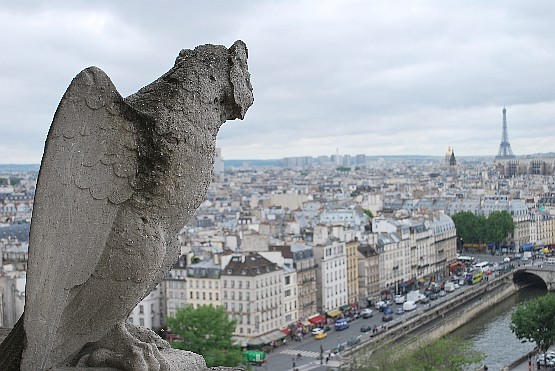 Construction of the cathedral began in 1163, although it wasn't completed until around 1240.  As such, when you walk inside you get a real sense of the history of the building.  The high roof emphasises it's size and the eye-catching circular stained glass window is stunning from inside too.  It's well worth spending some time wandering around and when it's not too busy it really is a peaceful place to be.
Admission to the cathedral is free, but the trip up the towers costs 8.50 Euros (2012 prices) but are free for under 25s if you are from the EU and have ID.  The towers are open daily from 10am.  They close in the winter at 5.30pm and in the summer at 6.30pm but on Saturdays and Sundays in June, July & August the towers aty open until 11pm.  You can also pay to visit the crypt at Notre Dame at an adult price of 4 Euros (2012 prices).   One way to avoid the queue for the towers is to take the Notre Dame Skip The Line Tour.
LOCATION & CONTACT
Address: Notre Dame de Paris, Place du Parvis Notre Dame, 75004 París, France
General Tel: +33 (0) 1 42 34 56 10
Towers Tel: +33 (0) 1 53 10 07 00
Crypt Tel: +33 (0) 1 55 42 50 10
MORE ON NOTRE DAME CATHEDRAL
Hotels near Notre Dame – Best prices from Hotels.com
More Paris hotels – Massive discounts from Expedia
Notre Dame – Official Website
Notre Dame Towers – Official Website
Notre Dame Skip The Line Tour – Avoid the queue for the towers
Notre Dame Crypt  – Official Website
Books on Notre Dame
Wikipedia – Notre Dame page
Paris Guide Books – Amazon.co.uk