Milan is a green city, with several notable parks worth a visit on any city break.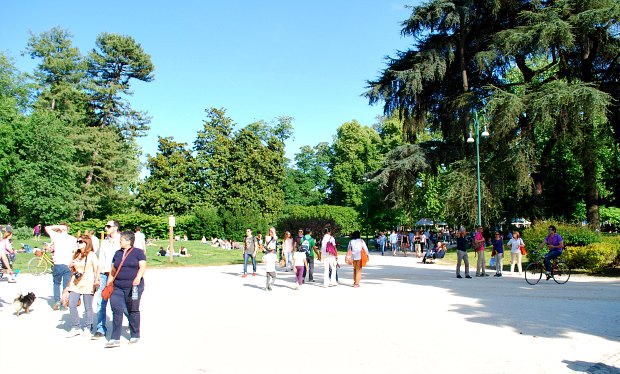 The biggest central park in the city is Parco Sempione (pictured above), which you'll find at the rear of the castle (Castello Sforzesco). There are several ways into the park, but the route through the castle itself is preferred by us because of the way it opens up before your eyes as your step through the castle gates. There are lots of highlights within the park, but the best way to enjoy it just to follow a path and see where it takes you. There are bridges, lakes, open grass areas and wide walkways to cycle on. Along the way, you'll probably see the large public arena and the impressive Arch of Peace which marks the edge of the park. On Sundays in the summer this park is heaving with locals enjoying being outdoors.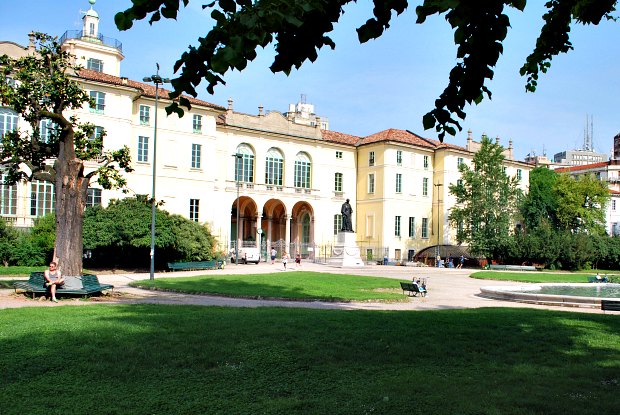 The other park we'd recommend is Milan's public gardens which is smaller in size. Whilst the landscaping is not quite as impressive here, there are several other features which make up for that. Around the edge of the park are a number of grand historic buildings, which set the gardens off beautifully. Above is Palazzo Dugnani, a 17th century palace, which is now home to a cinema museum and can be hired for events. We didn't go inside, but the beauty of the building and the beauty of the park go hand in hand, partly because the palace gardens used to cover parts of what is now the park. Also in the park are the Planetarium and the huge natural history museum (pictured below) which is housed in another historic building.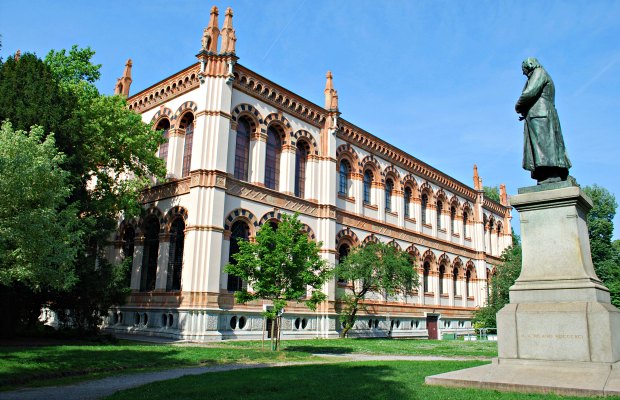 The public gardens are now named after Indro Montanelli, an Italian journalist and historian. He was known for his 'no-nonsense' style of writing and was critical of significant individuals in Italy over the years. He had major roles with several newspapers, including one he set up himself and at one time he also wrote for the United Press in New York. In 1977 he was shot 4 times outside his former newspaper offices, but survived. In 2000, he was named by the International Press Institute as one of the 50 'World Press Freedom Heroes' of the past 50 years. His statue stands at the main entrance to the park.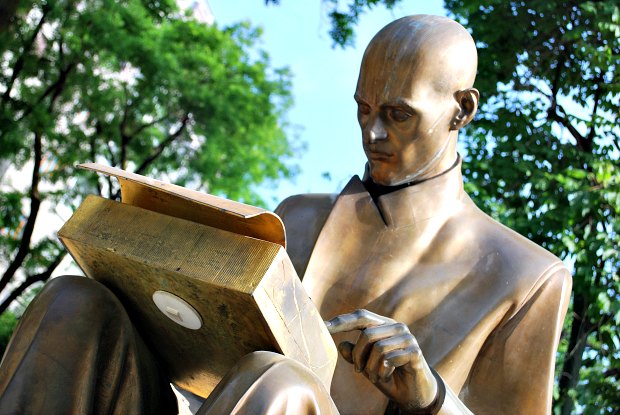 The other major parks in Milan are outside the central area of the city and a bit off the beaten tracks for tourists. If you have the will and the means to get there, you could call in at Parco Forlanini near Linate Airport and nearby is Parco dell'Indriocalo with its giant lake.
LOCATION & CONTACT
This map shows the location of Park Sempione (Parco Sempione) but you can move it around and zoom in and out to see the location of the other parks in Milan.
Address: Parco Sempione, Piazza Sempione, Milano, Italy
Tel: +39 02 8846 7383
MORE ON MILAN'S PARKS
Milan Segway Tour – Includes Park Sempione
Milan Hop-on, Hop-off Bus Tour – Stops near Park Sempione & the Public Gardens
Hotels near Castello Sforzesco/Park Sempione – We recommend Hotels.com