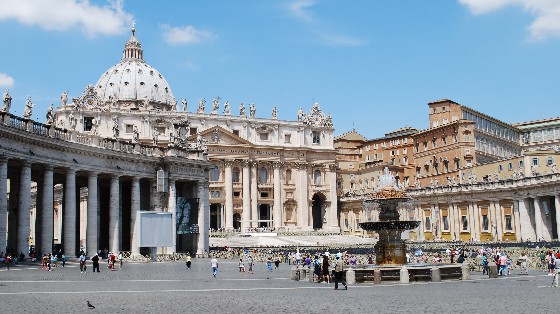 You'll have seen this open space in Vatican City many times on TV but to be there, surrounded by people, is a real experience. It's not unusual to find some kind of service or ceremony in the piazza, but even if there's nothing particularly going on, it's a lovely place to sit and watch the world go by. The steps under the huge columns which mark the edge of the piazza are often lined with visitors doing just that. Bernini designed these sets of columns which are topped by a sweeping stone roof, lined with statues of the saints looking down on the piazza. The oval lines of columns lead to the vast but beautiful St Peter's Basilica which looks out onto the open space. There are two water fountains and a central obelisk in the piazza too. Nearest Metro stop is Ottaviano. This is an extract from our free Rome City Guide.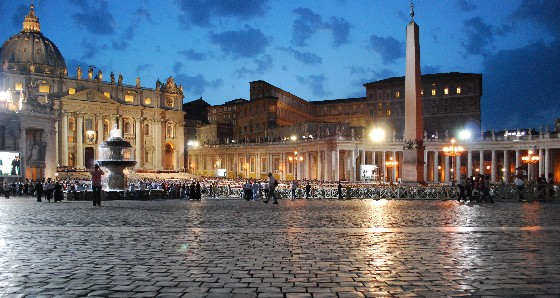 The regular audience with the Pope takes place in the warmer months of the year in St Peter's Square each Wednesday from around 10.30am. Sometimes on hot days the audience begins at 10am. You can just turn up, but it's advisable to get a free ticket up to 3 days in advance from the Swiss Guard at the "Bronze Door". As with all events in St Peter's Square, you will need to pass through airport style security scanners which sometimes takes a little time. The other opportuity to see the Pope when he is in Rome is on Sundays when he appears at the window of his apartment to bless the crowds at around 12 noon. If you prefer, you can book an audience with the pope here.
There are a number of organised tours you can take which call in at St Peter's Square. Most popluar is the St Peter's Basilica, Vatican Museums & Sistine Chapel Half Day Walking Tour which gives "Skip The Line" entry to the Basilic and the Museums. You can see details of all the tours available in Rome and get latest prices in US Dollars here.
LOCATION & CONTACT
Address: St Peter's Square (Piazza San Pietro), Vatican City, Rome, Italy
Tel: +39 (011) 39 06 6982 (Vatican Switchboard)
MORE ON ST PETER'S SQUARE
St Peter's Basilica, Vatican Museums & Sistine Chapel Walking Tour – Our Most Popular Tour
An Audience with the Pope – Book here
Hotels near the Vatican – Great deals from Hotels.com
St Peter's Square – Vatican Website
Books on the Vatican – Amazon.co.uk
St Peter's Square – Wikipedia
BACK TO…ROME CITY GUIDE
BACK TO…ROME'S BEST PIAZZAS
BACK TO…ANGELS & DEMONS TOUR