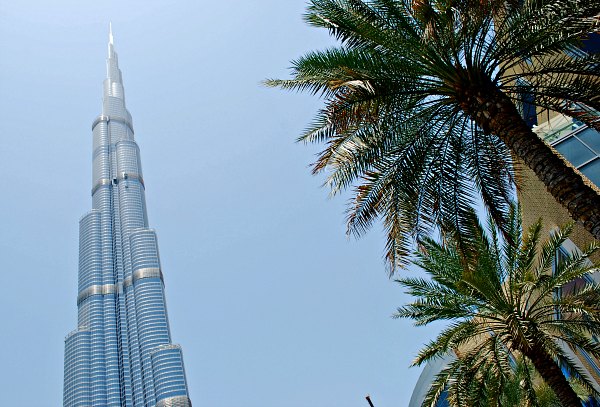 Standing at 828 metres Burj Khalifa, in Dubai, is the world's tallest building. It has 160 floors and the viewing gallery "At The Top" is so sought after that tickets are generally sold out for several days ahead. The entrance and ticket office is inside the Dubai Mall. If you don't book in advance, the only ticket that's likely to be available on the day is the very expensive 500 Dirham Fast Track. Once inside reception, you'll see a video about the building before heading to the base of the structure itself. The viewing gallery is on the 124th floor and consists of floor to ceiling windows all the way round. Information points will tell you what you're looking at.
We enjoyed the experience of visiting Burj Khalifa and the fact that numbers of visitors are limited is a good thing in order to get a decent view at the windows. Somehow, the world outside doesn't quite look real though! Apart from the observation deck, other parts of the tower contain an Armani hotel, apartments and offices. Make sure you spend sometime outside the tower at its base where the impressive Dubai Fountain performs and there are various restaurants overlooking it.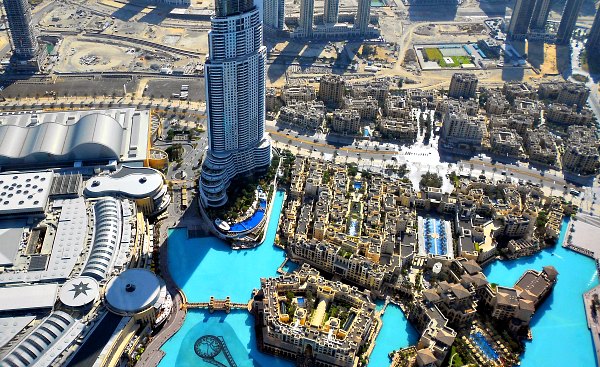 General adult admission to the Burj Khalifa At The Top attraction is 125 Dirhams (2015 prices), but this rises to 200 Dirhams from 5.30pm to 7pm which are peak times. The attraction is open from 8.30pm to midnight daily. Audio guides cost 25 Dirhams, although we thought the sign boards were sufficient. You can buy your ticket in advance here…
Burj Khalifa Tickets (prices in US Dollars)
Burj Khalifa Tickets (prices in GB pounds)
LOCATION & CONTACT
Address: Burj Khalifa, 1 Sheikh Mohammed bin Rashid Boulevard, Dubai, United Arab Emirates
Tel: +971 4 888 8888
The entrance to the At The Top observation deck is within Dubai Mall which has its own stop on the Dubai Metro and a covered air-conditioned walkway from the metro station.
MORE ON BURJ KHALIFA
Burj Khalifa Tickets (prices in US Dollars)
Burj Khalifa Tickets (prices in GB pounds)
Burj Khalifa "At The Top" – Official Website
Burj Khalifa – Wikipedia
More Things To Do In Dubai
Dubai Hotels – Latest offers from Hotels.com with customer reviews
Dubai Guide Books – Amazon.co.uk
Dubai Guide Books – Amazon.com