Galleria Vittoria Emanuele II in Milan is a shopping centre with a difference…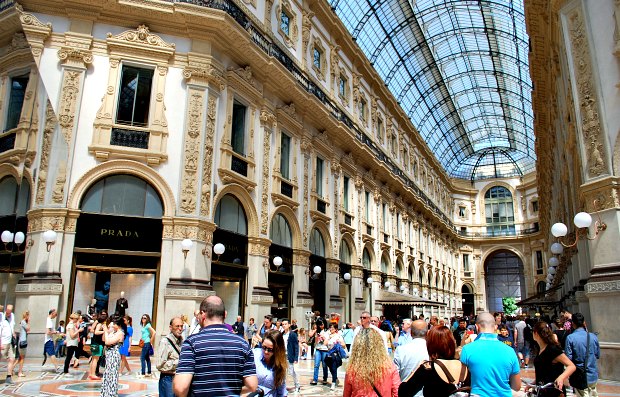 Although there are plenty of shops and restaurants inside, it actually feels more like an art gallery, museum or historic library. Everywhere you look, there are superb details from the carvings on the walls to the frescoes near the roof line. For us, the big highlight of this arcade was not Gucci or Prada, but the incredible glass and steel dome! It dominates the building and along with the adjoining glass canopies, floods the floor space with oceans of daylight.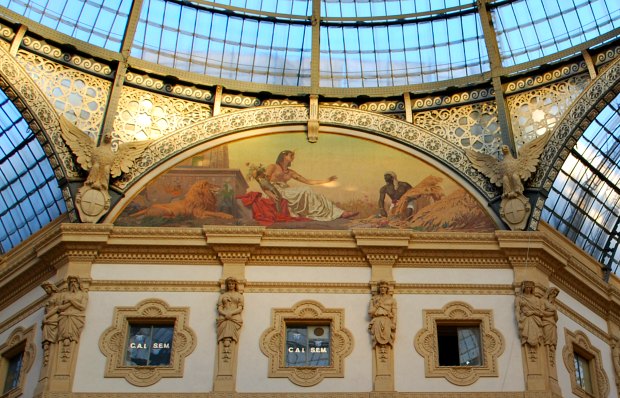 The galleria was constructed from 1864 to 1868 and is named after the King at the time who opened it. Sadly, the man whose vision it was, Giuseppe Mengoni, fell to his death from the scaffolding just a few days before it was opened. He'd be proud to see it as it is now – 150 years later, having been fully restored. Although there are other arcades of this type around the world, this was the first one to take the principles already existing and make them a reality on a much larger scale. It still remains one of the world's oldest shopping malls.
Aside from marvelling at the architecture, this building is Milan's big meeting place and is sometimes referred to as 'il salotto di Milano' (Milan's Drawing Room). Many of the people inside, are not actually heading for the shops, they're just heading through from one side to the other. That's because the galleria links two of Milan's most important buildings, the Duomo and the Opera House (La Scala).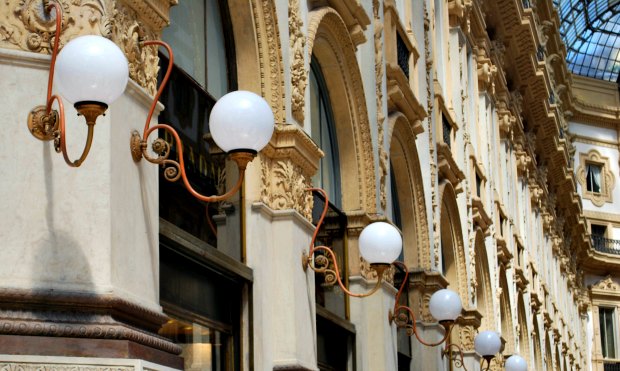 As the galleria is primarily a shopping centre, you will find some of the biggest names of fashion inside. Prada, Versace, Louis Vuitton, Gucci, Swarovski and Armani are all here along with a number of eateries, some more expensive than others. Interestingly, there used to be a McDonalds in here too, but their lease was not renewed and they now have a restaurant just outside. Galleria Vittorio Emanuele II is open 24 hours a day, although the shops keep more regular hours.
LOCATION & CONTACT
Address: Galleria Vittorio Emanuele II, Piazza del Duomo, Milano, Italy
Tel: +39 02 7740 4343
MORE ON GALLERIA VITTORIO EMANUELE II
Galleria Vittorio Emanuele II – Wikipedia
Milan Hop-on, Hop-off Bus Tour – Stops in Piazza del Duomo
Hotels near Piazza del Duomo – We recommend Hotels.com