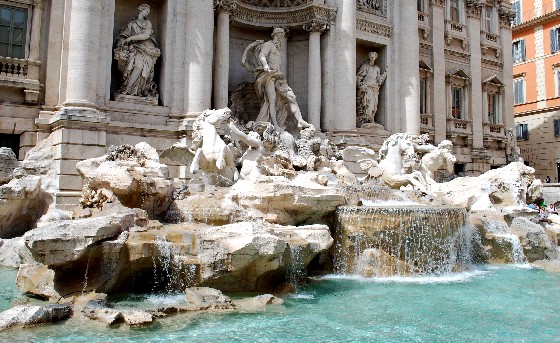 Without doubt this is Rome's best water feature and it draws a huge crowd day and night. It dates back to 1762 and shows Neptune flanked by two horses.  The water gushes with so much force that sitting on the edge of the feature will get you quite wet! The Piazza di Trevi, which is dominated by the fountain, is just off Largo Chigi, not far from the main thoroughfare Via del Corso.  This is an extract from our free Rome City Guide.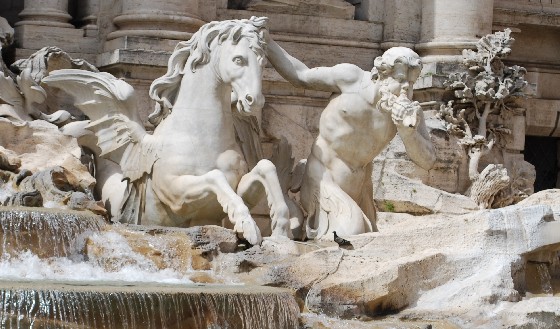 Finding the Trevi Fountain can be quite a challenge so do make use of the map below.  Look out for the small "Fontana di Trevi" tourist signs on the walls of buildings nearby and occasionally there are signposts too.  When you find the right street, you'll hear the water as you approach!  Also don't forget to make a wish by throwing a coin into the fountain and see if it comes true.  The fountain is surrounded by gelato and souvenier shops and small restauraunts.
The nearest Metro stop is Barberini but you can also see the Trevi Fountain by taking the highly rated Best of Rome Afternoon Walking Tour which stops here.
LOCATION & MAP
Address: Fontana di Trevi, Piazza di Trevi, Rome, Italy
MORE ON TREVI FOUNTAIN
Hotels in Rome – Great rates from Hotels.com
More Hotels in Rome – Massive discounts from Expedia
Best of Rome Afternoon Walking Tour – Stops at the Trevi fountain
More Rome Tours – From our Tours and Activities pages
Trevi Fountain – Wikipedia
Rome Guide Books – Amazon.co.uk