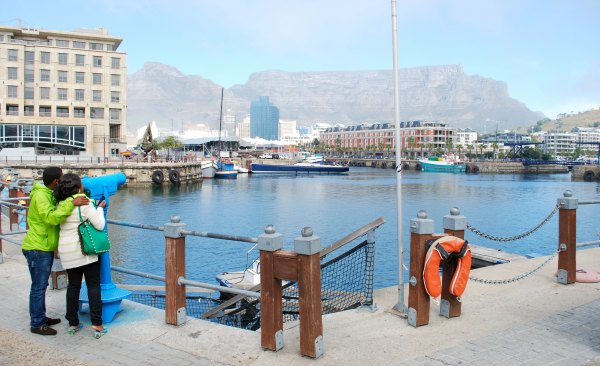 The V & A Waterfront in Cape Town is a vibrant shopping and dining 'hub', built in the old harbour area. Some of the features of the past remain, like the old Clock Tower, and there's plenty to see as you walk around. When the weather is good, there are some tremendous views of Table Mountain too. Highlights here include, the huge Victoria Wharf shopping complex packed with stores, cafes and restaurants, two further shopping arcades, the Marina (pictured below), the Two Oceans Aquarium and a craft warehouse.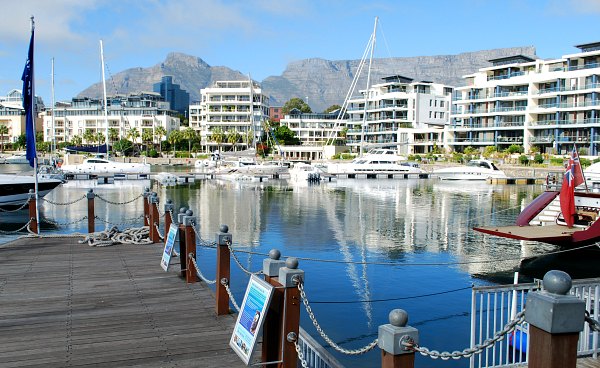 The name of the Victoria & Alfred Waterfront is a little confusing and some people mistakenly refer to it as the Victoria & Albert Waterfront. The name actually comes from the two basins in the harbour, one named after Queen Victoria and the other named after her son Prince Alfred who began construction of the harbour. Some of the highlights at the water front include the historic red and white clock tower, built in 1882, which was painted yellow and black when Cape Town became the World Design Capital. Look out also for the statues of the men who set South Africa on the road to freedom and you can also get a birds-eye view from the huge Observation Wheel. The departing station for trips to Robben Island is also at the Waterfront.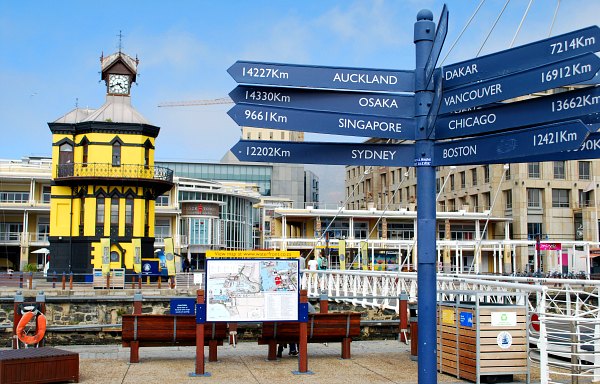 Another big tourist attraction at the V & A Waterfront is the Two Oceans Aquarium which brings together some of the species of both the Indian Ocean and the Atlantic Ocean. The most popular animals at the aquarium are the ragged-tooth sharks which you can see through an enormous 11 metre wide, 4 metre high window. Adult admission to the aquarium is 125 Rand and it's open daily from 9.30am until 6pm.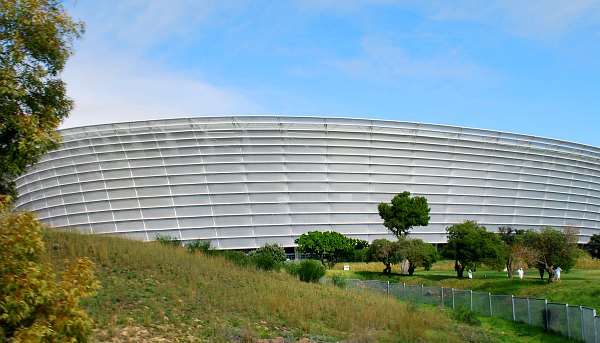 Cape Town's World Cup stadium is a just a short walk from the V & A Waterfront. Many of the significant matches in the 2010 competition were held here although there's not much use for the stadium now. It still hosts concerts and football games from time to time though. Tours are an hour long and take place from Tuesday to Saturday, starting at 10am, 12 noon and 2pm.
LOCATION & CONTACT
Address: Victoria & Alfred Waterfront, Breakwater Boulevard, Cape Town, South Africa
Tel: +27 21 408 7500
The V&A Waterfront can be accessed from several directions as it covers a large area. The Cape Town Hop-on, Hop-off Bus Tour stops at the water front.
MORE ON THE V & A WATERFRONT
Victoria & Alfred Waterfront – Official Website
Two Oceans Aquarium – Official website
Victoria & Alfred Waterfront – Wikipedia
Cape Town Half Day Tour – Includes a visit to the Waterfront
More Things To Do In Cape Town – Prices in US Dollars
More Things To Do In Cape Town – Prices in UK Pounds
Hotels in Cape Town – We recommend Hotels.com