This is your free Washington City Guide! It's the capital city of the USA, but it still might not be your first choice of city to visit. We think you should! Washington is beautiful and there's a familiar landmark at every turn. It's home to some of the nations most impressive memorials and it's worth going just to walk the length of the National Mall. We're so glad we managed to get here and if you do too, here are our personal recommendations of places to go…
WHAT TO DO IN WASHINGTON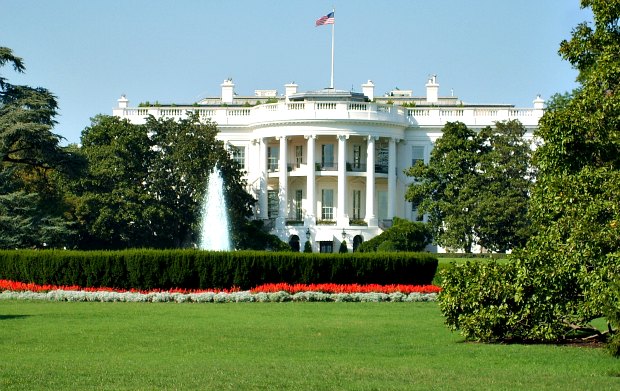 The White House – The home and offices of the US President are at 1600 Pennsylvania Avenue. The road is now closed off for vehicles, but pedestrians can get right up to the fence for a good view at the front. The rear isn't so easy to see, but the White House is sort of double-sided, so it doesn't really matter. You generally can't do tourist tours any more unless you're a US citizen and you've planned a group trip, but we'd recommend the White House Visitor Centre which is free and gives a good introduction to what the building is all about. You'll find it just down the street at number 1450.
The White House: Read more, pictures & map…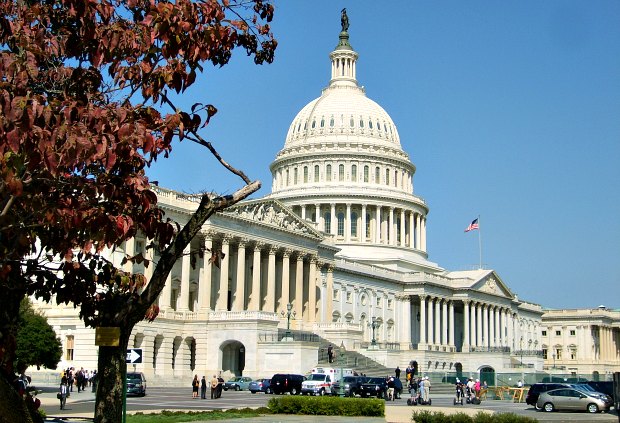 The US Capitol – Another huge Washington landmark and it'll take you a while to walk all the way around the outside. Free timed tours inside are available by picking up a ticket from the new Visitors Centre. It's fascinating to see inside, but you don't get to see much of the building on the tour unless the houses aren't in session. We think you'll get most out of this tour if you have a real interest in US history, you may be a bit bored if not.
US Capitol: Full review, tour info & map…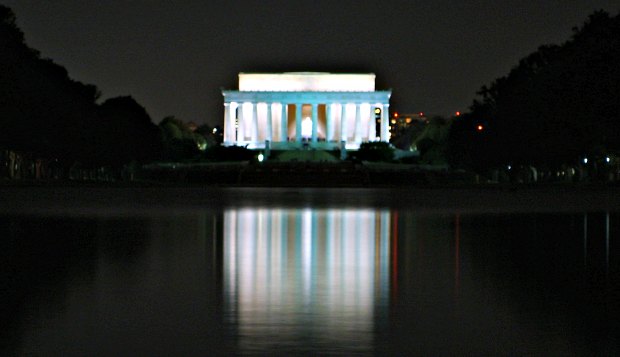 The Lincoln Memorial – This memorial to Abraham Lincoln is at one end of the National Mall. You'll recognise it immediately and there's a nice atmosphere sitting on the steps and looking towards the Washington Monument. It does tend to get crowded though, so to get a picture of Abraham Lincoln without anyone else on it too, you're best going early morning or late afternoon.
Lincoln Memorial: Read more, pictures & map…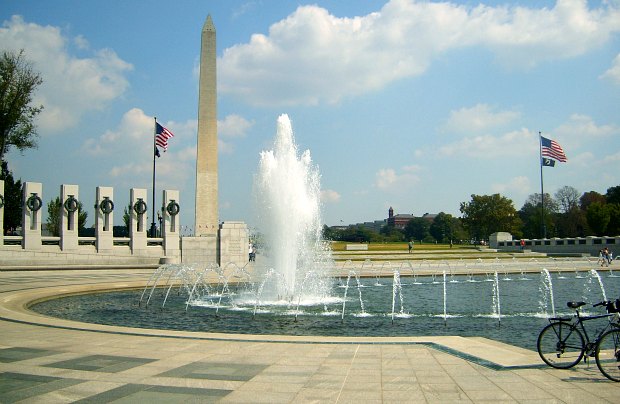 The Washington Mall/National Mall – This is a 2 mile (3km) long linear park that leads from the Lincoln Memorial to the Capitol Building. If you're up for it, it's a nice walk to do past the reflecting pools and memorials. The World War 2 memorial in particular is really impressive with its water fountains. Don't be deceived by how long this walk is though, the buildings look closer than they actually are!
National Mall: Read more, pictures & map…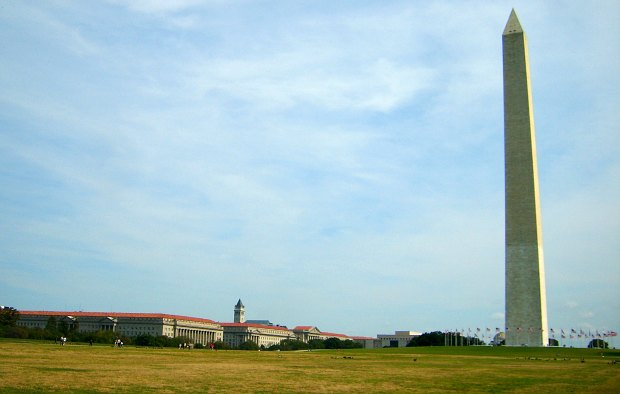 The Washington Monument – This huge "needle" structure is around half way between the Lincoln Memorial and the Capitol Building. You get a great view of the White House from its base too and it's surrounded by an impressive array of US flags. Free tickets to go up the monument are distributed on a first come, first served basis from the ticket kiosk nearby.
Washington Monument: Read more, opening times & map…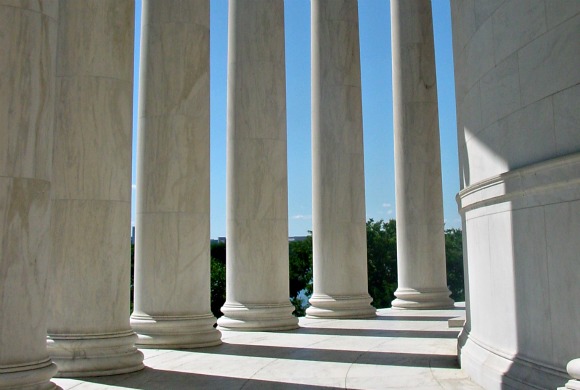 Thomas Jefferson Memorial – The memorial to Thomas Jefferson is another impressive example of Washington's collection of monuments. There's a bronze statue inside the domed building surrounded by passages from the Deceleration of Independence. It tends to be less busy that the Lincoln Memorial. You'll find it off the Washington Mall, set on the Tidal Basin near 14th Street.
Thomas Jefferson Memorial: Read more, directions & map…
Smithsonian Museums – The museums in Washington are internationally renowned and you'll find most of them in the vicinity of the capitol building. Admission to them all is free and there really is something for everyone. A good place to start is the Smithsonian Institute Building (also known as the castle) as they have a good introduction to all of the 19 galleries and museums in the information center. It's located on the National Mall. Other Smithsonian highlights include the National Air & Space Museum, the National Museum of African Art, the Natural History museum, the American History Museum, the National Zoo and the National Postal Museum.
Smithsonian Museums: Read more, pictures & map…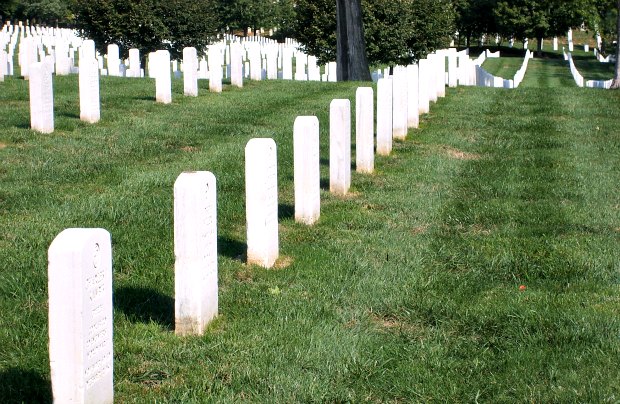 Arlington Cemetery – It might sound a bit morbid, but a visit to the cemetery is a truly poignant experience. You'll see line upon line of simple military graves as far as the eye can see. The cemetery is geared up for visitors and many call in at the grave of John F Kennedy with its eternal flame. The easiest way to get here is on the Metro – the cemetery has its own stop. You also get a good view of the Pentagon.
Arlington Cemetery: Read more, opening times, pictures & map…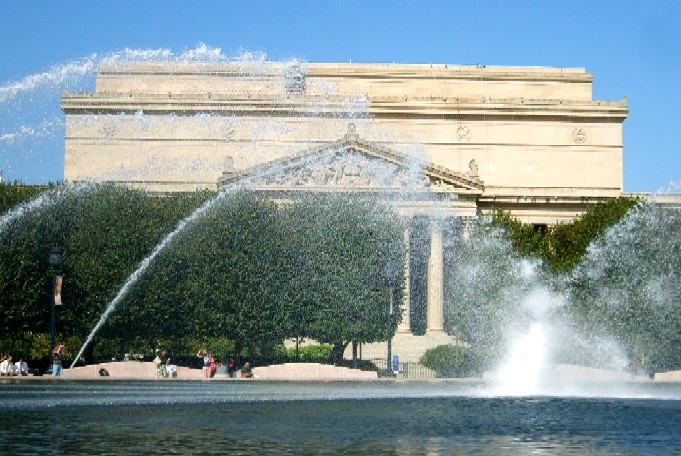 The National Archives – Your chance to see the Declaration of Independence – although we went because we wanted to see how much of the movie "National Treasure" was filmed here! Across the road from the Archives is a lovely fountain with benches surrounding it. The National Archives building is at 700 Pennsylvania Avenue.
Washington National Archives: Read more, opening times & map…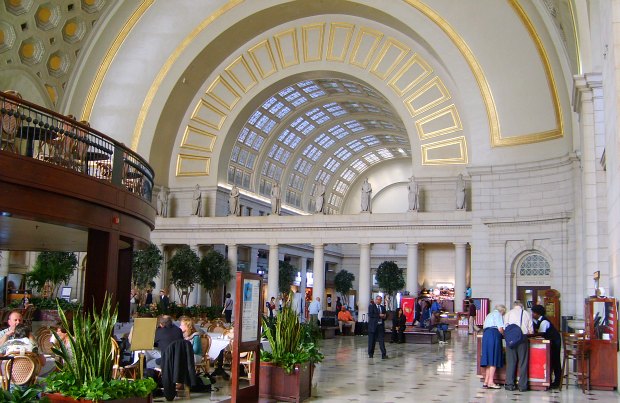 Union Station – This isn't just about trains! It's also a shopping and dining venue and the architecture is impressive too. It's hard to believe that such a beautiful building was once at risk of being demolished. Look out for the replica Liberty Bell outside too.
Union Station: Read more, pictures & map.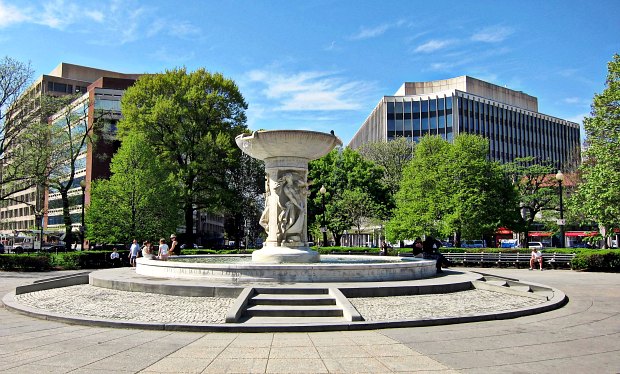 Dupont Circle – It's one of the stops on the Metro. You'll find a nice array of shops, cafes and restaurants in the vicinity of "the circle". On a warm day, you can sit on the benches around the circle and watch the world go by too.
OUR TOP TIP IN WASHINGTON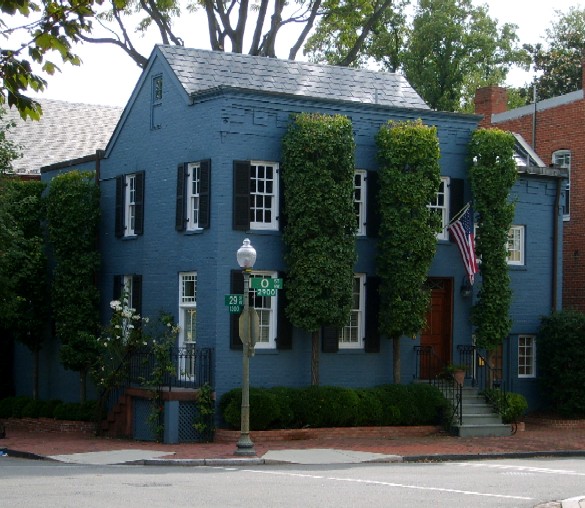 Georgetown – This one of the oldest neighbourhoods in Washington and we spent a couple of hours just walking the streets. The shopping district on M Street has fancy bars, shops and cafes but we found the houses the most interesting bit. The streets are mostly tree-lined and every house is distinctive and beautiful. It's not easy to get here as the Metro lines don't reach here, but we got off at Rosslyn and walked. There is also a connection bus from Rosslyn and Dupont Circle Metro stops if you prefer.
Georgetown: Read more, pictures & map..
MORE THINGS TO DO IN WASHINGTON
RECOMMENDED HOTEL
We stayed at the Hilton Washington on Connecticut Ave near Dupont Circle and had a very pleasant stay.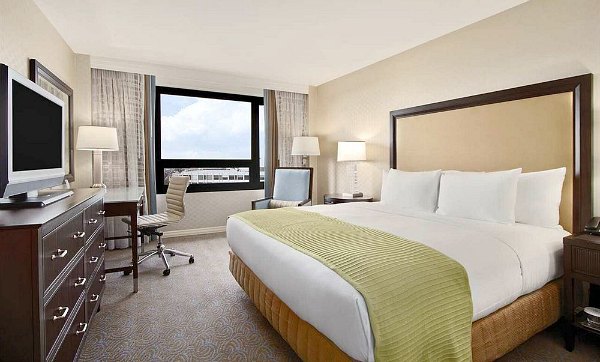 The room was everything you'd expect from a Hilton hotel, luxurious and attractive and this hotel has the advantage of a decent sized swimming pool too. We were happy with our room and with the hotel, for the price that we paid. It's worth remembering that you're quite a long walk from the major attractions of Washington at this hotel (the White House was around a 20 minute walk) but there is a handy Metro stop at Dupont Circle.
GETTING AROUND WASHINGTON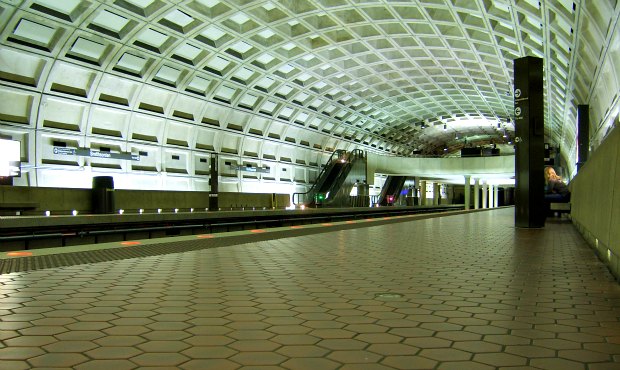 We liked the Metro in Washington – it's clean and almost "space age" in its design. The stations are large and spacious and understanding the various lines was simple. We also felt safe on the Metro too. The only down side is that there never seems to be a station where you want one. Around the National Mall it always seems a long walk to the nearest one. Another option is the Washington DC Hop-on, Hop-off Trolley Tour which stops at all the major attractions.
We found that getting from Ronald Reagan Airport was simplest by Metro as long as you don't have far to walk to your hotel. As an alternative, taking a taxi isn't too expensive as the airport is quite close to the centre of Washington. If you're flying into Dulles International though, it's quite a long journey to Washington (26 miles) and you can expect to pay a hefty taxi fare. A cheaper alternative is to order a transfer in a shared van. Click the 'Airport Transfers' button to see the options and latest prices in US Dollars.
MORE ON WASHINGTON
More Things To Do In Washington DC
Hotels in Washington DC – Great rates from Hotels.com
More Washington hotels – Massive discounts from Expedia
Washington DC Hop-on Hop-off Trolley Tour – An easy way to get around
Washington.org – Official tourism site
Washington DC Guide Books – Amazon.co.uk (UK)
Washington DC Guide Books – Amazon.com (US & Canada)