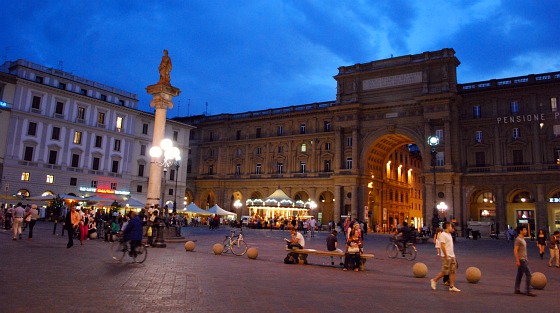 Piazza della Repubblica in Florence is one of the city's more modern piazzas, although its origins stretch back to the original Roman Forum which was located here. Marking the historic centre of the city is the Column of Abundance (Colonna dell'Abbondanza) which dates back to 1431. The most dominating structure in the square, the Arcone was built in 1895 as part of the re-development of old Florence and when translated, the inscription on the arch talks about the values of progress in the sweeping away of the old to be replaced by the new. Somehow it feels much older than it actually is – perhaps because it's surrounded by older alley ways.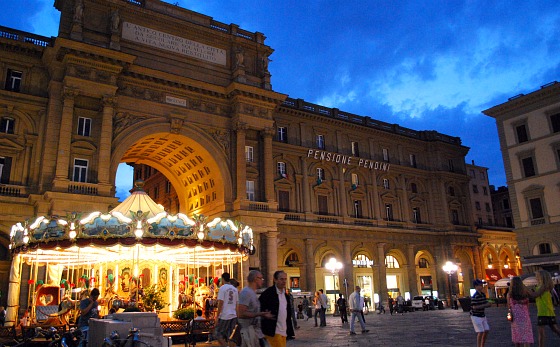 The other feature of this piazza is the lovely Carousel. It's actually an antique and it operates from around 10am to 8pm each day in the summer months. British oscar-winning actor Colin Firth is a regular in the square as it's the location of his favourite restaurant in Florence and he has a house nearby. There are a number of organised tours that call into Piazza della Rebubblica, most popular of which is the Best of Florence Walking Tour which consistently gets good reviews from tourists who've been on it.  Click here for latest prices in US Dollars.
LOCATION & MAP
Piazza della Repubblica can be accessed from Via Roma, Via Calimala, or from under the Arcone arch on Via Degli Strozzi. It is a 2 minute walk from the Duomo.
MORE ON PIAZZA DELLA REPUBBLICA
Hotels near Piazza della Repubblica – Best price guarantee from Hotel.com
Piazza della Rebubblica – Wikipedia
Best of Florence Walking Tour – Highly rated tour which calls in at the Piazza
Florence Sunset Bike Tour – Calls in at Piazza della Rebibblica
Florence Guide Books – Amazon.co.uk (UK)
Florence Guide Books – Amazon.com (USA & Canada)