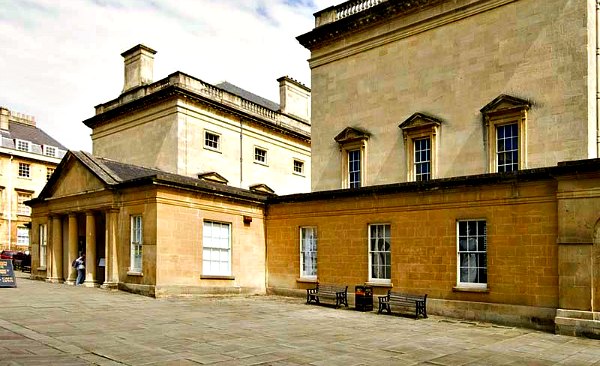 These elegant rooms were the centre of society life in Georgian times in Bath. It's thought that Jane Austen frequented the rooms during her time here to dance and enjoy evenings mixing with other well-to-do people. Today the Assembly Rooms are just as magnificent and they're available to visit unless there's a private function taking place. You'll enjoy seeing the opulence of each room and imagining how busy they'd have been, crammed with dancers and musicians. While you're here, there's a Fashion Museum located downstairs that you may wish to visit too. The Assembly Rooms are a walk up the hill from the centre of Bath – you'll find them between Bennett Street and Alfred Street near to the Circus. This is an extract from our free Bath City Guide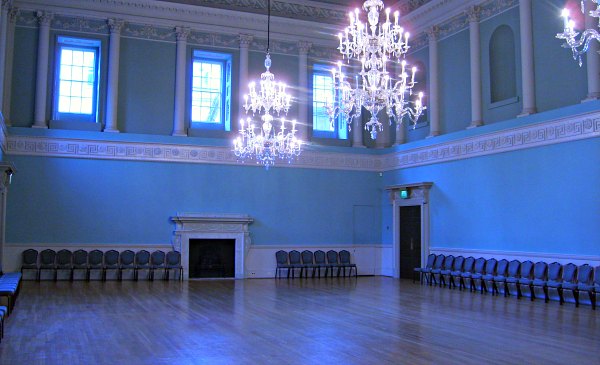 The Assembly Rooms were designed by John Wood the Younger in 1769 but were bombed during World War 2 in 1942. They were subsequently restored and now tourists can fully appreciate the magnificent rooms as they used to be when they were the hub of entertainment in Georgian Bath. There are three main rooms to see – The Ballroom, the Tea Room and the Octagon Room but make sure you notice the main corridor and entrance hall too as the architecture here is in keeping with the rooms themselves. The Ballroom is blue in colour and is the biggest room in the building with 5 amazing chandeliers. The Tea Room is slightly smaller, cream in colour and has an elaborate balcony structure at one end where musicians would play. Finally, the Octagon Room is named after its shape, is yellow in colour and was designed as a card and gambling room originally.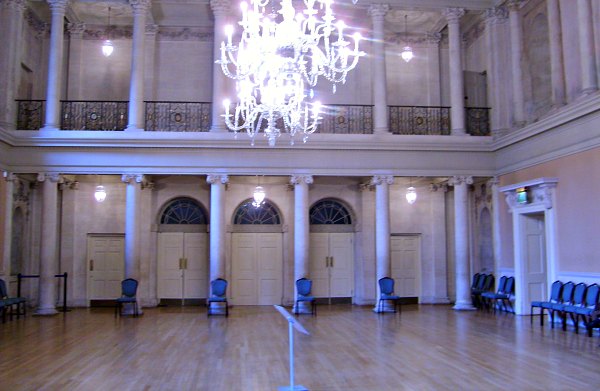 The Bath Assembly Rooms are open daily from 10.30am (except 25/26 December) until 5pm in the winter and 6pm in the summer. Adult admission is £2.50 (2014 prices) but is sometimes restricted because of private functions. To be honest, all the rooms are stunning that even seeing just one is worth the walk from the centre of Bath. It's probably best though to call in advance of your visit to check your dates. If you intend to visit the Bath Fashion Museum downstairs, the ticket price includes admission to the Assembly Rooms.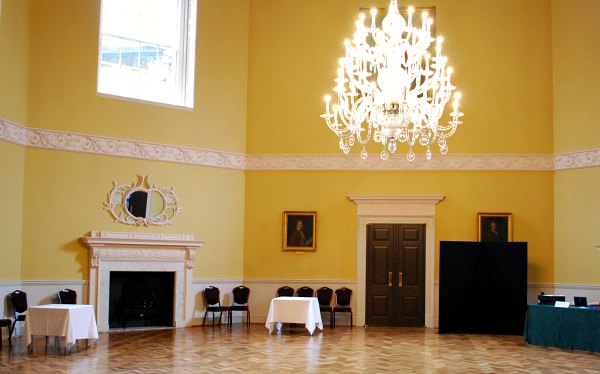 If you struggle with hills, or just want a different way to get the the Assembly Rooms, we'd recommend the Bath Hop-on, Hop-off Bus Tour which stops right outside. It also takes you to all of the other significant locations in the city with an informative commentary along the way.
LOCATION & CONTACT
Address: Bennett Street, Bath, Somerset, United Kingdom, BA1 2QH
Tel: +44 (0)1225 477173
MORE ON BATH ASSEMBLY ROOMS
Bath Assembly Rooms – The National Trust
Bath Assembly Rooms – VisitBath
Bath Assembly Rooms – Wikipedia
Hotels in Bath – We recommend Hotels.com
Books on Bath – Amazon.co.uk