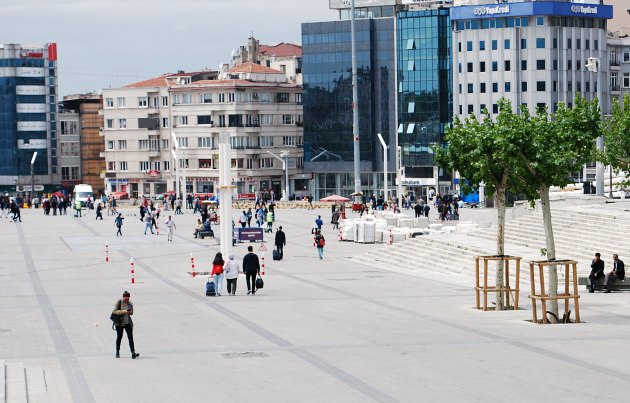 Taksim Square in Istanbul is a large modern plaza in the heart of the new city which has been a gathering place for decades. When people come together, they do it here. From times of jubilation to times of protest or just to meet friends, the square is always busy. In recent years it's undergone a modernisation programme and you'll now find new paving and trees. Somehow though, despite the numbers of people, the square feels a little soul less.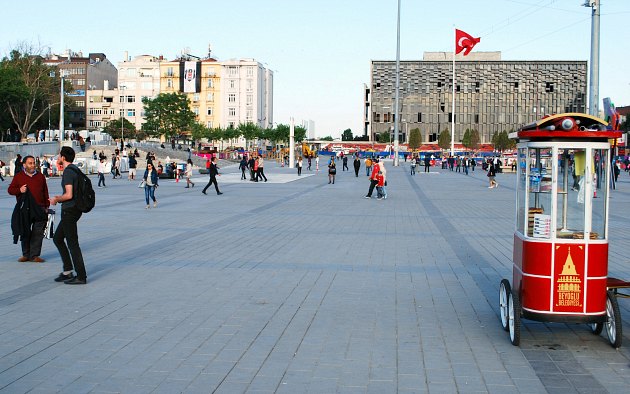 There are a number of notable features around the square. Amidst the concrete, there is a small park here with trees, grass and benches to sit on. The square is also home to the Atatürk Cultural Center (Atatürk Kültür Merkezi) and look out too for the huge Monument of the Republic which was erected in 1928 to mark the anniversary of Republic of Turkey's foundation in 1923.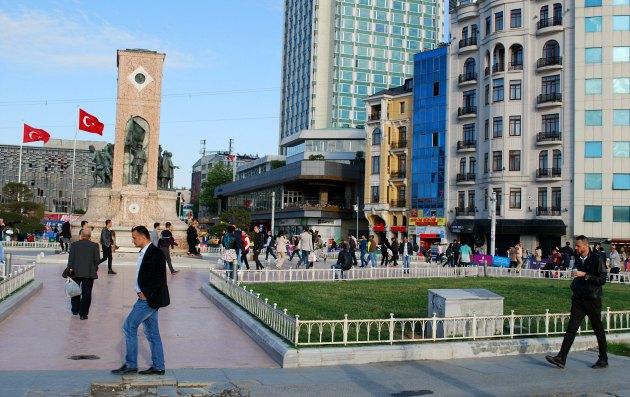 One of the most attractive features of Taksim Square are the historic trams which arrive here from Independence Avenue and then turn around to head back again. They are included in Istanbul's travel card scheme if you want to ride on them to Tünel at the other end of the line. You may instead choose to walk down Independence Avenue (İstiklal Caddesi), which is packed with shops and restaurants. It's here that you'll find all the big names in retail.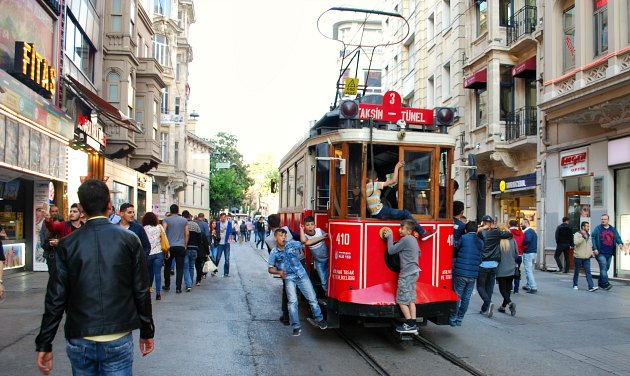 There are restaurants a plenty down Independence Avenue too ranging from fast food establishments like McDonald's and Burger King to chains like the Hard Rock Cafe. You may prefer to buy a snack from one of the many street sellers in Taksim Square instead though. Traditional snacks like corn on the cob and Simit (a circular bread) are commonly found.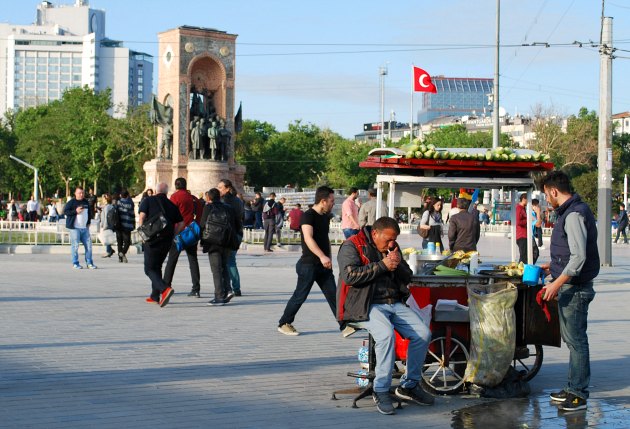 Taksim Square is also a significant transport hub and is served by the Istanbul Metro and an underground funicular which links to the modern tram line.
LOCATION & MAP
Address: Taksim Meydanı, Istanbul, Turkey
Taksim Square is easy to get to using the tram, metro or funicular. You can also use the Istanbul Big Bus Hop-on, Hop-off Tour to get here.
MORE ON TAKSIM SQUARE
Taksim Square – Wikipedia
Hotels Near Taksim Square – We recommend Hotels.com
More Things To Do In Istanbul – Prices in UK Pounds
More Things To Do In Istanbul – Prices in US Dollars