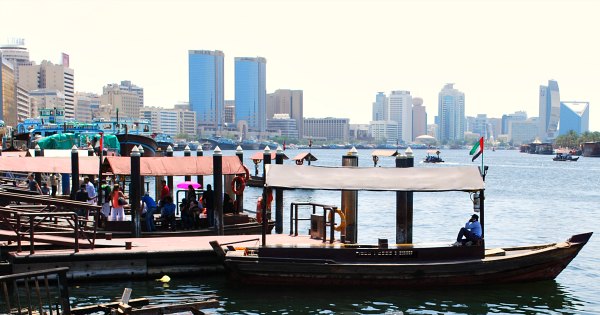 Dubai Creek is a natural waterway leading to the sea and it's here that you'll find the oldest parts of Dubai. The city began life along the banks of this creek and it was therefore necessary to have an easy way to get from one side to the other. The small wooden 'Abra' ferries have been  making this journey for generations and they're still as busy today as they ever were. We loved the experience of hopping on board and at 1 Dirham per person, it's the best tourism bargain to be had in Dubai! As you're travelling on the creek, you feel like you're in Dubai of old. The crossing only lasts about 5 minutes, but it's a lovely experience.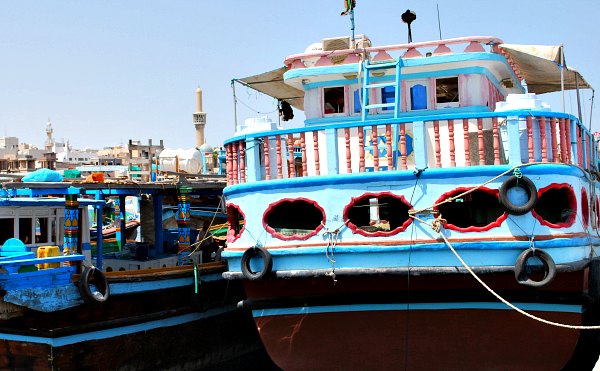 You can also hire the Abra boats for an hour long tour. All the information you need is at the Abra stations on either side of the creek. For the ferry crossing, you simply pay the driver – just follow the locals. For the longer tours you'll be guided to a different boat. Sign boards explain what you can expect. The longer tours are much more expensive than the basic creek crossing though. Other tours on Dubai Creek are available too. The Dhow Boat Dinner Cruise gets good reviews and brings you the sights of night time Deira with a buffet feast. Alternatively, there's the more luxurious Bateaux Dubai Dinner Cruise.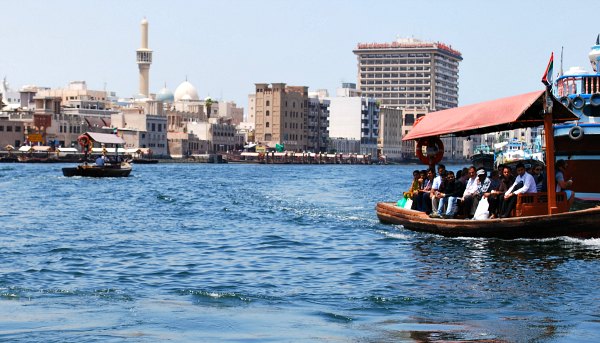 Most of the souks developed around Dubai Creek as this is where produce originally arrived in the city. They're a lot more modern these days, but they're still worth visiting. The two main souks are the Gold Souk and the Spice Souk and they're both within walking distance of each other. The Spice Souk entrance is right where the Abra boat station is and it certainly feels like Dubai of years gone by as you walk up darkened, covered alleys crammed with tiny shops selling not just spices but everything you can imagine from fabrics to shoes to home wares. Along the way traders will try to get you interested in things they're selling. The nearby Gold Souk has its focus on jewellery but doesn't feel quite so historic. There's more information here: Dubai Souks.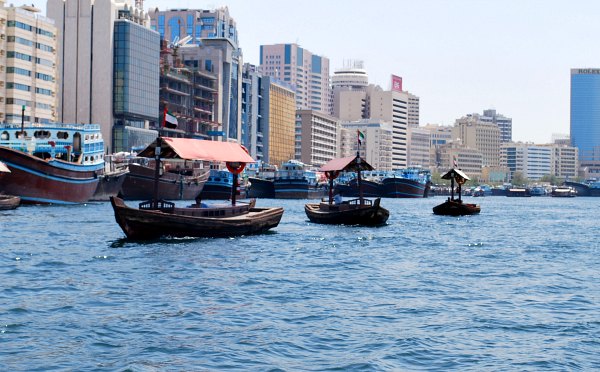 Many of Dubai's heritage attractions are located near the creek, so if you're interested in Al Fahidi Fort or Dubai Museum, head to the area near the Hindu Temple in Bur Duibai.
LOCATION & MAP
Dubai Creek is sandwiched between an area called Deira where the souks are located and Bur Dubai. There are several metro stops which serve the area (see map) and there's a water taxi station on the creek too.
MORE ON DUBAI CREEK
Dubai Creek – Wikipedia
Dhow Boat Dinner Cruise on Dubai Creek – Prices in US Dollars
Dhow Boat Dinner Cruise on Dubai Creek – Prices in UK Pounds
More Things To Do In Dubai
Dubai Hotels – Latest offers from Hotels.com with customer reviews
Dubai Guide Books – Amazon.co.uk
Dubai Guide Books – Amazon.com