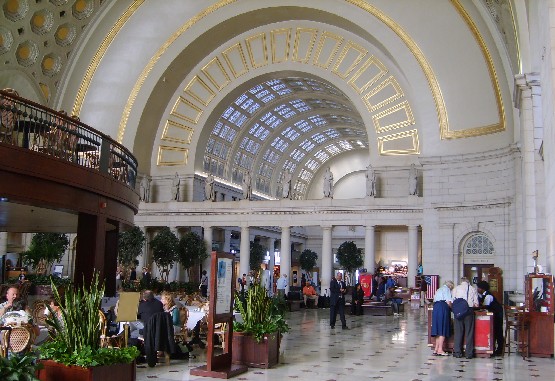 This isn't just about trains!  It was opened in 1908 and back then it was the grand entrance to Washington.  As such the architecture is really impressive.  From the outside it has a huge long frontage and the inside has the most stunning ceiling.  Whilst the station still has its trains, these days it's also an atmospheric shopping and dining venue.   This is an extract from our free Washington City Guide.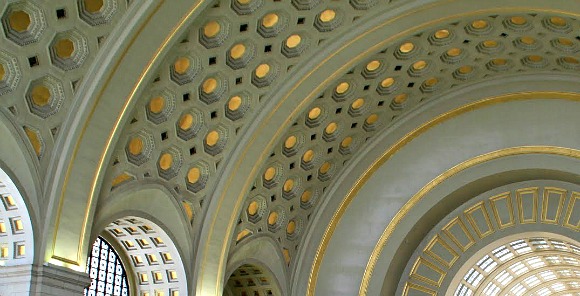 After a number of years of decline, the station re-opened in its current form in 1988.  Can you believe that at one stage, they'd actually considered knocking it down and building an office block?  What were they thinking!  We thought it was one of the most beautiful buildings in Washington and we loved the way the space had been used inside for around over 100 shops and restaurants.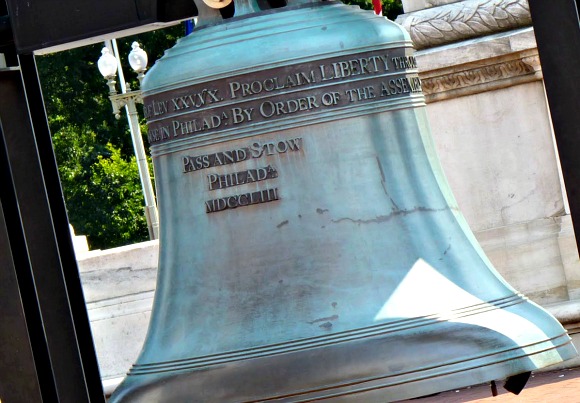 Outside the station you'll find a double size replica of the famous Liberty Bell, known as the Freedon Bell.  Union Station is also the location from which the Washington Duck Tour departs (hourly).
LOCATION & CONTACT
Address: Union Station, 50 Massachusetts Avenue NE, Washington, DC, United States.
Tel: +1 202 289 1908
MORE ON UNION STATION
Washington DC Duck Tour – Departs from Union Station
Hotels near Union Station – Great rates from Hotels.com
Union Station – Official Website
Union Station – Wikipedia
More Things To Do In Washington DC – From our Tours & Activities pages
Washington DC Guide Books – Amazon.co.uk (UK)
Washington DC Guide Books – Amazon.com (US & Canada)