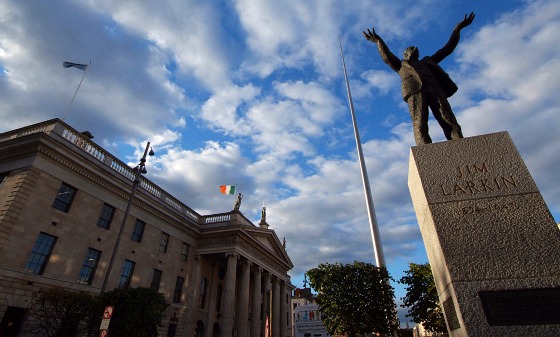 The Spire is a huge polished needle pointing towards the sky in Dublin. You'll find it near to the General Post Office on O'Connell Street and there's often a collection of people gathered around its base. The top reaches nearly 400 feet (121 metres) and in the daytime it reflects the buildings around it on its highly reflective surface. At night it is illuminated and can be seen all around the centre of Dublin. If you place your head on the spire and look upwards, you will see the top of the Spire moving around in the wind.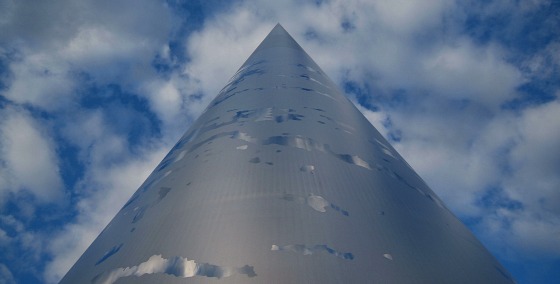 The Spire stands on the site of the old Nelson Pillar which was destroyed after an IRA bombing in the 1960s. It was designed by Ian Ritchie Architects as a Millennium project for the rejuvenated O'Connell Street and there was a certain amount of controversy surrounding its construction. This was mainly because of the cost (4 million Euros) and delay over planning permission which meant construction didn't actually begin until late 2002. It also emerged that cleaning the spire would be a costly exercise too. You'll find that the spire is also known as The Spike locally.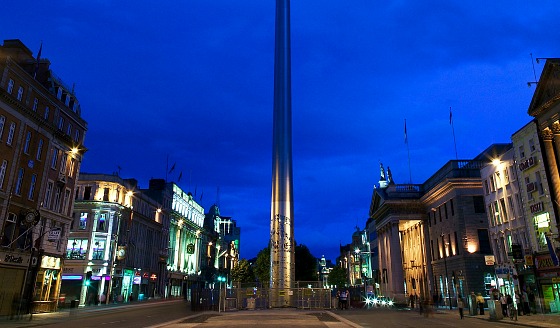 Other notable landmarks nearby include the attractive GPO building which was the scene of the 1916 Easter Rising and the likeable statue of the Irish union leader Jim Larkin, pictured at the top of the page.
LOCATION & DIRECTIONS
Address:  The Spire, O'Connell Street, Dublin, Ireland
To find the Spire from the Grafton Street shopping area, head north into Westmoreland Street and across the River Liffey on the main road bridge. This brings you to O'Connell Street and you can't miss the Spire!   The Dublin Hop-on, Hop-off Bus Tour stops nearby too.
MORE ON THE SPIRE
The Spire – Wikipedia
The Spire – VisitDublin.com
Dublin Hop-on, Hop-off Bus Tour – Stops near The Spire
Hotels near The Spire – Lowest price guarantee from Hotels.com
Hotels from £31, Flights from £40, 2 Night Breaks in Ireland from £105 – Opodo.co.uk
Dublin Historical Walking Tour
Traditional Irish Music Pub Crawl – A tour of Dublin's best pubs led by two musicians