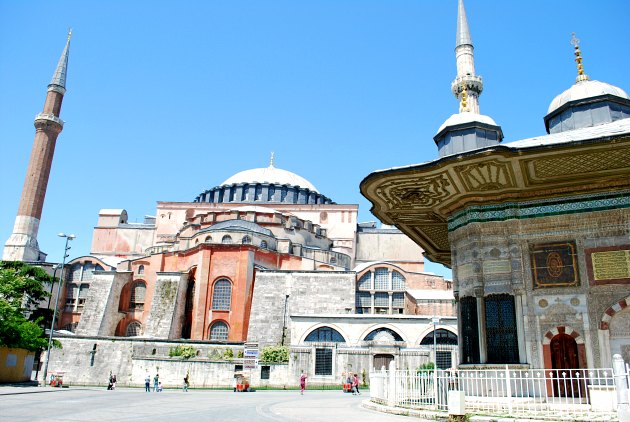 Hagia Sophia is the must-see attraction of Istanbul. The building stands as a piece of history telling the story of the city and its relationship with religion over the years. There's so much to see inside and outside that you'll need to allow plenty of time to see it all. Hagia Sophia was constructed as a Christian church by a Emperor Justinian in the 6th century, the third to stand on the site, but was converted to an Islamic mosque in the 1400s. When you enter, there are symbols of both religions to see.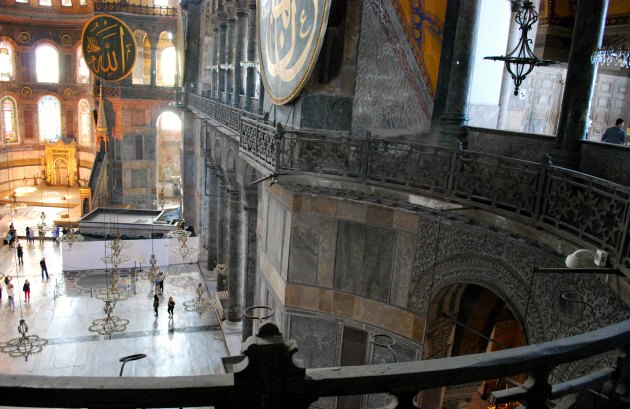 Before you enter the main part of the building, we'd really recommend watching the information video. It's very well done and gives you a real understanding of what you're about to see. The most striking feature of the main worship area is the huge painted dome, but there are many other features to focus on too. The large painted wooden boards with Arabic inscriptions on, were added in the 1800s. In the Nave, look out for the spot where Emperor's thrones were placed and in the galleries the ornate metalwork of the Sultan's Library. There is also a pillar which 'weeps' and reputedly has healing properties!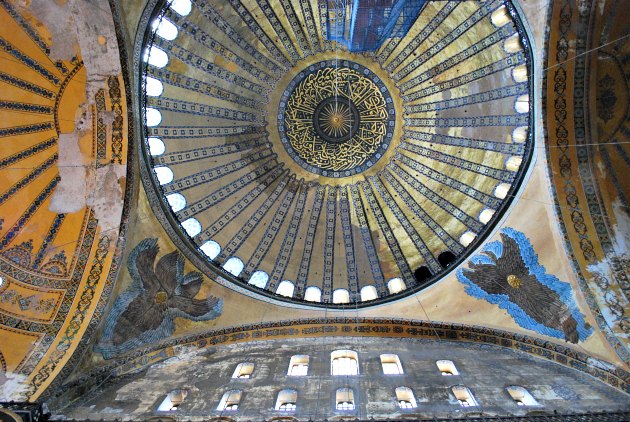 To get to the second floor, you need to walk up an ancient cobbled passageway which seems to take for ever. When you get there though, you are rewarded with lovely views of Hagia Sophia, more painted ceilings and the Emperor's reserved area which is marked by a large doorway. Inside are some of the most beautiful Christian mosaics you have ever seen. These were plastered over when the church became a mosque and were only discovered again in the 1930's when Hagia Sophia became a museum.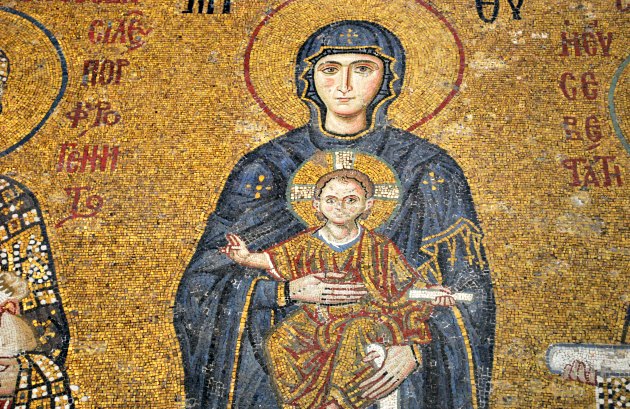 Your visit to Hagia Sophia does not end here. Spend some time outside looking at the stone remains which are littered around the entrances. Each one is numbered because these are parts of the earlier churches which stood here. After that head to the burial tombs which have a separate entrance because admission to this area is free. The tombs (pictured below) were specially constructed for Sultan's families and they are a real treat to visit.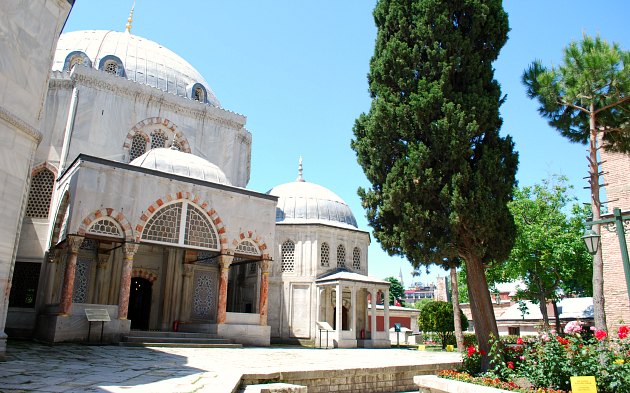 Inside each tomb there are ornate Turkish tiles, impressive painted domes, stained glass windows and the tombs themselves, which are covered in green tents. Each tomb is like a mini mosque in decor and seeing the tombs was one of the most memorable parts of our visit to Istanbul.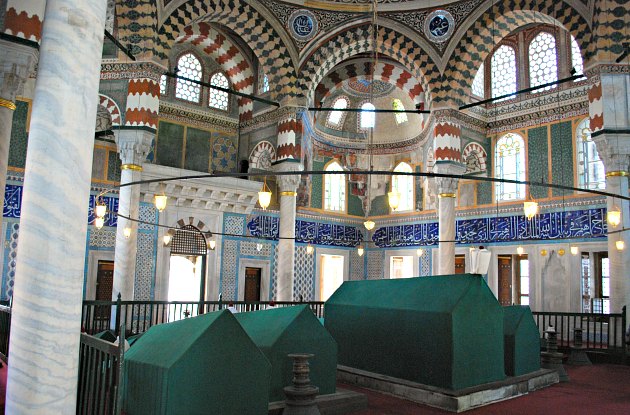 Hagia Sophia is open daily from 9am until 7pm in the summer and 9am to 5pm in the winter. Adult admission is 40TL but an audio guide is extra (2016 prices). Admission to the tombs is free via a different entrance. Tour guides are plentiful in Istanbul and if you feel you would get more from your visit by taking a guided tour, we'd recommend booking in advance to be sure you get someone who knows what they're doing. There are a number of options here:
Small Group Walking Tour of Hagia Sophia & Blue Mosque
Hagia Sophia & The Grand Bazaar Walking Tour
LOCATION & CONTACT
Address: Hagia Sophia Museum, Ayasofya Square, Sultanahmet, Istanbul
Tel: +90 (212) 522 17 50
Tel: +90 (212) 522 09 89
Hagia Sophia is in Sultanahmet Square. Use the Sultanahmet tram stop to get here, or the Istanbul Big Bus Hop-on, Hop-off Tour.
MORE ON HAGIA SOPHIA
Hagia Sophia – Official Website
Hagia Sophia – Wikipedia
Boutique St Sophia – Our recommended hotel is next to Hagia Sophia
More Things To Do In Istanbul