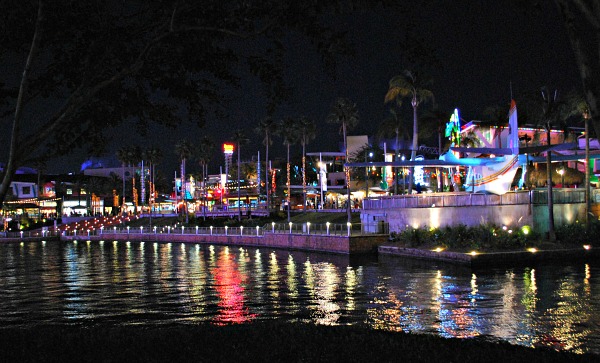 This is Universal's version of Downtown Disney and it's not quite as good for a number of reasons. Firstly, you have to pay to park, secondly the range of restaurants and experiences isn't quite as good and thirdly it just doesn't seem to have the same atmosphere. Even so, if you visit on a day that you're in one of the Universal theme parks anyway, it's a nice place to eat and wander around. The Hard Rock Cafe here is the biggest in the world, the Blue Man Group now has a show here and there's also a cinema, bars and clubs. If you buy a Universal multi-park ticket, admission to some of the clubs is included.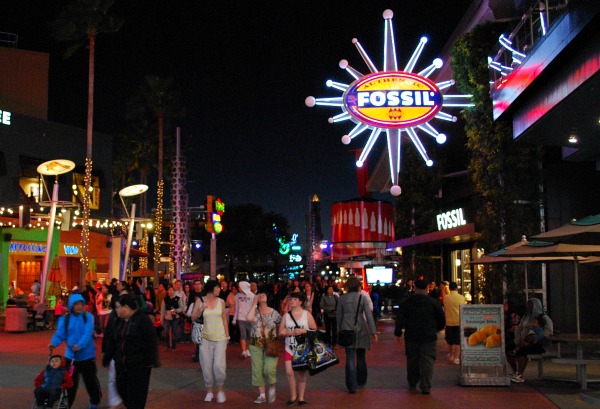 Universal CityWalk bills itself as the "Entertainment Capital of Orlando" and if you like partying, dancing and dining there's plenty to keep you occupied. It's certainly less of a 'family' place than Downtown Disney, but if it's more grown up entertainment you're after then head to the bars, music venues and clubs and you'll have a great  time.  Most of the dancing takes place at The Groove, which is designed to look like an old theater which is being renovated or Latin Quarter. For live music, head to Jimmy Buffett's Margaritaville, Pat O'Briens, Rising Star or Bob Marley – A Tribute To Freedom. Most of these venues also serve food.
Other dining options include Bubba Gump's, NASCAR Sports Grill, NBA City and Emerils Restaurant Orlando which serves the food of celebrity chef, Emeril Lagasse. We chose the huge Hard Rock Cafe which is shaped a bit like a guitar inside and as usual, the walls are decorated with rock and pop memorabilia from across the years. The restaurant is open 11am to 12 midnight daily.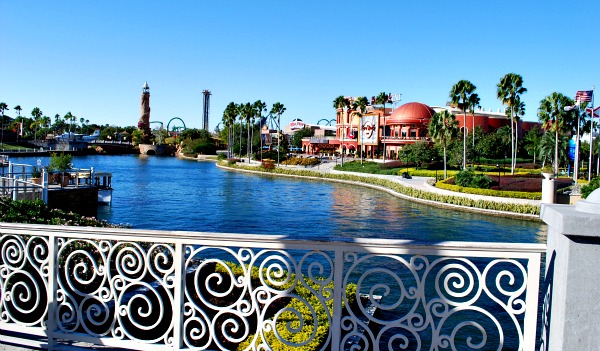 Other attractions at Universal CityWalk include the Blue Man Group show which has new elements combined with some of the visual stunts you may have seen at Blue Man productions before. Shows take place most days at 8pm but there are two shows at 6pm and 9pm on certain days too.  Another new attraction is Hollywood Drive-in Golf, a 'crazy' golf experience based on horror movies of the 1950s which is open 9am to 2am daily and costs $15.99 for adults (2018 prices).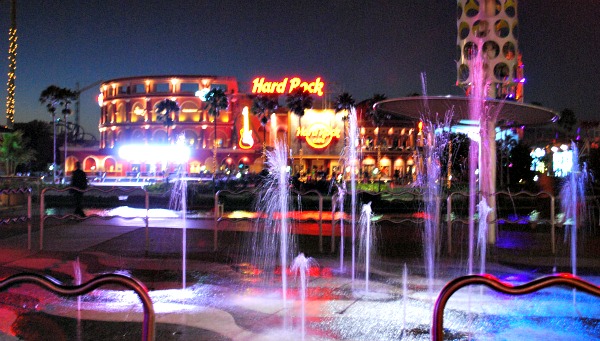 The stores, restaurants, clubs and experiences at Universal CityWalk have various operating hours but most are open 9am with clubs closing as late as 2am.  If you want to go to the nearby Universal parks, see the various ticket options with latest prices here. Also, see our information pages on the other Universal Attractions in Orlando…
Universal Studios Florida
Universal Islands of Adventure
LOCATION & CONTACT
Address: Universal CityWalk, 6000 Universal Boulevard, Orlando, Florida 32819, USA
Tel: +1 407 224 4233
Universal CityWalk is near to the I-4 and International Drive. Follow the signs to the multi-storey parking lots which are shared with the two theme parks,  Universal Studios Florida and Universal Islands of Adventure.
MORE ON UNIVERSAL CITYWALK
Universal Tickets – See best prices in US dollars
Universal Tickets – See best prices in GB Pounds
Universal CityWalk – Official Website
Universal CityWalk – Wikipedia
Universal Studios Florida – See our page on the other Universal theme park
Universal Islands of Adventure – See our page on this Universal theme park
More Things To Do In Orlando
Orlando Hotels – We recommend Hotels.com for the best service and prices