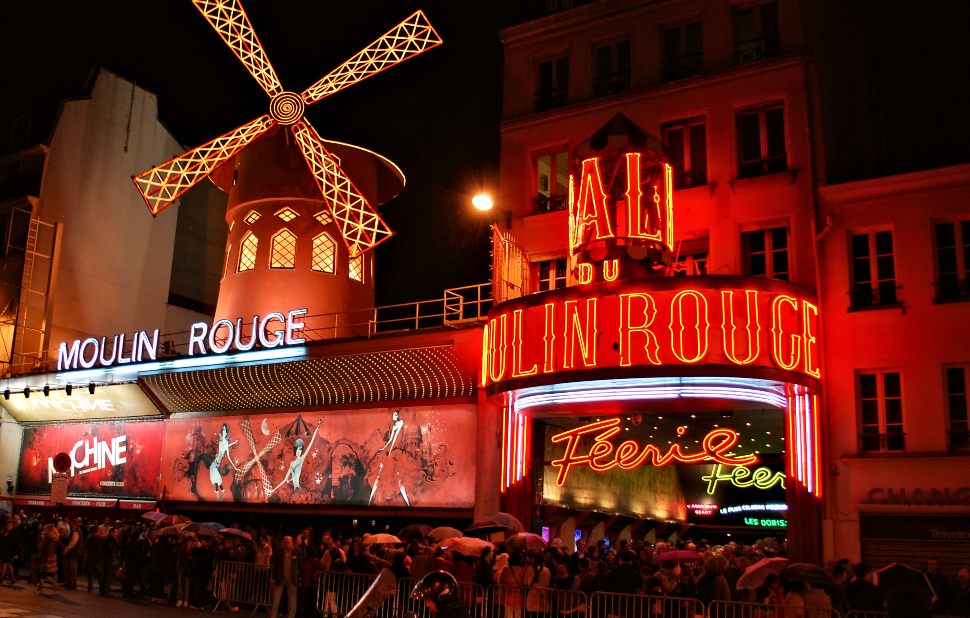 The Moulin Rouge is one of the world's best-known entertainment venues and it's been wowing the crowds since 1899. If you're looking for flamboyant dancers, talented acrobats, and unbelievable costumes, then this is the show for you. As this is still the premier show in Paris, the only thing to bear in mind is that it will sell out. We'd recommend booking well in advance and as there are lots of options for tickets, there's something to suit most budgets. take a look at the options here….
We chose the dinner at 7pm with show at 9pm ticket option at the Moulin Rouge and the first thing to mention is that although the whole place looks a little run down on the outside, the inside is totally different. The dominant colour is red, obviously, but it feels like a luxurious gentleman's club from years ago and you can really sense the history in the place. You'll be seated on a table for 6 or 8, so unless you have a large number of people in your group, you'll be sitting next to strangers. We had an couple from Memphis on one side and a Spanish couple who didn't speak English on the other.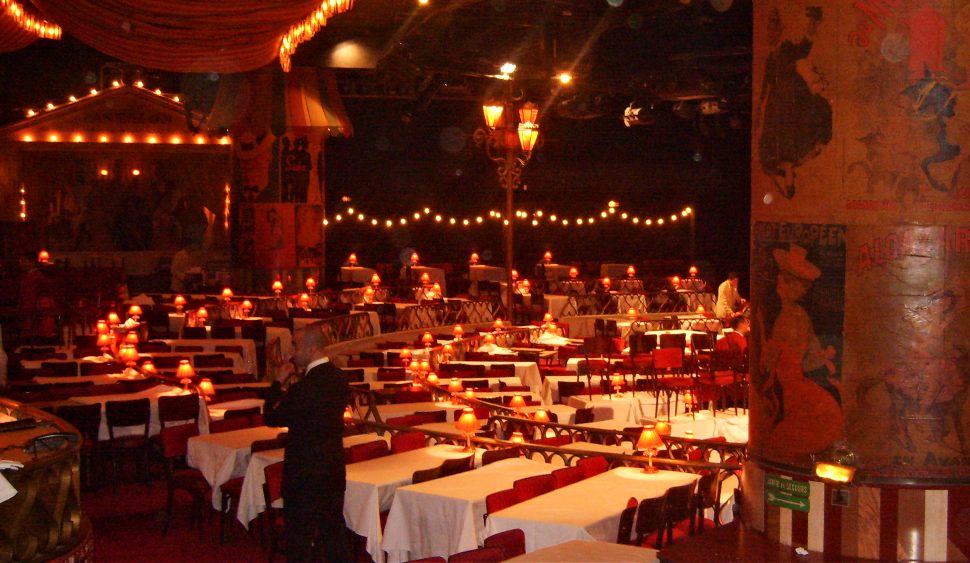 There are different menus that you can choose from in advance and both come with half a bottle of champagne or wine per person. When you sit down, they'll know which menu you ordered and will simply ask which drink you would like. Our starter was a terrine, which was delicious, followed by chicken which was rather bland and an amazing chocolate dessert. The portions aren't huge, but it's certainly enough to keep you going. The Memphis couple went for Salmon and said it was delicious, so maybe we just picked the most boring main course. Nevertheless, the main reason you're there is to see the show. There is live music during dinner, for us this consisted of a decent band and a couple of not so decent singers who just looked they were going through the motions. The show itself though, was totally different.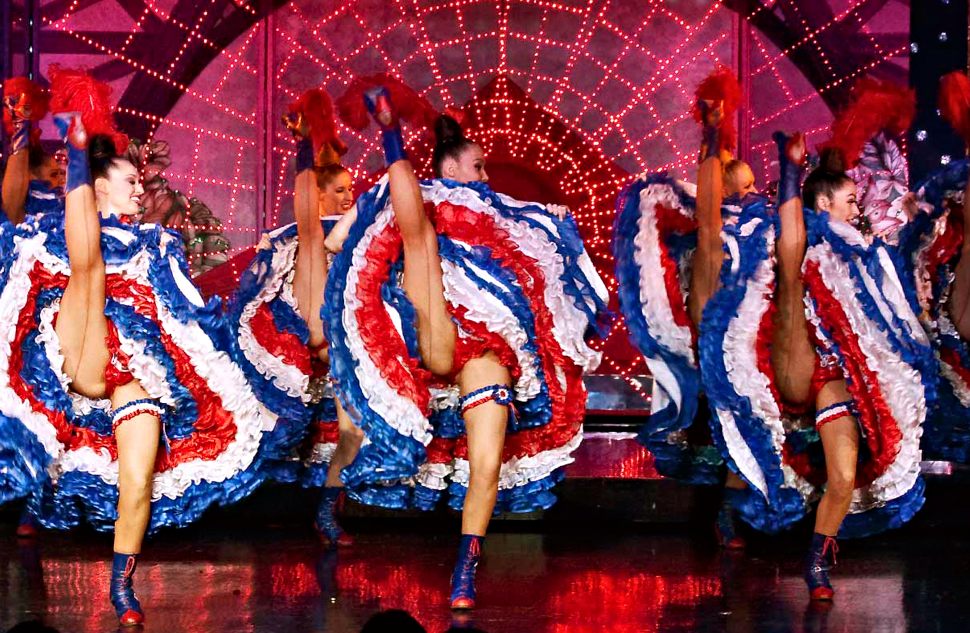 From the moment the guys and girls come on stage, they draw your eye with incredible costumes. There are more feathers than you've ever seen before, together with shiny beads and even fairy lights. In between the various themed dances, there are variety acts of the highest standard. We saw some hilarious acrobats, a very entertaining juggling comedian and the most impressive gymnastic circus-style act we've ever seen. The stage gets more and more impressive as the show continues too with a water tank and moving stairways.
All in all, the Moulin Rouge was well worth the money and is one of those special experiences you want to say you've had. It's not somewhere you're likely to go back to, but it's somewhere you'll remember for a long time to come.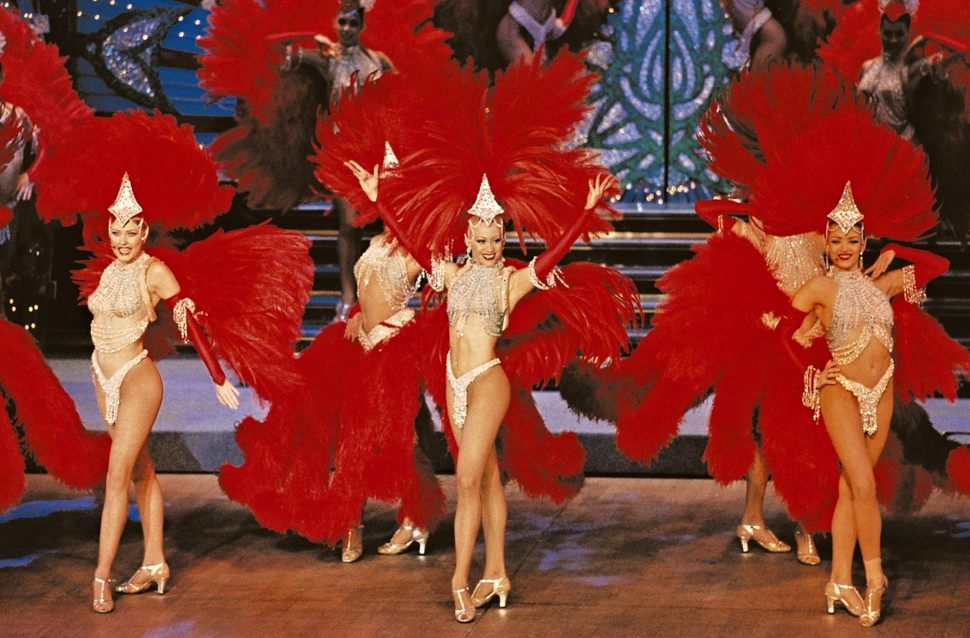 There are two shows a night at the Moulin Rouge, one at 9pm and one at 11pm. Dinner is offered before the 9pm show. You can book for the show only, or with dinner. There are also lots of other ticket options involving hotel pickups etc. Prices vary depending on the show you want, but typically you'll pay around 90 Euros for the show only and 185 Euros for the show with dinner (2019 prices). You can book the most popular option with dinner here:
Moulin Rouge: Tickets including dinner options
LOCATION & CONTACT
The Moulin Rouge is in the red light district of Paris, but don't let that put you off! The nearest Metro station is Blanche and when you emerge from the exit, the theatre is just across the road.
Address: Moulin Rouge, 82 Boulevard de Clichy, Paris, France
Tel: +33 1 53 09 82 82
MORE ON THE MOULIN ROUGE
Hotels near the Moulin Rouge
– Great deals from Hotels.com
Moulin Rouge
– Wikipedia
Paris Guide Books
– Amazon.co.uk