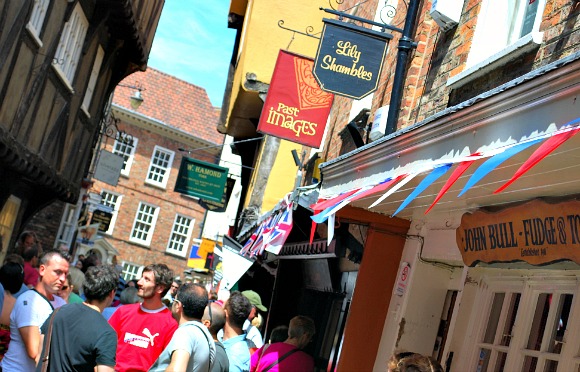 Europe's oldest shopping street was mentioned in the Doomsday Book of 1086 and is best known for its period properties that almost touch across the street as the levels go up. Hundreds of years ago, these were ordinary homes lived in by people practising some of the traditional professions, mainly butchery, but today the street is packed with traders of all kinds from gift shops to tea rooms. The street often gets busy and it's tiny, so at peak times don't expect to be able to stand in the middle of a large crowd taking photos. If you want to stop for tea here, a popular choice is the Earl Grey Tea Rooms. This is an extract from our free York City Guide.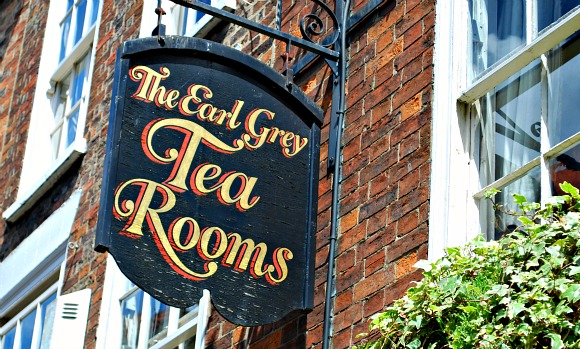 The Shambles gets its name from the butchers that dominated the street. It means slaughterhouse or meat market and in ancient times hygiene left something to be desired and the cobbled street down the centre would have had all kinds of animal remnants thrown into it. On some of the properties in the Shambles you can still see the meat hooks outside. Meat is still sold in the Shambles, although it mainly comes in pasties! Other shops in today's street include fudge makers, gift shops,  jewellery stores, and the Earl Grey Tea Rooms mentioned above where you can sit under the oak beams and sip your tea surrounded by tapestries.
Also on the Shambles, look out for the home of Margaret Clitherow and the associated shrine which marks this as she has since been declared a saint.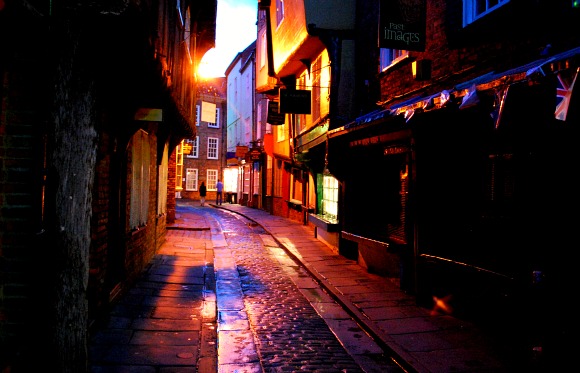 LOCATION & MAP
The Shambles, more correctly known as simply Shambles, is right in the centre of York off the road called Pavement with 'snickleways' that lead to the Market.
MORE ON THE SHAMBLES
The Shambles – Wikipedia
Hop-on, Hop-off Bus Tour – Stops at major locations in York
VisitYork.org – Official York Tourism Website
York Pass – Free entry to York's attractions
York Hotels – We recommend Hotels.com with their lowest price guarantee
York Insight Guide – Amazon.co.uk
York Pocket Guide – Amazon.co.uk
Rough Guide To Yorkshire – Amazon.co.uk
Yorkshire Travel Guides – Amazon.com (USA)