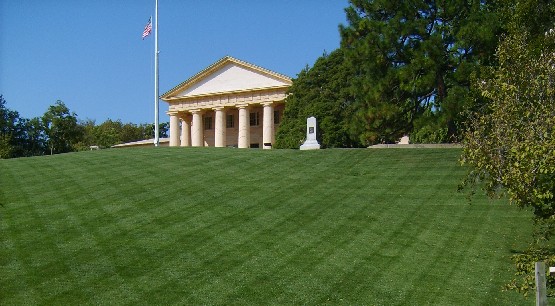 It might sound a bit morbid, but a visit to the cemetery is a truly poignant experience. You'll see line upon line of simple military graves as far as the eye can see.  The cemetery is geared up for visitors and many call in at the grave of John F Kennedy with its eternal flame.  The easiest way to get here is on the Metro – the cemetery has its own stop.  You also get a good view of the Pentagon.   This is an extract from our free Washington City Guide.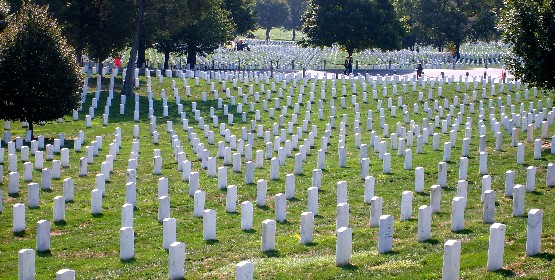 Technically Arlington Cemetery is in Virginia as it's on the opposite side of the river to Washington DC, but the Metro ride from the city centre last no more than 1o minutes.  Around 4 million people visit the cemetery annually and the first stop is the Visitors Center where you'll find exhibits, maps and information if you're looking for a specific grave.  There are plenty of signs to John F Kennedy's grave and the eternal flame (pictured below).  On the hill overlooking the cemetery is Arlington Mansion (pictured at the top of the page) which was originally intended as a living memorial to George Washington.
Arlington National Cemetery is open to the public at 8am every day of  the year. From April 1st to September 30th, the cemetery closes at 7pm whilst the other six months of th year, it closes at 5pm.  There is no admission fee.  You can also visit Arlington Cemetery on the Washington DC Guided Day Tour which consistently gets great reviews from other travellers.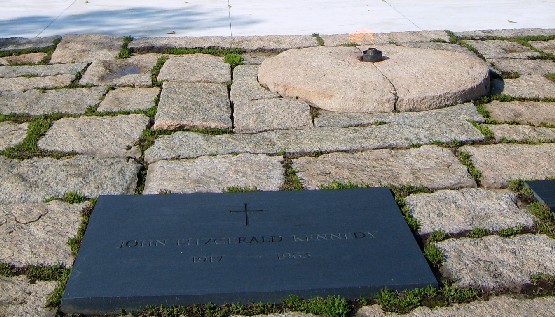 LOCATION & CONTACT
Address: Arlington National Cemetery, 214 McNair Rd, Fort Myer, VA 22211-1304, United States.
Tel: +1 703 607 8000
On exiting the Metro station, take Memorial Drive to the entrance of the cemetery. The walk will take 5-10 minutes.
MORE ON ARLINGTON NATIONAL CEMETERY
Washington DC Guided Day Tour – Visits Arlington Cemetery
Hotels near Arlington National Cemetery – Great rates from Hotels.com
Arlington Cemetery – Official Website
Arlington Cemetery – Wikipedia
Washington DC Guide Books – Amazon.co.uk (UK)
Washington DC Guide Books – Amazon.com (US & Canada)