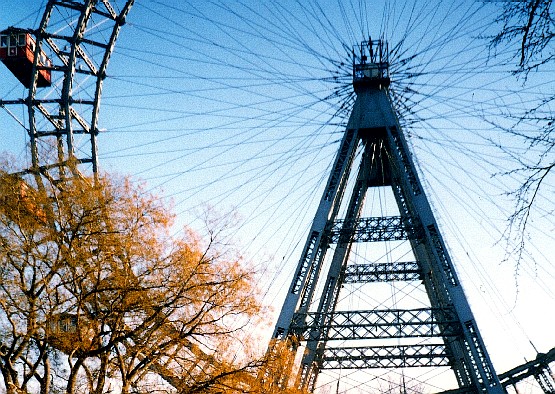 It's Vienna's most prominent landmark and it's been spinning visitors around for well over a hundred years.  The best way to see it is to ride the wheel and we'd recommend buying tickets in advance here:
Riesenrad Wheel Discount Tickets…
The wheel was built to mark the Golden Jubilee of Emperor Franz Josef in 1896, but its long term future was secured in 2002 with a huge renovation project.  When you ride the Riesenrad you get terrific views of Vienna, but also a sense of history with its wooden cabs and distinctive square windows.  You'll probably remember it from the movie "The Third Man". You do get the feeling though that wheel hasn't had the love and attention it deserves over the years.  This maybe because it is part of the Vienna Prater – a huge amusement park with traditional fairground rides and attractions.  Whilst the fairground attractions look best and are busiest at night, bear in mind that there's not much to see from the wheel when it's dark.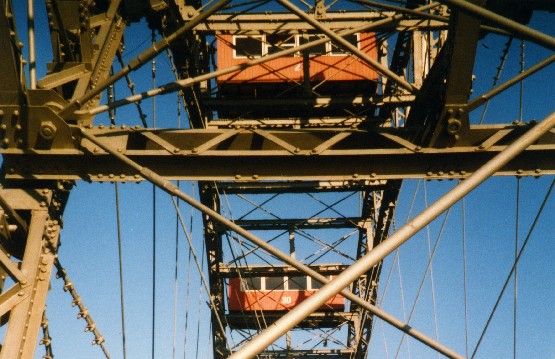 Another movie that you might have seen the wheel in is the 1987 James Bond Film, The Living Daylights.  The wheel originally had 30 cabs, but after it was severely damaged in the World War II, it was rebuilt with only 15.  You may also have seen historic black and white images of the wheel with the Nazi Swastika flying from the top when Austria was occupied during the war. The Riesenrad wheel is open daily from 9am in the summer and 10am in the winter. Closing time varies depending on the time of year, but typically it operates until midnight in the summer and 8pm or 10pm at other times. Adult admission is 12 Euros with a family tickets starting at 29 Euros (2019 prices).  
LOCATION & CONTACT
Address: Riesenrad, Prater 90, 1020 Wien, Austria
Tel:  +43 1 729 54 30
E-Mail: info@wienerriesenrad.com
Riesenrad is in Vienna's second district of Leopoldstadt. 
MORE ON THE RIESENRAD WHEEL
Hotels near the Riesenrad Wheel (Leopoldstadt) – Great rates from Hotels.com
Riesenrad Wheel Tickets – Latest prices
Riesenrad – Official Website
Riesenrad Wheel – Wikipedia
Vienna Guide Books – Amazon.co.uk (UK)
Vienna Travel Books – Amazon.com (US & Canada)