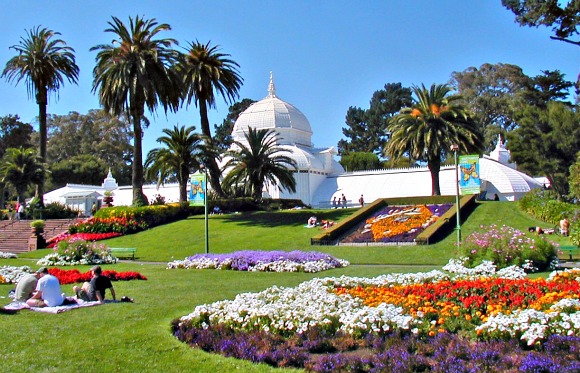 This is San Francisco's largest park and it's a lovely place to while away a few hours walking and relaxing. You probably won't see it all as it's 3 miles long and bigger than New York's Central Park, but there is the option to drive through some of it instead.  The park is jam packed with interesting features and structures, attractive walkways and stunning flower beds. The park's edges are lined by Fulton Street and Lincoln Way.  This is an extract from our free San Francisco City Guide.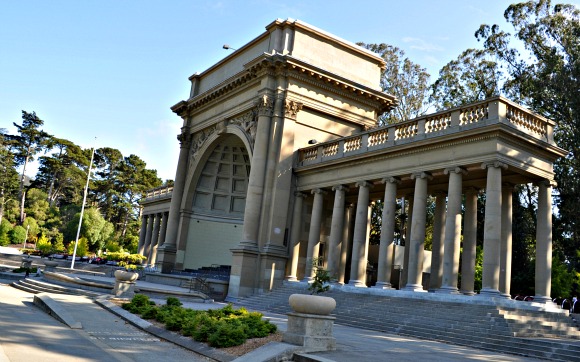 Golden Gate Park was created in the 1870s and runs from central San Francisco right down to the Pacific Ocean. A park of this size needs to have plenty to look at and you won't be disappointed. Here are the main features and buildings that we think you should see…
Conservatory of Flowers – It's had some scrapes over the years, but this huge wood and glass conservatory (pictured at the top of the page) is still standing and in great shape.
Spreckels Temple Of Music – This structure is part of the music concourse area of the park which has a sunken oval shaped auditorium. It's not unusual to find musicians performing here, but even if it's quiet, you can spend time looking at the statues of historic figures.
The Japanese Tea Garden – This is the oldest Japanese Garden in the USA and is stunning with the Pagoda, Tea House and the beautiful Drum Bridge.
Windmills –  Two of them were built in the park to pump water to the right locations. They've both been restored in recent years.  The North Windmill (pictured below) is on the North side of the park facing the ocean and Murphy's Windmill is on the south side of the park.
Beach House – Built in 1925, this 2 storey beach chalet is right next to the Pacific Highway at the western edge of the park and now houses a brewery and restaurant.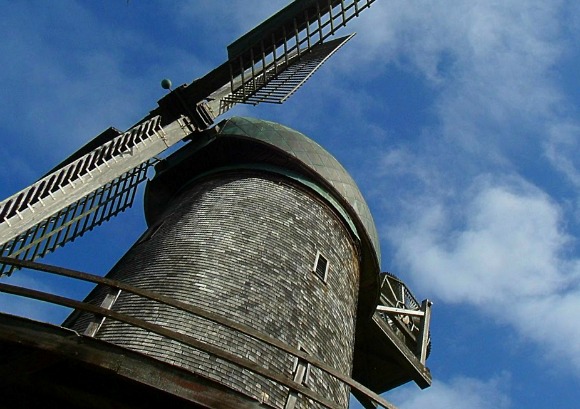 LOCATION & CONTACT
Address: Golden Gate Park, Conservatory Dr E, San Francisco, CA, United States
Tel: +1 (415) 750 5105
MORE ON GOLDEN GATE PARK
Golden Gate Park – Wikipedia
Hotels near Golden Gate Park – Great rates from Hotels.com
San Francisco Guide Books – Amazon.co.uk (UK)
San Francisco Travel Guide Books – Amazon.com (US & Canada)