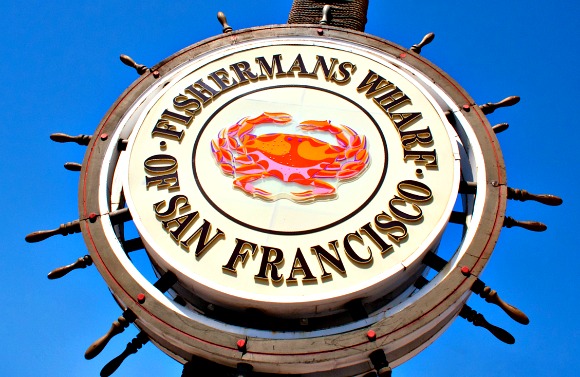 This area along the edge of the bay was once full of industry, but is now the tourist centre of San Francisco.  Many of the piers have attractions, shops and restaurants but still the most impressive is Pier 39.  There's also the added attraction here of the wild sea lion colony which has taken over some of the boat docks.  They sleep, play and bark constantly and entertain the crowd with their antics.  Also at Fisherman's wharf is Ghirardelli Square, the former home of the Ghirardelli chocolate factory. You'll get ice cream and chocolate here now.  This is an extract from our free San Francisco City Guide.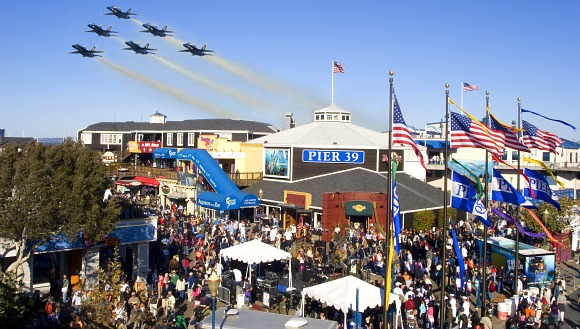 There are a variety of ways of getting to Fisherman's Wharf.  The Powell & Hyde cable car terminus is right at the wharf at the edge of the Victorian Park.  Even if you don't travel by cable car, it's worth watching the cars being turned around here.  The Powell and Mason cable car terminus is also just three blocks up Taylor Street, a short walk from Pier 39.  The other historic way to get to the wharf is with the Street Cars which travel along the Embarcadero on F Line.  There are regular bus services too from central San Francisco.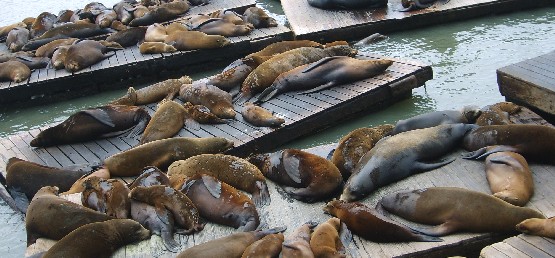 We'd recommend that you choose to stay in Fisherman's Wharf when visiting San Francisco.  We think you'll find it much busier at night than the Union Square area in the City Centre and yet everything in the city is still within easy reach.  Click here to see details of Fisherman's Wharf hotels.
LOCATION & CONTACT
The Fisherman's Wharf area stretches from Van Ness Avenue to the Embarcadero.  Popular streets with attractions are Beach Street and Jefferson Street.
Tel: +1 415 674 7503 (Fisherman's Wharf Information Line)
MORE ON FISHERMAN'S WHARF
Fisherman's Wharf Hotels – Great rates from Hotels.com
Pier 39 Attraction Pass – Includes Aquarium, a Bay Cruise & Trolley Tour
Fisherman's Wharf – Official Website
Fisherman's Wharf – Wikipedia
VisitFishermansWharf.com
San Francisco Guide Books – Amazon.co.uk (UK)
San Francisco Travel Guide Books – Amazon.com (US & Canada)