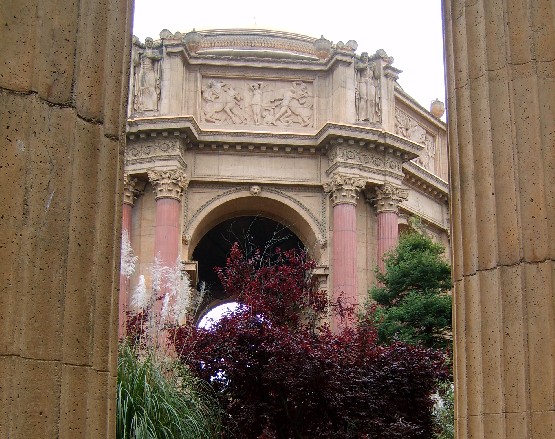 It's quite a walk to get here, so you might want to take a bus but we think it's worth it to spend time in the gardens which are free.  There are water fountains and beautiful stone structures dating back to 1915 with plenty of places to sit.  It's not unusual to find wedding parties here having their photos taken.   The Palace itself now houses a science museum.  You'll find it in the Marina district on the edge of the bay off Mason Street.  The District itself is a lovely residential area of San Francisco with many beautiful houses and park areas along the edge of the bay.   This is an extract from our free San Francisco City Guide.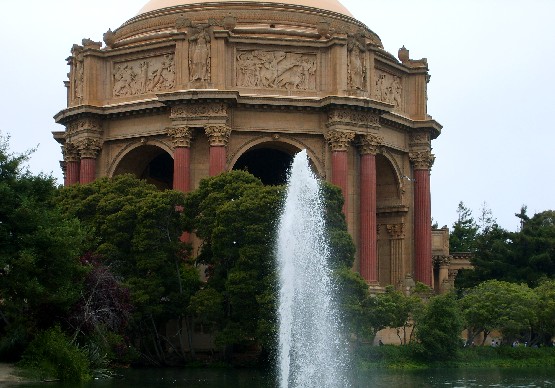 If you've seen the film The Rock, you'll recognise the Palace of Fine Arts as the area where Sean Connery meets his daughter.  The structures are a bit of a favourite of Hollywood having also appeared in Alfred Hitchcock's Vertigo, Time After Time, The Bachelor and Twisted.  You can walk from the Palace of Fine Arts to Golden Gate Bridge along the bay front and on a beautiful day it's a lovely walk to enjoy.
The science Museum is called the Exploratorium and theatre performances aso take place here.  The Palace of Fine Arts is featured in the highly rated San Francisco City Tour which also includes a guided tour of Alcatraz.
LOCATION & MAP
Address: Palace of Fine Arts, Lyon Street, San Francisco, CA 94123
MORE ON THE PALACE OF FINE ARTS
Alcatraz & San Francisco City Tour – Includes the Palace of Fine Arts
Hotels near the Marina district – Great rates from Hotels.com
Palace of Fine Arts – Wikipedia
Palace of Fine Arts Theatre – Official Website
Exploratorium – Official Website
San Francisco Guide Books – Amazon.co.uk (UK)
San Francisco Travel Guide Books – Amazon.com (US & Canada)