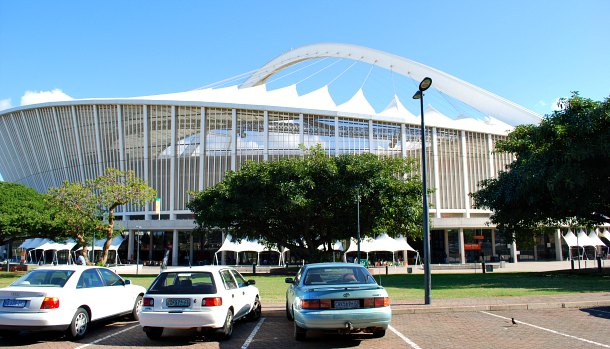 The Moses Mabhida stadium, near to the coast in Durban, was specially constructed for the 2010 FIFA World Cup. Just in case you're wondering, Moses Mabhida was a significant figure in the fight for freedom in South Africa. Even if you have little interest in soccer, you shouldn't miss visiting the stadium because of the impressive SkyCar which travels to a special viewing deck at the top. If you are interested in the rest of the stadium, there are tours available in there too.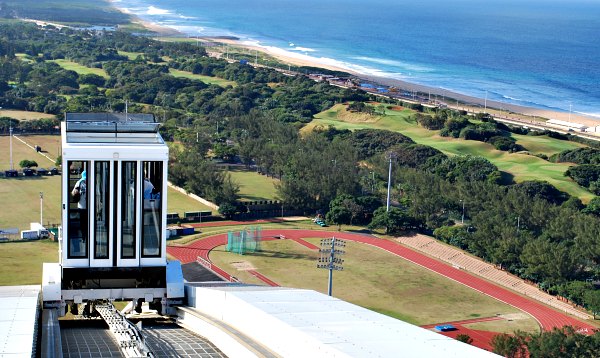 The SkyCar journey begins at the base of the stadium on the edge of the car park. You buy your ticket from the small ticket office nearby. Once you're inside, the pod travels slowly up the track and brings you to the viewing deck which is right on the top of the stadium. The deck is large enough for quite a few people and you'll be amazed at the incredible view in all directions. Apart from the beautiful northern coastline and the city of Durban itself, you'll also get a bird's eye view into the King's Park Rugby Stadium next door which is known as the Shark Tank.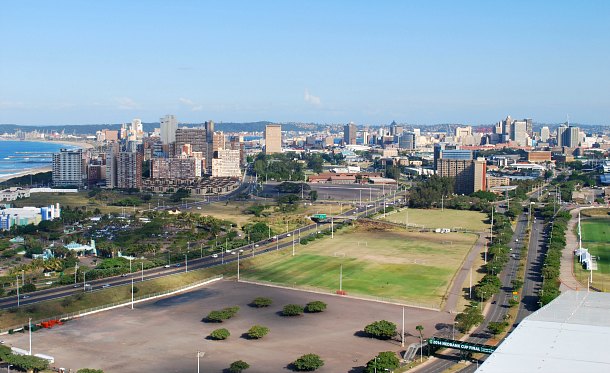 We thought the SkyCar experience was superb, but we do have one quibble. On the day we visited, the car only came back up to the top when new people bought tickets to ascend. As it was a quiet day, we and two other couples ended up sitting on the floor because we had to wait so long for it to return! Another option is the take the stairs – known as the Adventure Walk. Other experiences at the stadium include Big Rush Big Swing where the you're attached to a rope which is fixed on the arch and swing from one side of the stadium to the other. There are also a number of stadium tours including one by Segway.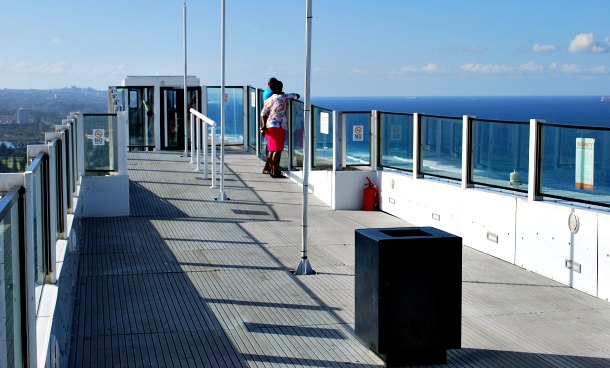 The SkyCar at Moses Mabhida Stadium operates from 9am to 5pm daily. Adult tickets are 60 Rand (Adventure Walk is 90 Rand) and there are discounts for pensioners and children. Big Rush Big Swing operates every day except Tuesday & Thursday and costs 695 Rand (2015 Prices).
LOCATION & CONTACT
Address: Moses Mabhida Stadium, 44 Isaiahntshangase Road, Durban, South Africa
Tel: +27 31 582 8222
Moses Mabhida Stadium has a free car park for visitors
MORE ON MOSES MABHIDA STADIUM
Moses Mabhida Stadium – Official Website
Moses Mabhida Stadium – Wikipedia
More Things To Do In Durban – See all options and choose your currency
Hotels in Durban – We recommend Hotels.com
Durban Guide Books – Amazon.co.uk
Durban Guide Books – Amazon.com