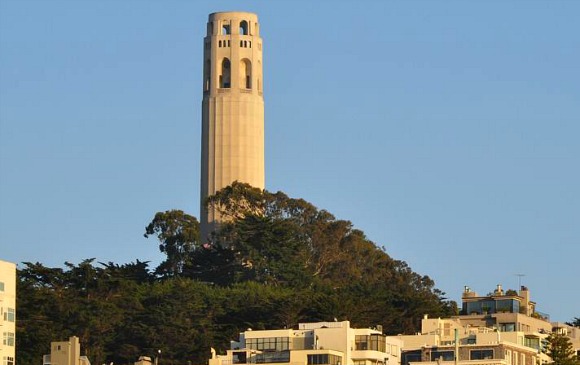 This tower stands on Telegraph Hill and is visible around large parts of San Francisco. As such, there are great views of the city from the top of the tower and it's free to go and see them, although there is a charge for the elevator. The tower was built in 1933 with a donation from a wealthy resident who was a big supporter of San Francisco fire fighters. Therefore, the 210 feet tall tower is designed to resemble a fire hose. Inside there is a shop and some impressive art murals on the walls. This is an extract from our free San Francisco City Guide.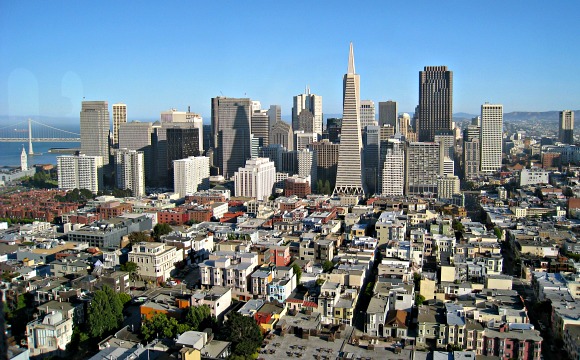 The biggest tip we can give you for Coit Tower is to make sure you go on a clear day. You'd be surprised how even a little bit of mist or low cloud can dramatically affect the view that you see and if you're going to make the effort to walk up the stairs, you want it to be worth it! One other thing to bear in mind, the tower isn't particularly near any of the main tourist sights, so you need to think how you're going to get there. We walked from Fisherman's Wharf, but it is a long trek uphill. Alternatively the number 39 MUNI bus service from Pier 39 stops at Coit Tower.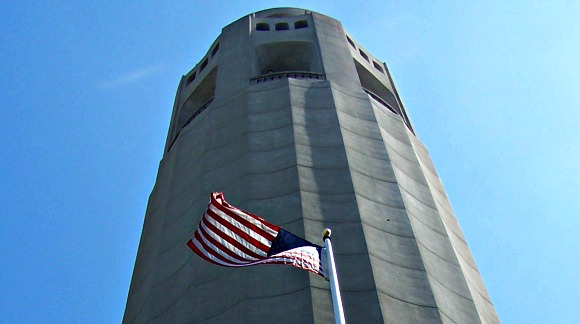 Coit Tower is open daily from 10am, but closing time depends on the time of year ranging from 5pm in the winter to 7pm in the summer. Admission to the first floor is free but the elevator fee to go higher is currently $4.50 for adults (2012 prices).
LOCATION & MAP
Address: 1 Telegraph Hill Blvd, San Francisco, CA 94133, USA
Tel: +1 (415) 362 0808
MORE ON COIT TOWER
Coit Tower – Official Website
Hotels in San Francisco – Great rates from Hotels.com
San Francisco Guide Books – Amazon.co.uk (UK)
San Francisco Travel Guide Books – Amazon.com (US & Canada)