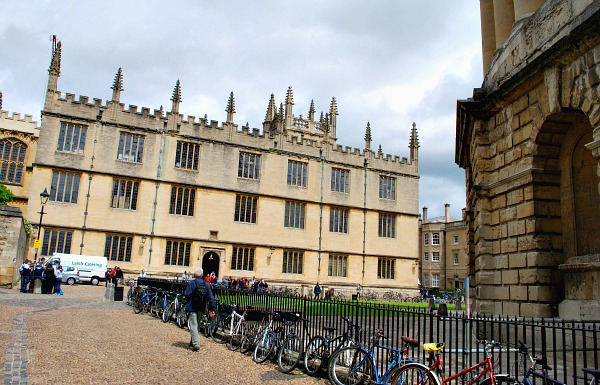 Did you know, the Bodleian library receives a copy of every single book that is published in Britain? The question is, where are they all stored when all you can see in Oxford are a small number of beautiful historic buildings? The answer is – underground! There are several tours you can take at the library but the one you'll get the most out of includes the trip underground to the storage areas below your feet when you're walking on Oxford's pavements. It's said there are over 100 miles of corridors for book storage below ground. Apart from the books at the library there are two more locations that doubled as Hogwart's in the Harry Potter movies. This is an extract from our free Oxford City Guide
Throughout the Harry Potter movies there have been a number of occasions where the Hogwart's Infirmary was featured. These were all filmed at the Divinity School at the Bodleian Library in Oxford. Imagine some hospital beds and screens in the picture above and you'll get a good idea of how it looked. Admission to the Divinity School is included in most of the tours of the Bodleian Library you can take, or you can just pay £1 per person to visit (2013 prices).
Duke Humfrey's medieval library at the Bodleian Library doubles as Hogwart's library in the Harry Potter films. Former users of this beautiful library include 5 kings, 40 Nobel Prize winners, 25 Prime Ministers of Britain and famous writers like Oscar Wilde, CS Lewis and Tolkien. You can only visit the library as part of an organised tour and be warned, they book up fast! Both the standard and the extended Bodleian tour will call in at Duke Humfrey's Library.
There are two main types of tour you can take at the Bodleian Library. Standard tours are £7 for adults and extended tours are £13 (2013 prices) and you can book tours in person at the Library. We'd recommend the Upstairs, Downstairs Extended Tour which you can also book on line in advance. Standing next to the library is the beautiful Sheldonian Theatre which was designed by Christopher Wren. The building is the official ceremonial hall of Oxford University and tours are available on selected days through the peak season.
LOCATION & CONTACT
Address: Bodleian Library, Broad Street, Oxford OX1 3BG
Tel: +44 1865 277000
MORE ON THE BODLEIAN LIBRARY
Bodleian Library Tours – Official website
Sheldonian Theatre Tours – Official website
Visit Oxford & Oxfordshire – Official Website
Oxford Hop-on, Hop-off Bus Tour – Stops near the Bodleian Library
Hotels in Oxford – We recommend Hotels.com
Oxford Guide Books – Amazon.co.uk
Travel Through Oxford Guide Book – Amazon.com