This is your free Copenhagen City Guide! The Danish capital is famous for great beer, historic buildings and the Little Mermaid, but that's just scratching the surface. It's a lovely place for a city break and you'll have no trouble filling your time with everything the city has to offer. Here are our personal recommendations to you…
WHAT TO DO IN COPENHAGEN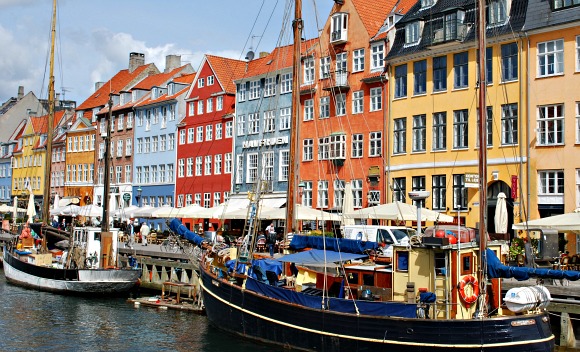 Nyhavn – This restaurant lined canal in the centre of Copenhagen is the street you're most likely to recognise as it's used on most of the promotional pictures for the city. There's a lovely atmosphere here and even if you don't fancy calling into one of the eateries, it's a great place to stroll along the cobbles and soak up Danish life. You can eat outside here even in some of the colder months as most of the restaurants offer heating lamps and blankets to make sure you don't get too cold. Nyhavn ends at Kongens Nytorv – an attractive large cobbled square where it's common to find street markets and entertainers.
Nyhavn: What To See, Notable Buildings & Map…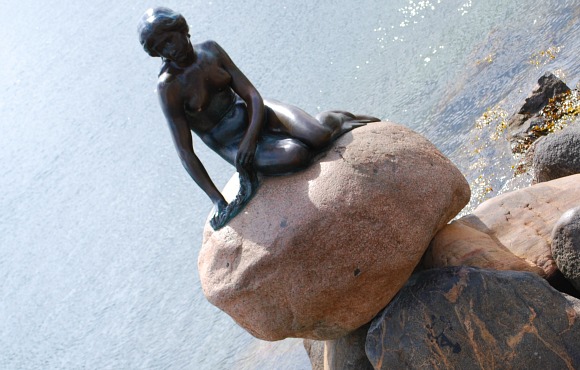 The Little Mermaid – This statue of the Little Mermaid sitting on a pile of rocks has become the 'must-see' sight of Copenhagen, but prepare yourself for how small she is and just how far out of the city centre she is. It is an attractive walk from Nyhavn though along the harbour edge and through the Kastellet gardens. When you arrive, there's usually a crowd of people taking photos, but there's also a lovely little seating area so you can rest your legs a while. The mermaid was commissioned by Carlsberg brewery magnate Carl Jacobsen who and was put in place in 1913. It's said that the mermaid was modelled on the wife of the sculpter Edvard Eriksen.
Copenhagen Little Mermaid: Directions & Map…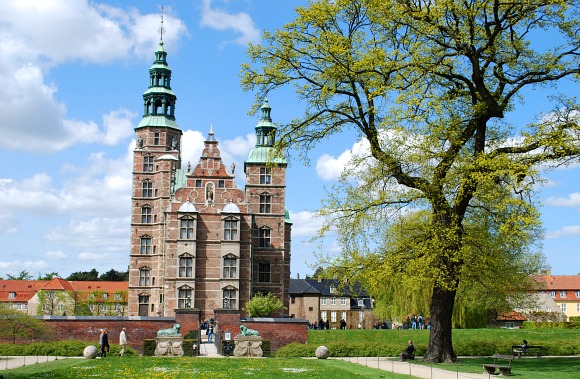 Rosenborg Castle (Rosenborg Slot) – One of central Copenhagen's most historic buildings was originally built back in the 1600s as a summer house, but quickly became the preferred residence of Christian IV. If you visit today, you'll certainly see why! Its turrets have an almost fairytale feel to them and when you go inside, you'll find ornate rooms, a huge hall, bizarre collections and a very impressive toilet. Also at the castle, is the armoury in the basement, the Danish crown jewels in a specially constructed vault, an exhibition building and a small cafe.
Rosenborg Castle: Full Review, Opening Times, & Map…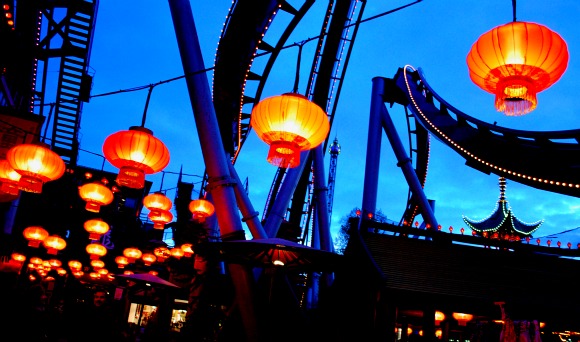 Tivoli Gardens – It's often said that this park filled with fairground rides and roller coasters was the forerunner to Disneyland as Walt Disney visited shortly before creating his empire. Today, it still tries to appeal to all ages and is a curious mix of theme park, concert venue, attractive gardens and restaurants. There are live shows each day too on the various stages around the park and look out for the parade of the Boys Guard complete with coach and horses. We'd also recommend returning to Tivoli at night when there's a real fun atmosphere and the lights on the rides and in the gardens look lovely.
Tivoli Gardens: Full Review, Ticket Prices & Map…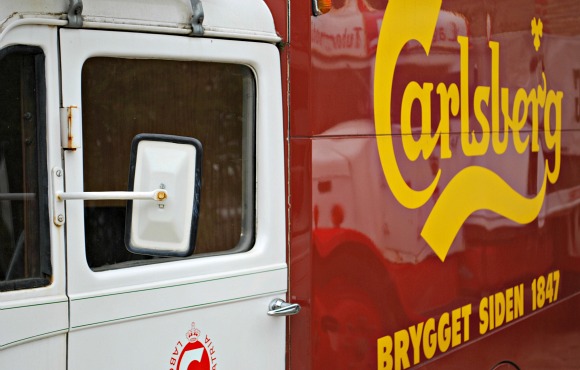 Carlsberg Brewery – For decades the sprawling Carlsberg Brewery was the home of a vast beer production line, but today, the historic brewery site is being turned into a new residential district of Copenhagen. However, the oldest part of the brewery is a visitor attraction called "Visit Carlsberg" explaining the story of brewing on the site over the years and we'd thoroughly recommend it. It's not really in walking distance of central Copenhagen, so you'll need to take the bus or the Hop-on, Hop-off Bus Tour to get there, but it's worth the trip. We particularly enjoyed the stables area where you'll find working horses still in residence. Your visit ends in the bar where your admission ticket will allow you two drinks.
Visit Carlsberg: Full Review, Opening Hours & Map…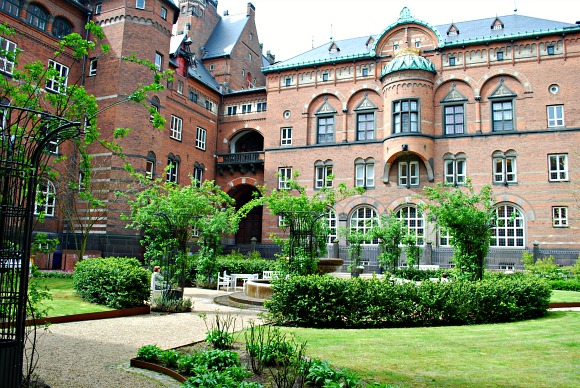 Copenhagen City Hall (Radhus) – You can see the tower of city hall around most of central Copenhagen, so it makes sense that climbing the tower will offer you panoramic views of the city. For a small fee, tower tours take place regularly. Apart from the tower, there are two other things we'd recommend at the City Hall. Firstly, it's free to enter the public areas and we enjoyed looking at the large central hall. Secondly, in the centre of the building is an attractive and peaceful garden, which can be accessed directly from outside via an archway on the side opposite Tivoli Gardens. There are benches here to while away some time and it's surprising how quiet it is considering one of Copenhagen's busiest roads is just a stones throw away.
Copenhagen City Hall: What To See, Opening Times & Map…
Kastellet Fort – Dating back to 1600s, this fortress near to the Little Mermaid is an oasis of calm away from the bustling city. It was built in the shape of a pentagram and you cross the moat on either side to enter. You can walk the tops of the banks for a great view of the harbour, but we'd also recommend spending a bit of time at ground level where the painted military houses and offices line the cobbled walkways. Also, don't miss the striking windmill up the hill behind the church.
Kastellet Fort: Full Review, Hours and Map…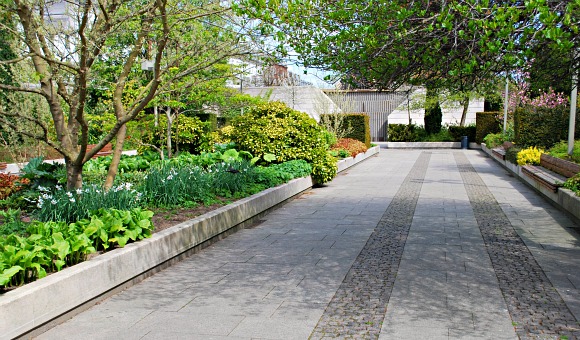 Amalienborg Palace – A short walk from Nyhavn is a cobbled square surrounded by a complex of palaces where the current Royal Family live. As such not all the palaces are open to the public, but even when you can't get inside, the area outside is worth seeing. At the centre of the sqaure is a statue of Frederik V on horseback dating back to the mid 1700s. It's said to have cost 4 times as much as Amalienborg! When the Queen is in residence, the Danish Royal Life Guards will be on duty outside her palace. Look out for the exchange of guards that occurs at noon when the guards from Rosenborg Castle arrive after marching through the streets of Copenhagen.
Amalienborg Palace: Full Review, Tickets & Map…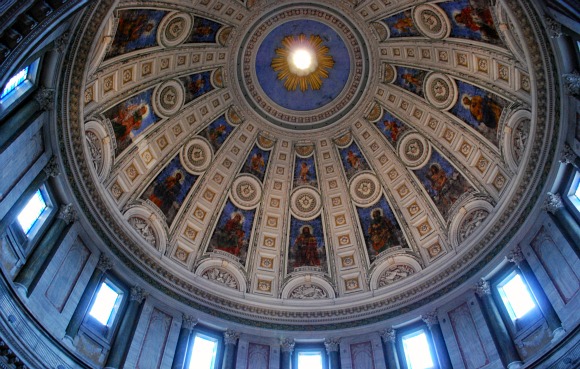 Marmorkirken – This domed church has one of the most impressive painted ceilings we've ever seen. A visit to the church is free and although you won't spend very long inside, it's certainly a peaceful and reflective place for the time you are there. The church is located near Amalienborg Palace and it's easy to find, as you can see the dome over most of central Copenhagen.
Marmorkirken: Read More, Opening Times & Map…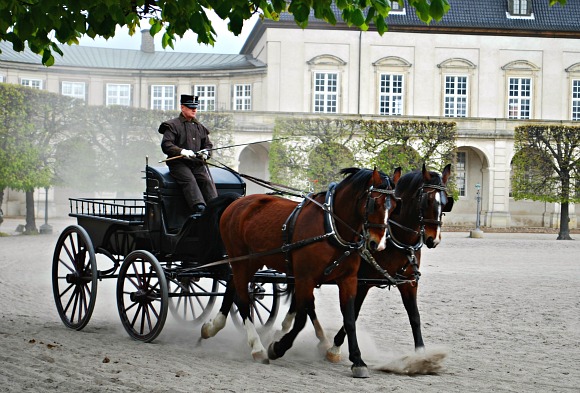 Slotsholmen Island – This island is where Copenhagen began with the building of a castle in the 1100s. Today, it's the location of the Danish Parliament, but you'll also find the Royal Stables here too. Christiansborg Castle is the name for the largest building on the island which encorporates the parliament, Prime Minister's apartment, High Court and Royal Reception Rooms. The State Rooms here are open to the public, but we enjoyed just walking around the island and watching the horses from the Royal Stables being exercised in the large arena.
Slotsholmen Island: What To See & Map…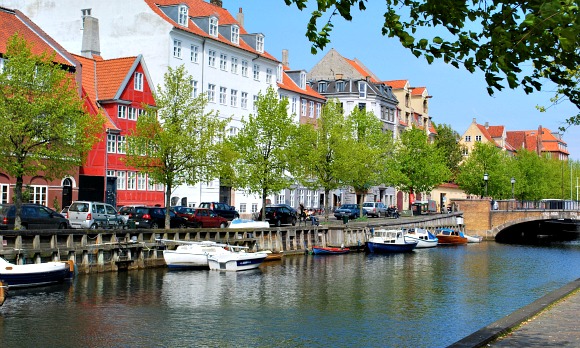 Christianshavn – Take one of the bridges from central Copenhagen over to Christianshavn and you'll find plenty to see. This area really shows how Copenhagen is a city of contrasts. The Christianshavn Canal is one of the prettiest in the city, lined with sailing boats and attractive houses owned by the wealthy. Just a few streets away though is Christiania, known as the Green Light District. It's a bit like walking through a 1960s hippy commune with psychedelic images painted on buildings and cannabis openly available. You'll also find bars and stalls selling t-shirts or crafts. There's no doubt that the area is fascinating to see, but it also feels uncomfortable to be there and you are reminded constantly not to take photos. We decided not to give it a go to see what would happen!
Christianshavn: Directions to Christiania & Map…
OUR TOP TIP IN COPENHAGEN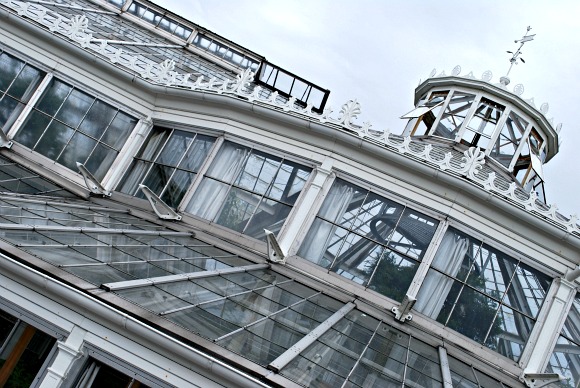 Botanical Gardens – Close to Rosenborg Castle are some of Copenhagen's most beautiful gardens. In 2012, a massive restoration programme was conducted and the results are impressive. Top of the attractions is the huge glass greenhouse with exotic and tropical plants and trees and even a butterfly house. Inside the largest part, you can climb spiral staircases to look down on the greenery. Outside, spend some time on the rock gardens or around the edge of the lake.
Copenhagen Botanical Gardens: Location & Full Review…
MORE THINGS TO DO IN COPENHAGEN
There are lots of organised trips and excursions you can take in Copenhagen and the Grand Tour is most popular and gets great reviews from people who've been on it. Another option for seeing the city is the Copenhagen Harbor Tour.  If you're interested in a trip out of the city, consider the Denmark Castle Tour to some of the most noted castles nearby including the one made famous in Hamlet. For further options, take a look at our More Things To Do In Copenhagen pages.
RECOMMENDED HOTEL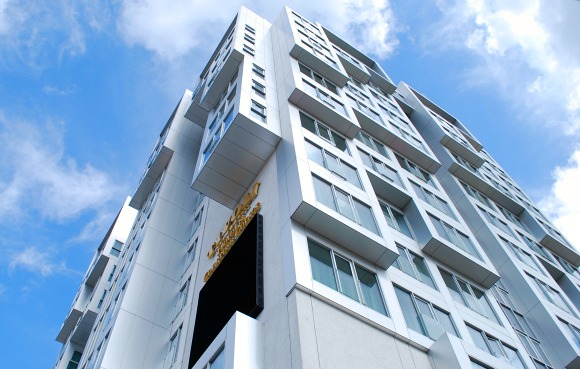 We stayed at the 4* Tivoli Hotel which is a short walk from Tivoli Gardens. It's close to the Central Station and was newly built in 2010. As such, the facilities inside are superb from a lovely swimming pool and gym, to a conference centre and large bar & brasserie. The Tivoli theme runs through the hotel with harlequin carpets and Tivoli artwork on the walls. Our room was lovely – luxurious, spotlessly clean and with a terrific view over western Copenhagen all the way to the Carlsberg Brewery. Breakfast was a grand affair with everything you could want and very tasty Danish bacon. We'd thoroughly recommend staying at the Tivoli hotel and its location was perfect for Tivoli Gardens and the attractions on the western side of the city. We walked just about everywhere, but you may prefer to take the bus service to Nyhavn which runs from outside the hotel or the free shuttle bus to the Tivoli Gardens. Wherever you stay in Copenhagen, you need to think about how far you'll have to walk to get to the major sights. At Hotels.com you can check out latest prices and get reviews from other travellers.  Read more, secret photos & map…
GETTING AROUND COPENHAGEN
Copenhagen is fairly compact and as with many cities, if you're staying very centrally, you'll probably be able to walk around without much trouble. The only problem occurs when you have to get from one side of the city right the way to the other. We found the local bus services were excellent and each bus stop has a timetable and route. Another popular option is the Hop-on, Hop-off Bus Tour which goes to all the major sights in the city. Copenhagen is a big cycling city and every road has both a cycle path and a foot path. As such, cycling is one of the best ways to get around and most big hotels will hire bikes.
Getting from Kastrup Airport to the city centre is simplest by train. The airport has its own station and tickets can be bought at automated machines which have an option for English. Trains run to central station very regularly – we never had to wait more then 10 minutes for one. If you buy your ticket from the machine, you won't need to validate it, but bear in mind that some train tickets in Denmark must be validated with the machine on the platform before they're used. If you'd prefer a private transfer, we've found reasonable prices with A2Btransfers.com.
MORE ON COPENHAGEN
Copenhagen Card – Free access to many top attractions
Hop-on, Hop-off Bus Tour – Stops at Copenhagen's main locations
More Things To Do In Copenhagen
Copenhagen's Best Tours – Hand-picked by TopRatedTours.com
Hotels in Copenhagen – We recommend Hotels.com for the best rates
Current Scandanavian hotel deals – Hotels.com
VisitCopenhagen.com – Official Copenhagen Tourism website
Copenhagen Travel Guide Books – Amazon.co.uk (UK residents)
Copenhagen Travel Guide Books – Amazon.com (USA residents)