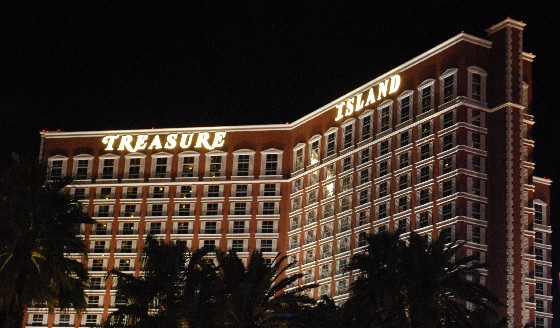 Not the most attractive of the hotels, but the free "Sirens of TI" pirate show at the front is worth seeing.  It involves huge moving ships and scantily clad performers staging a pirate "battle".  Performances are every 90 minutes in the evenings but be there well ahead of time as there's not much viewing space.  This is an extract from our free Las Vegas City Guide.
The performance times for the Sirens of TI show are 5.30 pm (Winter only), 7.00 pm, 8.30 pm, 10.00 pm, 11.30 pm (Summer only).  If you're staying at Treasure Island there is a special VIP viewing platform for hotel guests.  Strollers are not allowed in the viewing areas.
The theatre show at TI is Cirque du Soleil's Mystère, and we really enjoyed it.  The acrobatic feats are breathtaking and the story is well told in the music and movement.  It's also one of the cheaper Cirque du Soleil shows in Las Vegas.
LOCATION & CONTACT
Treasure Island Resort & Casino, 3300 Las Vegas Boulevard South, Las Vegas, NV 89109, USA
Tel:  +1 702 894 7111
MORE ON TREASURE ISLAND
Stay at TI – Best rates from Hotels.com
More Las Vegas Hotels - Massive discounts from Expedia
Airport Transfers to Treasure Island (TI)
Treasure Island - Official website
Treasure Island – Wikipedia