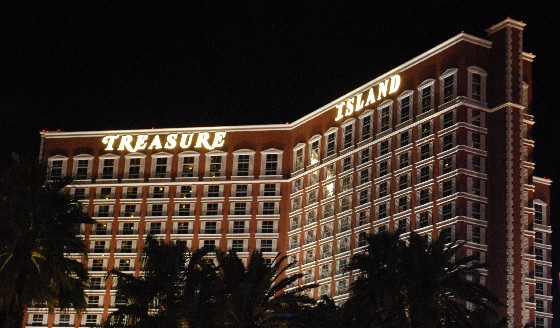 Not the most attractive of the hotels on the Las Vegas strip, but still worth a look. The big highlight here used to be the free "Sirens of TI" pirate show at the front. It involved huge moving ships and scantily clad performers staging a pirate "battle". Sadly the show was axed in 2013. We would however recommend the theatre show inside which is Cirque du Soleil's Mystère. This is an extract from our free Las Vegas City Guide.
We really enjoyed Cirque du Soleil's Mystère in the indoor theatre at Treasure Island. The acrobatic feats are breathtaking and the story is well told in the music and movement. The pre-show warm up man was also very funny as he moved amongst the audience and directed people to the wrong seats. It's also one of the cheaper Cirque du Soleil shows in Las Vegas.
Like all hotels on the strip, there are a number of themed bars inside Treasure Island to enjoy, but now that the Sirens of TI show no longer takes place, it feels a bit like the unique attraction that made the hotel stand out has been removed. A sad loss.
LOCATION & CONTACT
Address: Treasure Island Resort & Casino, 3300 Las Vegas Boulevard South, Las Vegas, NV 89109, USA
Tel:  +1 702 894 7111
MORE ON TREASURE ISLAND
Stay at TI – Best rates from Hotels.com
More Las Vegas Hotels – Massive discounts from Expedia
Airport Transfers to Treasure Island (TI)
Treasure Island – Official website
Treasure Island – Wikipedia