This is your Nottingham City Guide! It's known worldwide for its connections to the legendary outlaw Robin Hood, but you'll find plenty more to keep you interested on a City Break here.  These are our recommendations…
WHAT TO DO IN NOTTINGHAM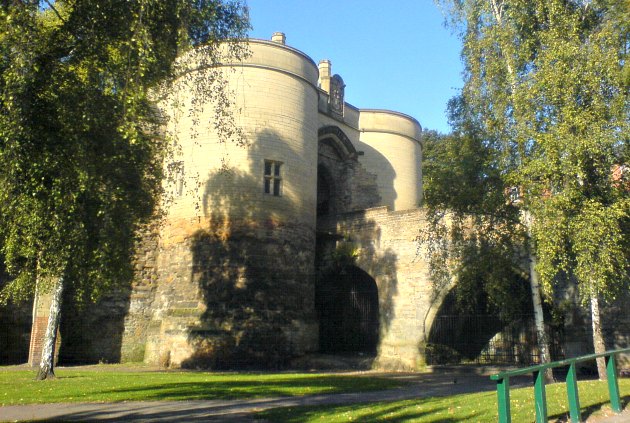 Nottingham Castle – Apart from the historic gatehouse, it's not a castle like you might imagine a castle to be, but don't let that put you off! The original was destroyed in the 1600s and sadly many of the Robin Hood connections went with it. Today's castle is basically Nottingham's museum, art gallery and tourist attraction rolled into one. Highlights inside include the caves, the art collection, the beautiful gardens and an impressive view over the whole of the south of Nottingham. Nottingham Castle is on the outskirts of the city centre near to Maid Marian Way, a short walk from the Old Market Square.
Nottingham Castle: Full review, Admission Prices & Opening Times…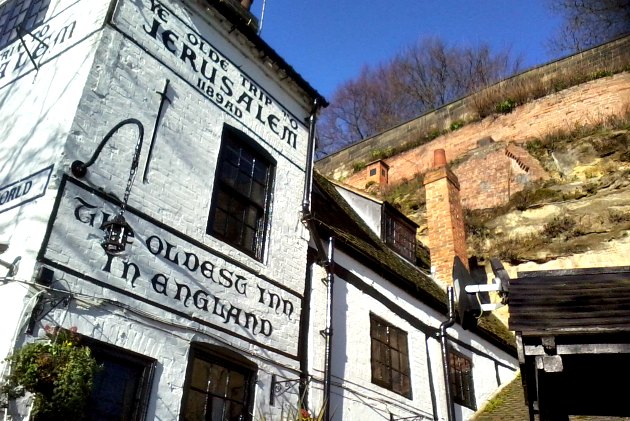 Ye Olde Trip To Jerusalem – It's Nottingham's most famous pub and reputedly England's oldest inn. Continue your journey back in time by stepping inside to see the way it's carved into the caves. In the summer months you can enjoy some traditional English ale in the beer garden. You'll find "The Trip" as it's affectionately known at the foot of the rock below Nottingham Castle.
Ye Olde Trip To Jerusalem: Read More, Pictures & Map…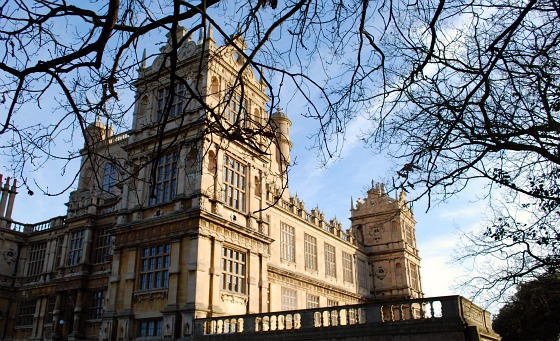 Wollaton Hall and Park – This is one of England's finest urban parks complete with deer and only a few miles from the city centre of Nottingham. The centrepiece is the spectacular Elizabethan Wollaton Hall which is open to visitors and is free. The hall was used as Wayne Manor in the 2012 Batman movie "The Dark Knight Rises" with Christian Bale in the main role. There are two museums at the hall and on a warm sunny day, there's nowhere better within the city to while away some time. Make sure you walk around the grounds too as you don't realise just how vast the park is until you do. Getting to Wollaton Hall & Park will require a bus or taxi journey from the city centre.
Wollaton Hall: Read more, Opening Times & Map…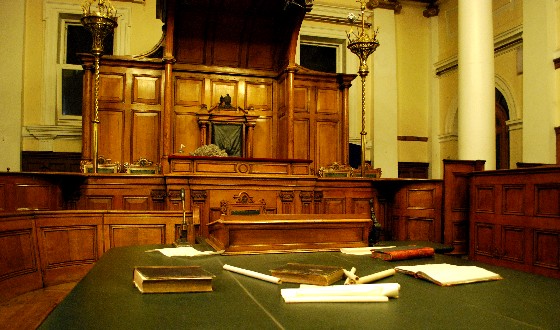 The Galleries of Justice – This is so much more than just a museum of crime and punishment as it's based in the former Nottingham courthouse and county gaol.  The tour of the complex includes a visit to the court room and then you follow the steps of condemned men to the former prison cells below.  Hangings took place in the rear courtyard which is also on the tour.  There are now a variety of tours and exhibitions at the Galleries of Justice on different days including special ghost tours.  They even claim to have a cell where Robin Hood might have been locked up!  The museum is in Nottingham's historic Lace Market (see below) on High Pavement, opposite the Lace Market Hotel.
See our Galleries of Justice page with tour details, admission prices, pics, links & map…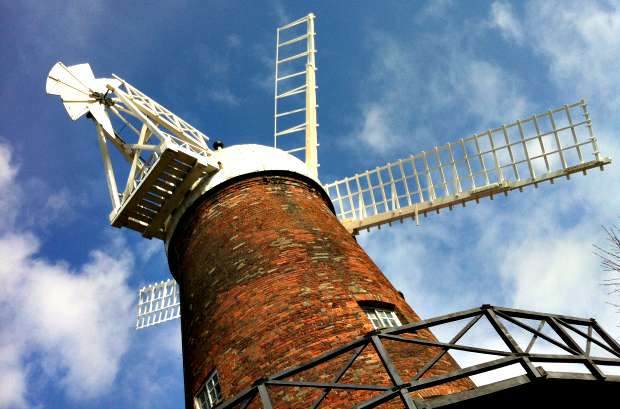 Green's Windmill – You've probably never heard of mathematician George Green, but this is where he grew up.  The windmill was built by his father and although destroyed by fire in 1947, it has been restored to a working state.  We think it's a great family attraction and Thursdays to Sundays you'll find the sails still turning and milling taking place too.  There's also a science centre at the mill which will tell you more about George Green.  Green's Windmill is in Sneinton which is just about in walking distance from Nottingham city centre.  Admission is free.
See our Green's Windmill page with more info, pics, links & map…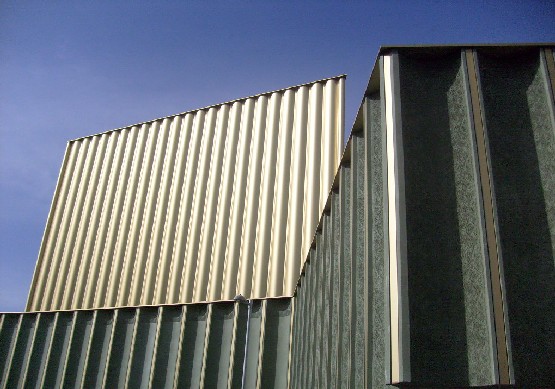 Nottingham Contemporary – This modern art gallery is the newest addition to the Lace Market (built in 2009) and the building's design is both striking and controversial.  Whatever you make of the outside, it's definitely worth a trip inside where the gallery boasts international modern art for free.  It has a number of exhibiting spaces and a nice cafe bar on the lower level.  Nottingham Contemporary is at Weekday Cross (Lace Market tram stop).
See our Nottingham Contemporary page with more info, pics, links & map…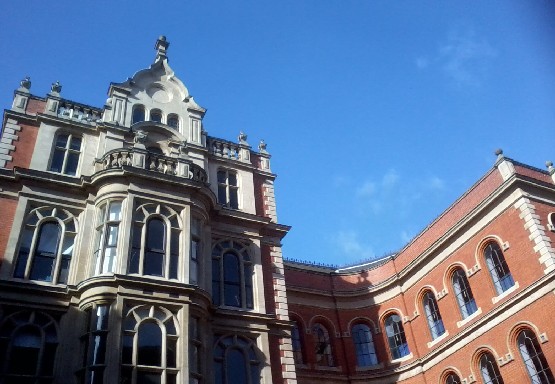 The Lace Market – This area of Nottingham city centre is jam packed full of historic buildings with the beautiful St Mary's Church as its center piece.  Parts of the church date back to the 1400s and it is open to visitors Tuesday to Saturday from 10.30am – 2.30pm.  Although the area surrounding the church dates back to Saxon times, the current buildings were part of the explosion in the lace industry in the 1800s.  Nottingham became famous for its lace and at its height, this area had 130 factories making it.  Today the area is known for its lovely buildings, hotels, trendy bars and restaurants.  Apart from St Mary's, don't miss the Galleries of Justice (see above) from where an audio tour of the Lace Market called the "Lace Market Heritage Audio Trail" is available daily. The Lace Market is signed from the shopping centres and has its own tram stop.
See our Lace Market page with more info, pics, links & map…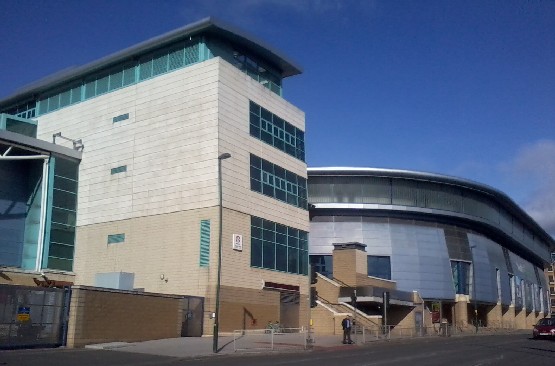 National Ice Centre – Nottingham is the home of the world famous ice dancers Torvill and Dean and they began skating on this site. The National Ice Centre is an impressive shiny replacement for the tired old rink that used to be here though. It has two Olympic sized rinks inside, one for public skating and one known as the arena which is used for shows, concerts and Nottingham Panthers Ice Hockey games. Skating sessions are available daily to the public and whilst you're in Nottingham check out what shows are on here too as it's not unusual to find international music stars holding their concerts. The National Ice Centre is on Lower Parliament Street at the edge of the Lace Market.
National Ice Centre: Read more, pics, links & map…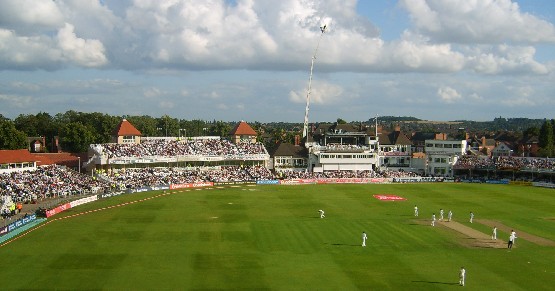 Trent Bridge – This is one of the world's most famous test cricket grounds and is the home of Nottinghamshire County Cricket Club.  The ground has seen considerable development in recent years, but still has its historic pavilion. Tours of the ground are available every Tuesday at 2pm, starting at the Trent Bridge shop.  However, we'd also suggest that you consider buying tickets for a game here.  Trent Bridge is on the A60 just over the river and is around a 25 minute walk from the city centre.  Regular bus services are available too.
See our Trent Bridge page with more info, pics, links & map…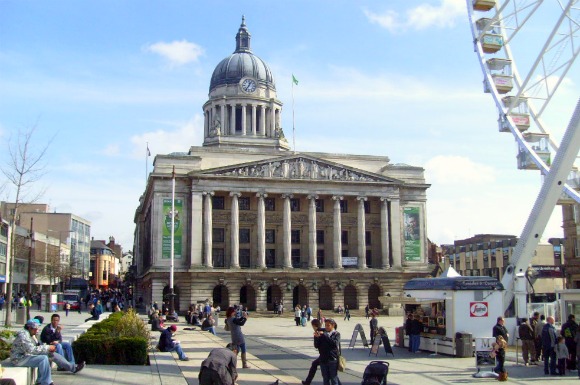 The Council House – In the centre of the city in the Old Market Square stands Nottingham's Council House.  This building is the home of civic events in the city and although it was built in tough economic times (1929), no expense was spared in its detail and opulence.  The impressive dome stands 200 feet above the ground and houses "Little John" – the very deep sounding clock bell.  Inside the council house you'll find a sweeping staircase leading to a ballroom, the council chamber, the Sheriff of Nottingham's rooms which are palatial in decor and the Lord Mayor's parlour.  We were really impressed with how beautiful it was.  Tours are free but must be booked in advance.  They're available Monday to Friday 10am to 7pm and Saturday mornings.  To book call +44(0) 115 979 7635.
See our Nottingham Council House page with more info, pics, links & map…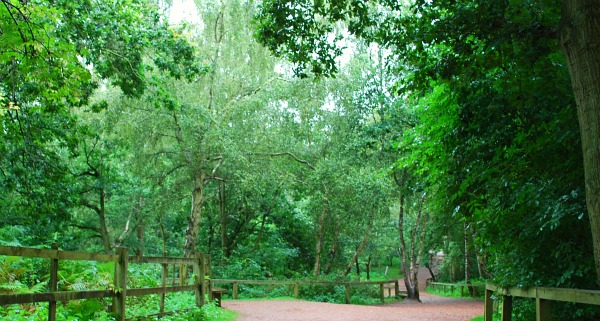 Sherwood Forest – It's Robin Hood's home, but sadly there's not much of it left!  Most visitors head to the village of Edwinstowe which is around 20 miles from Nottingham where you'll find themed shops and the Sherwood Forest Visitor's centre.  The 450 acre Sherwood Forest Nature Reserve contains the most famous tree in the forest, the 800 year old Major Oak, which is in a sorry state.  It's within walking distance from the Visitor's Centre.  The Visitor's Centre and the forest are free to visit but there is a small charge for parking.
See our Sherwood Forest page with more info, opening times, pics & map…
OUR TOP TIP IN NOTTINGHAM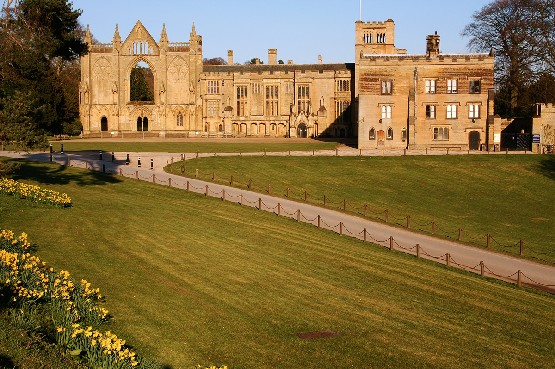 Newstead Abbey – This is the ancestral home of the poet Lord Byron and is 12 miles north of Nottingham on the A60. If you're coming to Nottinghamshire we think visiting the Abbey is an absolute must. The house and gardens are beautiful and to this day the house retains its medieval character. The house and gardens are open all year round.
See our Newstead Abbey page with more info, opening times, pics & map…
GETTING AROUND NOTTINGHAM
Nottingham has a good public transport system combining busses, trains and trams.  The tram line runs from the railway station, through the city centre to Hucknall.  Most visitor attractions are within walking distance, and public transport is available for the ones that aren't.  For convenience though, we think that for trips to Sherwood Forest and Newstead Abbey you would need a car.
The nearest airport is East Midlands Airport which has regular busses to Nottingham city centre.
RECOMMENDED HOTELS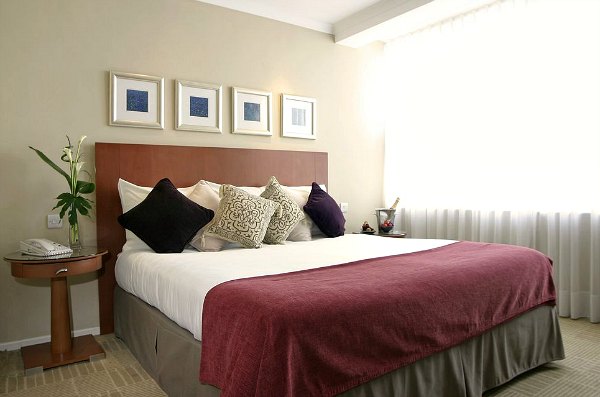 We stayed at the Park Plaza Nottingham on Maid Marian Way and thought  the rooms were tasteful, modern, clean and comfortable.  It might not be the most attractive building on the outside but the inside is lovely and the location right in the city centre is great, with all the sights of Nottingham in easy reach.
MORE ON NOTTINGHAM
Great Hotels in Nottingham – We recommend Hotels.com for the best prices
More Nottingham Hotels – Massive discounts from Expedia
Experience Nottinghamshire – Official website
Books on Nottingham – Amazon.co.uk
Robin Hood locations – BBC Nottingham
Twitter Trip – Guardian newspaper