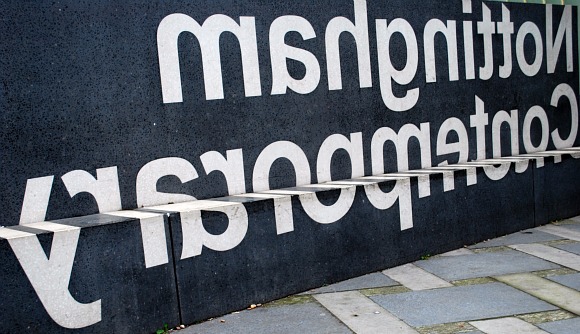 This modern art gallery is the newest addition to the Lace Market (built in 2009) and the building's design is both striking and controversial.  Whatever you make of the outside, it's definitely worth a trip inside where the gallery boasts international modern art for free.  It has a number of exhibiting spaces and a nice cafe bar on the lower level.  Nottingham Contemporary is at Weekday Cross (Lace Market tram stop).  This is an extract from our free Nottingham City Guide.
We were particularly impressed with the size of the lower gallery exhibiting area.  This space is huge and the ceiling is high and you get a great view of this gallery area through a special window on the way down the stairs.  The design of the building really shows itself well from inside when you realise what a bizarre shaped hole the building had to fit into.  This explains its unusual shape on the outside.  Nottingham Contemporary is open Tuesday to Friday from 10am to 7pm, Saturday 10am to 6pm & Sunday 11am to 5pm.  Admission is free.  The gallery is closed when exhibitions are being chnaged over although the cafe bar remains open.
LOCATION & CONTACT
Address: Nottingham Contemporary, High Pavement, Nottingham NG1 1HN
Tel: +44 (0) 115 924 2421
Nottingham Contemporary is on the edge of the Lace Market near to the Galleries of Justice.  It is also just across the road from the Broadmarsh shopping centre with the highest exit from the Broadmarsh (High Pavement) being the nearest to the Nottingham Contemporary.
MORE ON NOTTINGHAM CONTEMPORARY
Nottingham Contemporary – Official Website
Hotels near Nottingham Contemporary – Great rates from Hotels.com
More Nottingham Hotels – Massive discounts from Expedia
Wikipedia – Nottingham Contemporary page
Culture24
Books on Nottingham – Amazon.co.uk