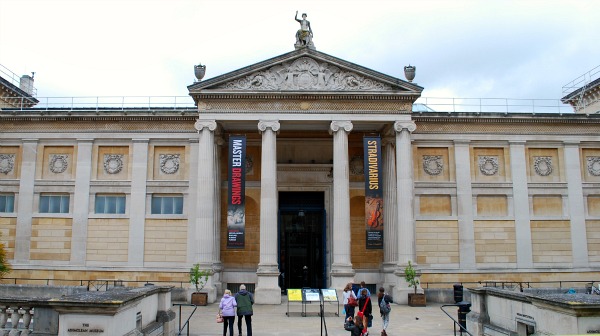 Probably Oxford's most significant museum with exhibits based on art and archaeology inside a beautiful column-fronted building in the city centre. The museum had a modern extension in 2009 and this has created a lovely atrium at the centre of the building with the various floors full of exhibits fanning out from the centre. As the museum is free, you can very much take what you want from your visit, so you could be in there for a few minutes or for several hours, depending on your interests. We liked the art collection, the musical instruments and some of the Roman artefacts best. This is an extract from our free Oxford City Guide.
The Ashmolean was founded in 1683 and was Britain's first public museum. It was originally a collection of artefacts that were presented to the University by a very wealthy man called Elias Ashmole, hence the museum's name. Over the years, the collections have changed and evolved though. Under the umbrella of 'art and archaeology' you'll now find all kinds of things inside. The museum chooses the following highlights… "The world's largest collection of Raphael drawings, the most important collection of pre-Dynastic Egyptian material in Europe, the only great Minoan collection in Britain, the finest Anglo-Saxon collections outside the British Museum and the foremost collection of modern Chinese art in the Western world."
Sadly, all museums which display significant and valuable art works can end up being a victim of theft. It happened at the Ashmolean on New Year's Day in the year 2000. A Paul Cezanne painting was taken whilst revellers welcomed in the new Millennnium. The thieves used scaffolding to get into the building and the painting of Auvers-sur-Oise, worth around £3 million at the time, has never been seen since.
The Ashmolean Museum is open Tuesday to Sunday from 10am to 6pm in the summer and 10am to 5pm for the rest of the year. Admission is free although there are sometimes visiting exhibitions that have an entrance fee.
LOCATION & CONTACT
Address: The Ashmolean Museum, Beaumont St, Oxford OX1 2PH
Tel: +44 1865 278000
MORE ON THE ASHMOLEAN
Ashmolean Museum – Official website
Visit Oxford & Oxfordshire – Official Website
Oxford Hop-on, Hop-off Bus Tour – Stops at the Ashmolean
Hotels in Oxford – We recommend Hotels.com
Oxford Guide Books – Amazon.co.uk
Travel Through Oxford Guide Book – Amazon.com