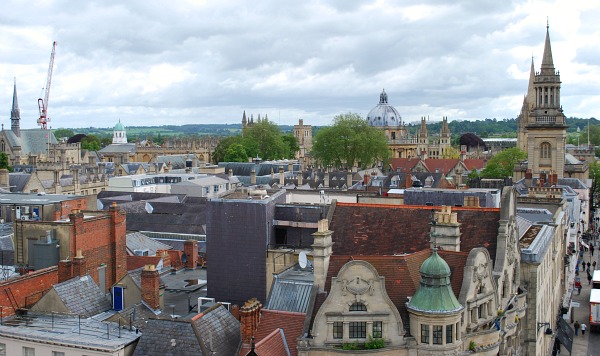 This tower has the second best view in Oxford after the University Church of St Mary. At the top, you'll see the historic spires and domes of the city in the background with the shopping streets in the foreground. You do get a better view of Christ Church College from this tower, but for us it's not a patch on St Mary's tower nearby. Half way up, there's an information room with a short video about the tower and Oxford. This is an extract from our free Oxford City Guide. This is an extract from our free Oxford City Guide.
Carfax Tower is all the remains of an historic Oxford church, St Martin's, which was built in the 13th Century and demolished in 1896 to allow for traffic. Inside the tower there are still church bells and on the outside there's a fancy clock with figures that chime the quarter hour. The tower is best known now though as a place to get a decent view of Oxford.
Adult admission to the tower is £3 (2013 prices). Your visit will take only 15 or 20 minutes depending
how long it takes you to climb the steps and how long you want to spend at the top.
LOCATION & CONTACT
Address: Carfax Tower, Queen Street, Oxford OX1 1ET
Tel: +44 1865 792653
MORE ON THE UNIVERSITY CHURCH OF ST MARY
Carfax Tower – Visit Oxford
Oxford Hop-on, Hop-off Bus Tour – Stops at Carfax Tower
Hotels in Oxford – We recommend Hotels.com
Oxford Guide Books – Amazon.co.uk
Travel Through Oxford Guide Book – Amazon.com