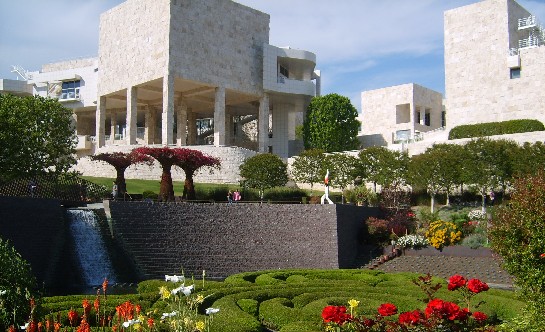 This is an oasis of calm, high up on a hill with stunning views of Los Angeles.  It's an art gallery and café, but it's also fascinating to walk around with beautiful gardens and striking architecture.  Best of all, it's free!  Closed on Mondays.  It's signed from the Interstate 405 with the main gate on Sepulveda Boulevard.  This is an extract from our free Los Angeles City Guide.
When arriving at the Getty Centre you will need to park at the bottom of the hill in the parking lot and take the regular free tram to the top.  The center is quite large and you'll need a couple of hours at least to wander around – more if you plan to eat.  This is one of our favourite places in LA – striking architecture, beautiful gardens, impressive works of art and a sense of relaxation.  We also enjoyed the irony of feeling so calm whilst overlooking the bustling and congested 405 highway!
The center is open Sunday & Tuesday to Friday between 10am and 5.30pm, Saturday from 10am to 9pm.  You can take an organised trip to the Getty Center with a pickup from your hotel here.
LOCATION & CONTACT
Address: The Getty Center, 1200 Getty Center Drive, Los Angeles, California 90049.
Tel: +01 310 440-7300
Please note that access to the Getty Center is only via the main gate on Sepulveda Boulevard.
MORE ON THE GETTY CENTER
Getty Center – Official Website
Wikipedia – Getty Center page
Getty Centre Tour
Hotels near the Getty Center – Great rates from Hotels.com
More hotels in Los Angeles – Massive discounts from Expedia
Books on the Getty Center – Amazon.co.uk