Over the past 40 years, the Floridian city of Orlando has become a Mecca for theme park lovers! It started with Walt Disney World opening in 1971, but has grown to be much, much more. Add to the theme parks the incredible climate, the Florida Keys and the Kennedy Space Center and you have the recipe for a great holiday. Here are our recommendations of what to see…
WHAT TO DO IN ORLANDO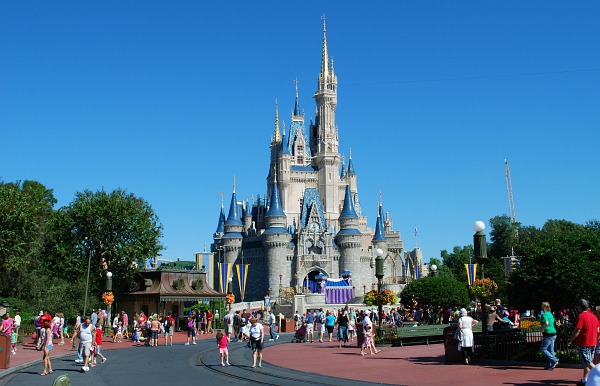 Disney's Magic Kingdom – Walt Disney had a vision to build a bigger version of LA's Disneyland on the other side of the USA. It opened in the early 1970s and is now the centerpiece of a huge Disney controlled area with a total of 4 theme parks, 2 water parks, numerous hotels, golf courses, spas and restaurants. The Magic Kingdom is still the must-visit park in Orlando and you'll need at least a day to see it all and try out the rides and experiences. Inside the park, there are different 'lands' to explore all located around a huge version of Cinderella's Castle. There really is something for everyone here, with fast roller coasters like the the Runaway Mine Train and Space Mountain, family rides like Pirates of the Caribbean and simple steamboat cruises on the mini lake. In our party of 7 people the ages ranged from 12 to 55 and we all felt that this was the best park. A couple of top tips. Firstly, don't miss the parades because they're a real spectacle and you'll need to grab your place on the route around half an hour before. Secondly, make sure you use the FastPass system where you can get a pass at major attractions to skip the line later in the day.
Disney's Magic Kingdom: Full Review, Hours & Tips…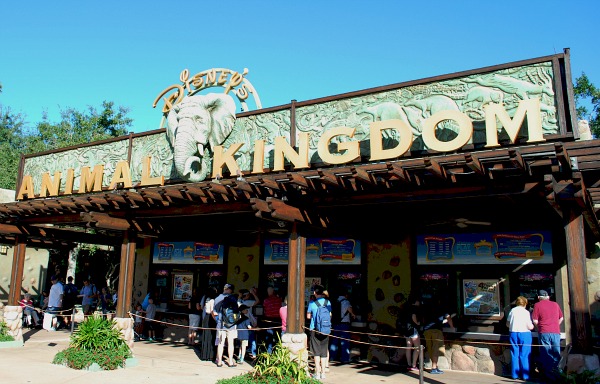 Disney's Animal Kingdom – This is the newest theme park in the Walt Disney collection and the centrepiece is a giant Tree Of Life from the Lion King. Every experience in the park is connected in some way to animals and the various 'lands' here include Africa, Asia and Dinoland! Without doubt, the best experience here is the Safari where an African game reserve has been re-created and you tour through it in a giant safari jeep. You'll see lions, giraffe, elephants, hippos, gazelle, panthers, crocodiles and plenty of others. There's a walk-through experience in Asia where you can see tigers too. The biggest thrill ride is Everest Expedition, based inside a huge version of Mount Everest and we loved it! Also here is a puppet version of Finding Nemo, which was brilliant, a back-in-time dinosaur ride, a Lion King show with incredible animated models of the stars and a rapids ride which will get you soaked! We were very impressed with Animal Kingdom and it certainly rivals the other Disney parks in size and attractions. You can probably do this park in a day, although we returned to repeat some of the things we enjoyed first time around.
Disney's Animal Kingdom: Full Review, Opening Hours & Map…
Disney's Hollywood Studios– The golden age of cinema is re-created at this Disney park and it's laid out like the streets of Hollywood were in the 1930's. There a mixture of shows, thrill rides and experiences here and they're all based around movies you'll know. The big landmark in the park is the Tower of Terror, a re-creation of a classic Hollywood hotel featured in the Twilight Zone. As always with Disney, it's so much more than just a ride. The hotel lobby feels like it's stood still in time for decades and the staff are all dressed as Bellboys. The ride is essential an elevator car that zooms up and falls down the tower. If you have your eyes open at the top when the doors open you'll get a great view! Elsewhere in the park, the Toy Story shooting ride is superb and you'll feel like you're part of a video game. It's not unusual to find lines of 2 hours for this ride, so make use of the free FastPasses. There are two stunt shows and they're both well worth seeing. One is based on Indiana Jones and the other is all about car stunts. The whole family will enjoy the Beauty and the Beast stage show and for thrill seekers, the Rock 'n' Rollercoaster, which zooms around in the dark, is great fun. All in all, we had a great day out at Disney's Hollywood Studios, but we wouldn't recommend staying for the evening show. We felt it was a bit of a let down and mainly consisted of images projected onto waterfalls until the Disney characters turn up at the end.
Disney's Hollywood Studios: Full Review, Hours & Best Priced Tickets…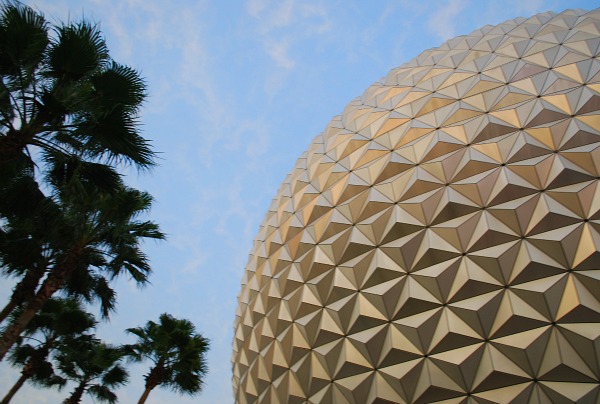 Epcot – This park evolved from an idea that Walt Disney had to build an experimental prototype community of tomorrow (EPCOT). What his corporation ended up with was a futuristic celebration of science and technology, bolted onto a "World Showcase" where different nations are represented around a large lake. It seems an uneasy mix at times and there are stark contrasts between the futuristic golf-ball known as Spaceship Earth and the re-creations of historic architecture from around the world. Nevertheless, it's still an enjoyable park to visit and there's plenty to see and do. In the science part, the highlight for us was The Seas with Nemo & Friends which combines a leisurely ride through the story of Finding Nemo with real life fish, sharks, turtles and manatees in a giant tank. Elsewhere in the science area, the Mission: Space experience which puts you in a cockpit for a mission to Mars split our party. The ones that took the smoother option loved it, but the ones that went for the more spinning version felt sick. The much more leisurely Spaceship Earth ride is worth doing though. In the world showcase, you will marvel at how well each nation has been re-created. Italy, in particular, makes you think you're actually there and China is also impressive. The acrobat show in China is brilliant, so don't miss that. If you have to miss any of the Disney parks, then we'd say miss this one, but whilst it's not quite as good as the others, it's still an enjoyable experience to visit and if you can stay for the show and fireworks on the lake at the end, you're in for a treat.
Disney's Epcot: Full Review, Tickets & Map…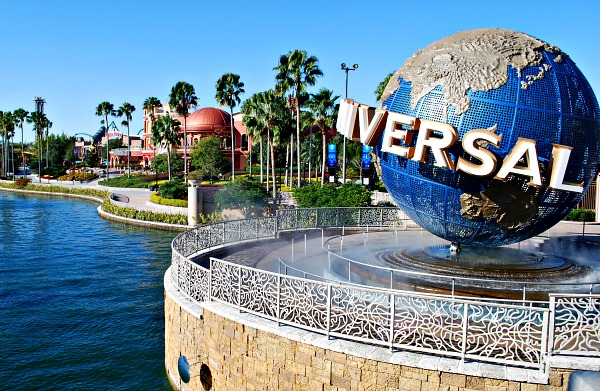 Universal Studios Florida – If you love rides, then this is the place for you. Dominating the skyline wherever you are in the park is the Hollywood Rip Ride Rockit roller coaster which is great fun. It's a long ride from a great height and you're winched up to the start vertically, rather than on a slope. It's the only ride in the park that isn't really based on a movie. Nearby is Minion Mayhem based on the movie Despicable Me which puts you in training to be one of the yellow creatures featured in the film. Everyone in our party, from the children to the grandparents, loved it! Shrek 4D places you in a cinema where the seats aren't just seats, Men in Black gives you the chance to zap aliens for points, The Mummy Returns is an indoor roller coaster with added fire and Twister gives you the chance to experience a tornado. One of the attractions we really liked was the Disaster Ride which casts you as an extra in a disaster movie. Various scenes are shot before you enter the set involving a New York subway train and after the disaster you get to watch the whole thing back on TV screens. You won't need more than a day at Universal Studios Orlando and we did miss the old Jaws ride that used to be here.
Universal Studios Florida: Full Review, Cheap Tickets & Map…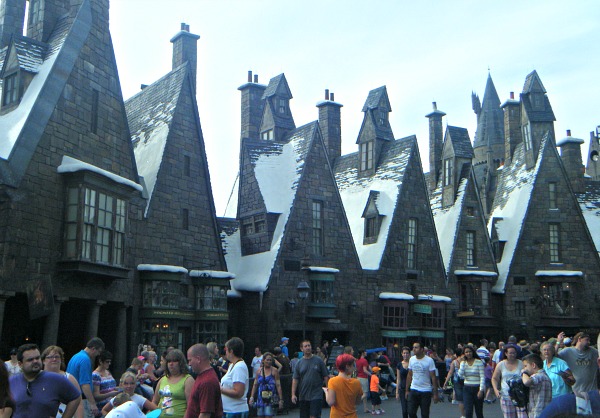 Universal Studios Islands of Adventure – This is the newer of the Universal parks and the big attraction here for Harry Potter fans is the creation of a "Wizarding World" all about him. It's the first place everybody heads to when they enter the park and when you arrive you're greeted by a re-creation of Hogsmeade leading up to Hogwarts itself. Inside Hogwarts is the main ride in this part of the park which places you on a broomstick and zooms you around. The whole things is very well done and we were particularly impressed with the animations you see inside Hogwarts whilst queuing in the line. The picture gallery is brilliant, as is the appearance of Harry, Hermione and Ron from under an invisibility cloak. Another highlight was Olivander's Wand Shop where a short show about selecting the right wand, based on the scene in the first Harry Potter movie, takes place. If the line is long, you can just enter the wand shop from the rear though and skip the show. Also in Hogsmeade is an impressive roller coaster called The Dragon which carries you in a suspended seat and sweeps you upside down. Avoid the Butterbeer in Hogsmeade though, it costs a fortune and tastes horrific. In other parts of the park, there's a Spiderman ride, a log flume that will soak you and a Jurassic Park water ride which is good for all the family. Call into the Jurassic Park visitors centre afterwards to see the birth of a real baby dinosaur..honestly! Our kids loved this bit of the park and even had a go at identifying a dinosaur egg.
Universal Studios Islands of Adventure: Full Review, Pictures & map…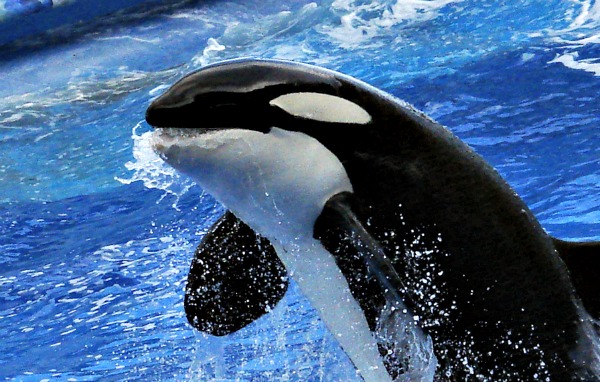 SeaWorld Orlando – This park is full of rides, shows and exhibits connected with the sea. Top of the list of attractions is the impressive 'One Ocean' show starring Killer whale Shamu and it's incredible to see the bond between the whale and the trainer. Make sure you take your place early and avoid the splash zone if you don't want to get wet! Other shows include Blue Horizons, which is a theatrical production involve, birds and acrobats and "A'Lure, Call of the Ocean" which is another acrobatic experience. The exhibits here are very well done with Dolphin Cove and Shark Encounter amongst the ones you'll want to see. We felt the rides sit more uncomfortably along side these sea-based attractions, but they're certainly good rides. Kraken is a full-speed, multi-loop rollercoaster which will satisfy the thrill-ride lovers, Manta suspends you and lets you feel what it might be like to swim like a Ray whilst Journey to Atlantis is a great water ride. Sea World doesn't just offer entertainment and around the park it's proud to explain more about the rescue and conservation work it is involved in. Sea World is a great day out, but with pressure on your time you might be tempted to miss it out. We'd recommend that you don't!
SeaWorld Orlando: Full review, Tickets & Map…
Disney's Typhoon Lagoon Water Park – Florida has the perfect climate for outdoor water parks and Disney has two of them. Typhoon Lagoon has a huge wave pool as its centerpiece. The first time you see the wave that it creates, you'll be astounded at how big it is! Less confident swimmers should stay away from the force of the wave, but if you love waves, then it's great fun to try and catch them or jump over them. Away from the wave pool there are a number of water rides to enjoy. Surrounding the outside of the whole park is a river-style ride which gently moves you along in a rubber ring. If you prefer speed, there are fast slides like the Storm Slides and plenty more, like Gang Plank Falls, that involve rubber tubes. Our favourite was the newer ride Crush 'n' Gusher which has three options to ride in a tube for 2. If its important to you to get a sunbed, then you'll need to arrive at the park around opening time. Before long, they all go and bear in mind that if you leave them unattended, it's not unusual for people to steal them while you're off on a slide! If waves are your thing, then choose this park over Blizzard Beach which has a smaller pool and more water rides.
Disney's Typhoon Lagoon Water Park: Full Review, Wave Pool Video & Tickets…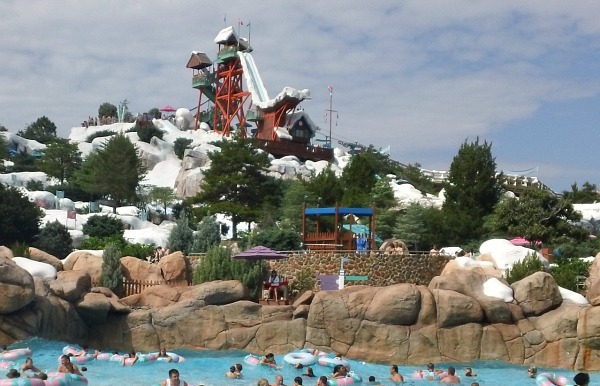 Disney's Blizzard Beach Water Park – If water rides are your thing, then choose this park over Typhoon Lagoon. There are loads of them to enjoy surrounding a choppy wave pool. The whole place is built to resemble a ski resort complete with chalets, a mini mountain and ski lift.Top of the list for scariness is Summit Plummet, a super-steep slide that drops you 120 feet down in just 5 or 6 seconds. You'll have to be brave to try it, but if you keep your legs crossed, it's a brilliant experience. Even my 12 year-old did it! Next along is Slush Gusher which isn't quite as high, but has 'jumps' along the way. A great family ride is Teamboat Springs with up to 6 people in a rubber raft on a toboggan course and the Downhill Double Dipper is another inflatable ride which is so fast, they clock your time at the end. There are plenty more slides too, along with a circular river-style ride where you float around the park in a rubber ring. One word of warning, the ski-lift here is notorious for breaking down. If you use it, bear in mind that if it stops working you could be trapped on it for 20 or 30 minutes while they sort it out. It broke down twice on the day we visited and one Disney staff member said it was a "known problem".
Disney's Blizzard Beach Water Park: Full Review, Videos & Tickets…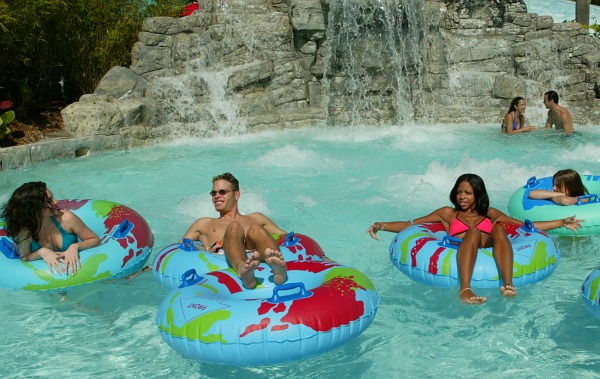 Wet 'n Wild Water Park – This water park on International Drive is packed with water rides but it doesn't quite have the 'theme park' atmosphere that you get at the Disney ones. The Disney parks are also more spread out and make the most of the surrounding landscape. Nevertheless, it's worth a visit if you're not bothered about that side of things as the rides are great and there is also a wave pool to enjoy. At peak times, the lines at the park can get lengthy, but that gives you time to top up your tan and dry out. We'd recommend arriving at opening time to try out the popular rides first. The "Bomb Bay" slide has a glass floor that slides away from underneath you and you then fall down an almost vertical 76 foot drop. Another high ride is the very scary Der Stuka which sends you down a 250 foot drop.There are plenty of multi-person rides like "The Blast" and there are more leisurely experiences too like the Lazy River. The new attraction for kids is Blastaway Beach which is a sandcastle themed water playground.
Wet 'n Wild Water Park: Full Review, Best Prices Tickets & Hours…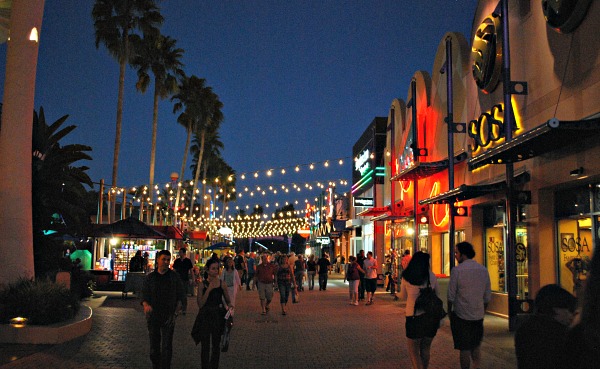 Downtown Disney – This is like Disney's version of a city center and the walkways are packed with restaurants, experiences and shops. Parking here is free, and it really comes alive at night when the atmosphere is brilliant. There are street entertainers offering music and comedy and just walking from one end to the other will take you up to half an hour. Look out for the free boat service that links the two ends by taking you across the lake. The centrepiece 'experience' is a huge balloon which raises groups of people up to the sky for what must be a fantastic view of the Disney parks but it was closed because of the wind on most of the days we visited. There's also a Cirque de Soleil theatre here, and a cinema.
Downtown Disney: Full Review, Restaurant List & Map…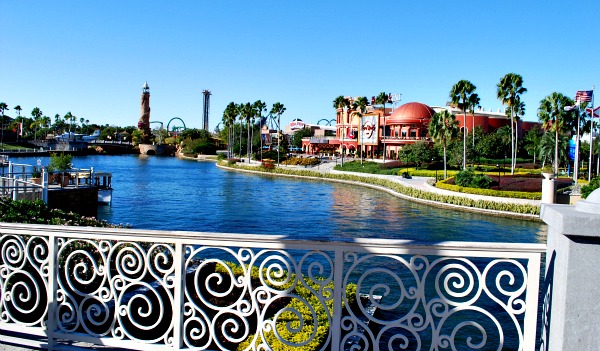 Universal CityWalk – This is Universal's version of Downtown Disney and it's not quite as good for a number of reasons. Firstly, you have to pay to park, secondly the range of restaurants and experiences isn't quite as good and thirdly it just doesn't seem to have the same atmosphere. Even so, if you visit on a day that you're in one of the Universal theme parks anyway, it's a nice place to eat and wander around. The Hard Rock Cafe here is the biggest in the world, the Blue Man Group now has a show here and there's also a cinema, bars and clubs. If you buy a Universal multi-park ticket, admission to some of the clubs is included.
Universal CityWalk: Full Review, Bars & Attractions…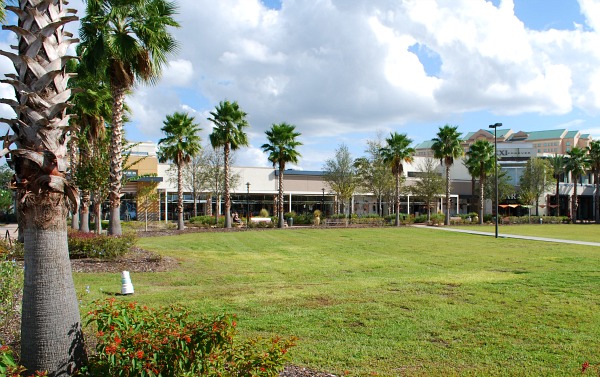 Florida Mall – If shopping is your thing, this is the biggest Mall in central Florida and it's only a short journey by car from International Drive. It boasts 250 stores including all the big names you'd expect like Macys, Dillards, jcpenney and Sears. There's a restaurant area too and even a hotel on site! Parking is free and there's plenty of it and just walking around the Mall will take quite some time because its so big. There are lots of other shopping options around Orlando too with retail parks, outlet stores and mini malls galore. You'll find many near International Drive.
Florida Mall: Full Review, Store List, Directions & Hours…
Old Town, Kissimmee – Just off Highway 192, near its junction with the I-4 is a small pedestrianised area which has been turned into a mini town with shops, bars, a fun fair and some thrill rides. At night, there's a decent atmosphere here and the rides are busy, but in the day the whole place is a bit dead and the shopping bit has seen better days. There's a decent collection of rides for children here, particularly in the section at the rear. The rides at the front are more adult orientated and some of them are great fun. It's certainly worth a visit if you have an evening spare and you want to try the rides, but don't bother going in the day.
Old Town, Kissimmee: Full Review, Ride tickets & Map…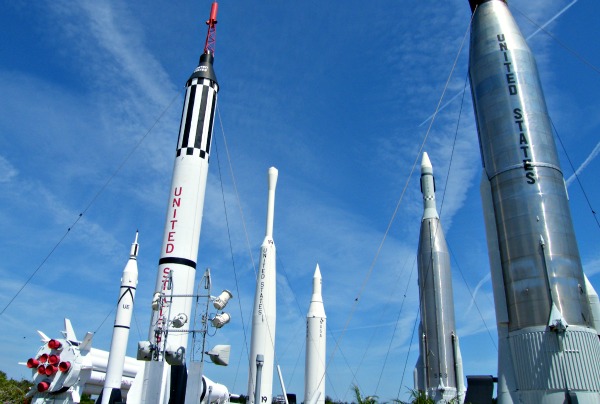 Kennedy Space Center – A fascinating place, especially if you're a child of the space race generation. We particularly enjoyed getting up close and personal in the rocket garden, you can also take some great snaps here. As part of the tour we went on, we stood on the viewing platform for the then shuttle launches, it was great to see something you've seen so often on TV. Also in the area are loads of alligators and golden eagle nests, because of this tourists are told not to go off the paths that your tour guide takes you on. A small child decided to run down a grass hill at the launch pad and all hell let loose with security bothered she was going to be eaten by a gator! Another highlight was the massive hanger that they used to assemble the shuttles in. The shuttles have gone – sadly we never got to see one launch – the next era of the space race beckons and more history will no doubt be made here.
Kennedy Space Center: Full Review, Tours, Location & Pictures…
Miami & The Florida Keys – One advantage of Orlando is that it's a good base to use to explore more of southern Florida. If you have a car and you don't mind a few days away from the theme parks, there are some fantastic sights to see. Miami is about 4 hours drive, but it was Miami Beach we liked best with its art-deco buildings and endless sand. Top of the list for must-see sights though are the Florida Keys, the series of islands at the bottom of Florida's mainland. Starting at Key Largo, a series of the most impressive road bridges you've ever seen link each of the keys down to Key West. They're known as the Overseas Highway and the biggest of the bridges is 7 mile bridge from Knight Key to Little Duck Key. The current bridge was built in the late 1970s and alongside it, sits some of the now-disused much older bridge. It's been used in countless movies over the years. All the keys have their own feel and some are bigger than others and have more development. Key West is definitely the star though and has a real Cuban feel to it. You can walk round most of the central bit of the island easily and don't forget to call in at Ernest Hemingway's house too.
Miami & The Florida Keys: Read More, Pictures & Map…
Florida on a Budget – Visiting Florida can be expensive but there are a number of things you can do to reduce the costs. This page features some of our top tips for saving money, but still having a great time. Also, see our guide to Tipping in the USA.
OUR TOP TIP IN ORLANDO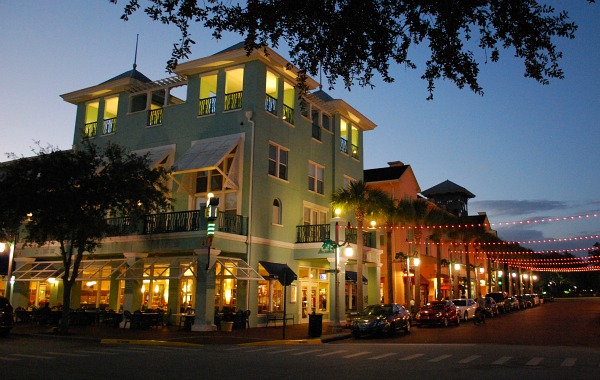 Celebration – This town is a purpose built community near to Disney World and was initially developed by the Walt Disney Company in the 1990s. It's a fascinating place to visit, because they've effectively created a "perfect" American town. All the houses are perfect, the town centre is perfect, the school is perfect, the shops are perfect and the walk along the lake is perfect! We loved this place so much that we went back a number of times to eat in the restaurants and just drive around and soak it all up. It was a welcome break from the theme parks, but it still feels like you're on a film set. Look out for the alligators in the lake too – they were the only wild ones we saw on our trip to Florida.
Celebration: Read More, Pictures & Map…
MORE THINGS TO DO IN ORLANDO
Florida Everglades Tour with Alligator Encounter
Character Breakfast at Disney's Contemporary Resort
Orlando Helicopter Tour from International Drive
Sunrise Hot Air Balloon Tour
ACCOMMODATION
There are really only two options for staying in Orlando, either you rent a villa or stay in a hotel. We chose the villa option and had a lovely house in a residential neighbourhood with a private pool. The kids loved the pool and went in it everyday and it was only about 20 minutes drive from the Disney parks.
The hotels tend to be much more expensive, especially if you choose Disney resorts, but they're often much better located. It's even possible to avoid renting a car if you choose the right hotel. There are also many motels or suites that can offer you a cheaper option, but you very much get what you pay for in Orlando.
GETTING AROUND ORLANDO
Orlando is a huge city and although most of the theme parks are in one area, they're still very spread out. Getting around the city very much depends of where you're staying. If you're not in a centrally located hotel, you're probably going to need a car to get around. On the plus side, driving here is a fairly pleasant experience as all the roads are wide and the traffic jams only occur at peak times. If you are in a centrally located hotel you can use the bus services to the theme parks from International Drive. This is even easier if you're staying in a Disney resort hotel, as there's an entire network of buses linking each of the resorts and Disney parks.
There are two airports serving Orlando and we'd recommend trying to get a flight that lands at Orlando International rather than Sanford which is much further north. There are very cheap bus services to major areas from the airport, and other alternatives include taxi companies and shared vans. You can also see a range of transport option to book in advance here.
MORE ON ORLANDO
More Things To Do In Orlando
Walt Disney World Tickets – See best prices in GB pounds
Orlando Explorer Pass
Orlando Hotels – We recommend Hotels.com for the best service and prices
Car Hire Comparison for Orlando – From Opodo
Orlando – VisitOrlando.com
Orlando Airport – Official Website
Orlando Guide Books – Amazon.co.uk
Orlando Guide Books – Amazon.com